Cook'n Recipe Organizer Review and Giveaway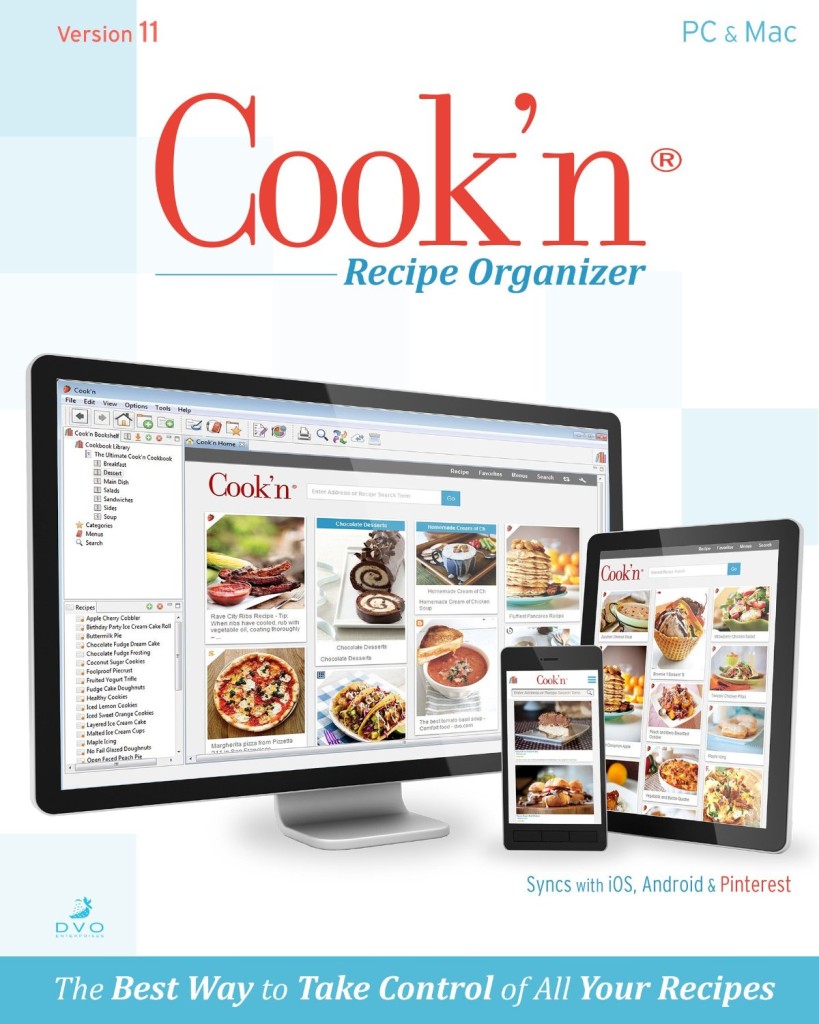 Attention MasterCook software users. Stop what you are doing and pay attention.
I received a copy of MasterCook in the late 90s as a gift to get my recipe collection in order.  Back then I didn't have a laptop and my computer wasn't in the kitchen. I used it to enter my recipe cards that I had gathered over the years. If I wanted to add a recipe from a website I would copy and paste it into MasterCook and save it with the rest of my recipes. Sometimes I would print it off so I could put it in a binder full of recipes. It was extremely useful when I started going to Weight Watchers in 2002. This was extremely useful because I could create cookbooks and even make my own.
Over the years technology changed, my living situation and cooking situation changed. MasterCook changed.
Enter Cook'n.
Recently I was given the opportunity to test another brand of recipe software, Cook'n. I was a little hesitant to test software for recipes because I just did not see the point. If I want a recipe saved I stick it on Pinterest. If I want to keep it, I print it and add it to my kitchen binder.  Cook'n sweetened the deal by giving me a coupon for a free cookbook to add to the Cook'n program.
After looking at the website I was actually really impressed.
Here is a list of what Cook'n Recipe Organizer can do for you:
Easily Enter your Personal Recipes
Get Ideas for What to Make for Dinner
See a Visual Menu PlannerCook
Auto-Generate Shopping Lists
Capture Recipes From Favorite Websites
Calculate Nutrition of Your Recipes
 Capture & Sync Pinterest Recipes
 Scan Printed Recipes
 Discover New Recipes w/Live Feed
Print Themed Recipes – Demo
Use Snip-It to Capture Blog Recipes
 Import recipes from Word – Demo
Share Recipes with Social Media
Sync to the cloud
 and much more!
You can import MasterCook , LivingCookbook and BigOven. There is also a Cook'n Club you can join for even more cooking benefits. Want pretty themes for your software? They have those too so you can customize your look.
It's been years since I have used recipe organization software but I had no idea one piece of software could do so much in the recipe department.
Sync with Pinterest and my Apple devices?? Yes, please! I'm pretty excited about having one place to keep my recipes instead of scattered over 20 different websites on the web. Now that I am doing Weight Watchers again, this software has given me motivation to gather up all those old recipe cards and get them on my computer for easy access across my devices. This way, I don't have to worry about my recipe cards getting ruined (especially when cooking with kiddo.)
I haven't been using this for long, but I also have to point out the shopping lists and the live feed. I can open the software and tell it what I am searching for. It will find it, just like an internet search. I can save it to keep forever and add it to my grocery list. This is way better than a bookmark in a folder that I always seem to forget about. I think Cook'n and YUM go hand-in-hand.
My other favorite tools are the menu planning and the analyze nutritional data button. I played around with it a little and really love this! I open, capture some internet recipes, add to a cookbook that I made, click the button to find out the nutritional data and badda-bing I know how many points to calculate for my meal. Then I can add it to that weeks meal plan and shopping list. I have a ton of recipes stored on my hard drive that I have been meaning to print off and put in my binder. Now I am just going to add them to this program and not worry about it.
I'd love for you to try it out with me and discover how great it is. I'm giving you, my faithful readers, a chance to win your own copy of Cook'n so you can take control of your recipes too!
I received one or more of the products mentioned above for free using Tomoson.com. Regardless, I only recommend products or services I use personally and believe will be good for my readers.