MY PURE Exclusively at The Fragrance Outlet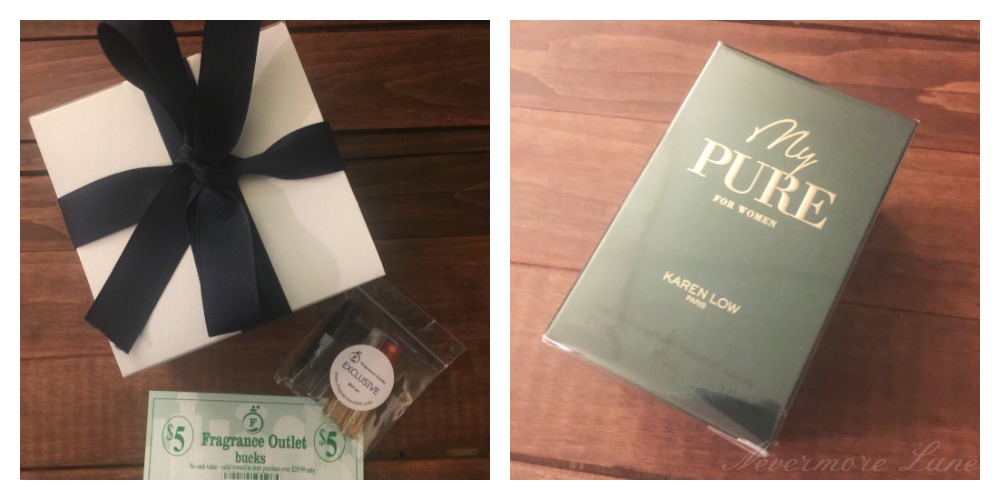 My Thoughts
I am not much of a perfume person these days. I have had my favorites in the past but I find that as a age a lot of them aggravate my senses or my skin. I tend to gravitate towards body sprays that I know won't do that. When The Fragrance Outlet gave me an awesome opportunity to test the MYPURE line by Karen Low I hopped on that opportunity with the hopes of finding a new scent. 
A simple cardboard shipping box hid the treasures inside. I was was a little shocked at the pretty package that waited for me inside. I was not expecting a package that looked like a wrapped present. What a nice touch! It felt a little like my birthday.
The shipping box had a lot of stuffing so the present had no way to move around. This is an important element when shipping perfume to avoid spillage and breakage. Under some of the wrapping was a little bag of samples and a $5 coupon; neither of which I expected.
When I pulled the pretty navy blue ribbon off the box, the wrapped box of perfume was waiting for me. The gift box was stuffed with tissue paper to help protect the glass bottle of perfume.
The scent is plum, iris, rose and jasmine. This is a very light scent and it did not aggravate my senses (didn't make me sneeze like crazy.) The scent is very refreshing and didn't cause any sensitive skin issues. It is not a very sweet scent, but more of a full-bodied.
My experience with shopping at The Fragrance Outlet website was awesome. It was easy to place and order and shipping was quick. Their customer service staff is amazing which is a huge plus for me.
About the Product
My Pure evokes a sense of luxury and style and captures the essence of female persona beautifully. Right from the start, the fragrance has seductive notes such as plum and iris infusion. The heart is bountiful and exotic with notes of jasmine and Bulgarian rose, which quieten down when the base notes of earthy vetiver and amber sweep in. This scent has a luxurious and sensuous fragrance that boasts of a light, woody aroma that is ideal for those adventurous nights out on the town.
About The Fragrance Outlet
Founded in 1990, The Fragrance Outlet, Inc. owns and operates over 100 Fragrance Outlet and Designer Fragrances stores. Our first store, Fragrance Outlet, made its debut in November 1990 in Potomac Mills Mall, just outside of Washington, D.C.

The concept for Fragrance Outlet was simple – offer the widest selection of genuine designer fragrances, sold by knowledgeable, friendly staff at affordable prices. The formula was foolproof, and the store was an overwhelming success. Throughout the next few years, Fragrance Outlet expanded its presence in the fragrance market, opening stores in the best Outlet Centers across the country and Guam. Fragrance Outlet, Inc. continues to grow with expansion plans exceeding 100 stores over the next several years.

Now, The Fragrance Outlet is prepared to build upon its successful foundation and provide our loyal customer base with an online venue for purchasing designer fragrances at affordable prices – without ever leaving the comfort of home. We're bringing the Fragrance Outlet shopping experience right to your computer for the utmost convenience.

It doesn't matter whether you frequent us in your favorite outlet center, or visit us online while at home or in the office. The Fragrance Outlet, family of brands will be there to meet your fragrance shopping needs, anytime, anyplace.
Check out The Fragrance Outlet website for other goodies or their store location to see if there is one near you.
Disclosure: This post was sponsored by Brandbacker. It received the product for free in exchange for my honest review. I am not being compensated for this post.