This shop has been compensated by Collective Bias, Inc. and its advertiser. All opinions are mine alone. #50YearsofBreakfast #CollectiveBias
I see sunshine! I see sunshine! When the sun comes out so does my coffee cubes. It's also means its time for me to share some new healthy breakfast drink recipes. You guys know I sure love breakfast smoothies!
I'm going to let you guys in on a little secret. I hate cooking breakfast during the week. I may work from home but I only have a short amount of time in the  morning to get everything done that I need to before starting my work day. I don't want to spend my time in the kitchen cooking up eggs and bacon or creating giant Irish omelets. No sir. No thanks. I'll save those special breakfast moments for the weekend when we can all sit down, relax, and enjoy. 
Instead, I want my morning meals to be quick, but full of vitamins and minerals. I am a sucker for a good smoothie, but I also like to mix things up a bit. It's also no big secret that I am a coffee and tea junkie. So what's a girl to do when she wants her coffee but needs her smoothie? She combines the two. Not only does it taste amazing, it has fewer calories than coffee shops and its much more budget friendly. Plus, it saves me a ton of time.
Carnation Breakfast Essentials® has been a staple in my life since I was a kid. It was my moms go-to breakfast and she even enjoyed it in the evenings when she made chocolate malts. For me, it only seems natural that I keep some Carnation Breakfast Essentials® in my home too. The packages are pre measured with the right amount of mix, so I can just open, dump, and go.
You won't find these guys in the diet section or with the other powders. I grab these guys from the cereal aisle of my local Kroger.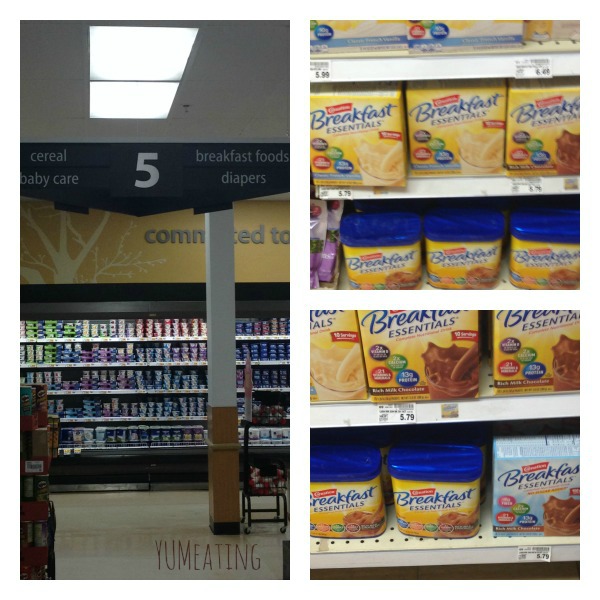 Double Mocha Iced Coffee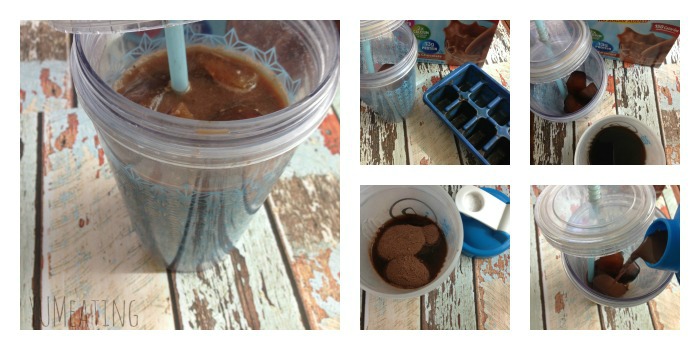 I use my French press to make coffee. Whenever I have a little bit leftover either in my mug or in the press, I put it in an ice cube tray. When my ice cube tray is full I pop them out and put them in a freezer bag.
This is how I make my iced coffee. I won't use regular ice cubes unless I am coffee free because they just water down my coffee.
To make a Double Mocha Iced Coffee I brew some coffee and let it cool. Or, you can keep it warm but it will mix best if you let it cool down a bit. Pour it into a shaker bottle with the wire ball. Add the packet of Carnation Breakfast Essentials® (I used the Sugar Free variety for this one.) Shake to blend well. In your coffee mug, travel mug or glass add 3-5 coffee cubes. Pour the Carnation mix over the coffee cubes. Enjoy.
If you have a little extra time in your day check out this recipe with Carnation Breakfast Essentials®: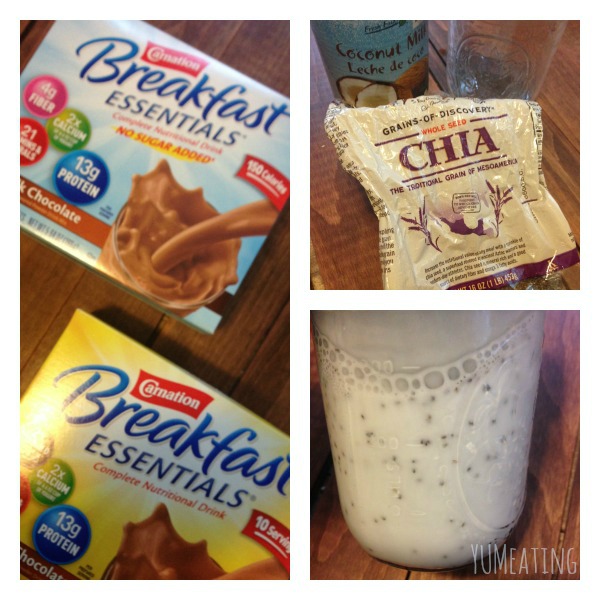 Choc-coco Chia
For the chia:
1/2 c coconut milk
1/2 c water
3 tbs chia
this makes the whole jar.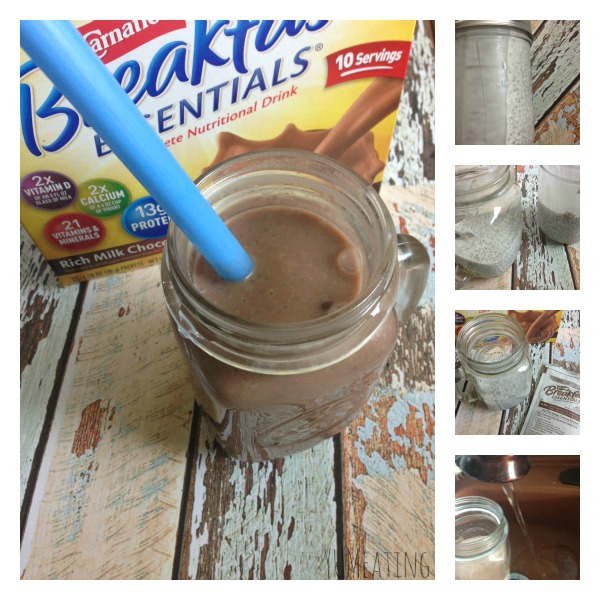 To make a shake:
1 packet sugar- free Carnation Breakfast Essentials®
1/2 of the chia mix  jar + 1 cup water or coconut milk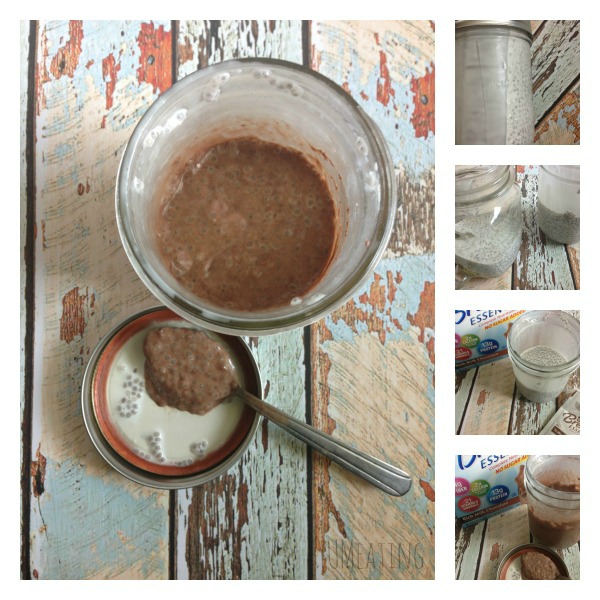 To make the pudding:
add 1 packet to 1/2 of the jar, enjoy with a spoon
Family Favorite Chocolate Malt
This recipe is really simple. Follow the directions for the chocolate banana ice cream. But instead of adding the cocoa powder, use one packet of chocolate Carnation Breakfast Essentials®.
Good stuff.
Carnation Breakfast Essentials® comes in three yummy flavors; chocolate, vanilla and strawberry. Buy any 2 Carnation Breakfast Essentials products to enter this special promotion.
Get a clear photo of your entire receipt and then text with keyword BREAKFAST to 811811 for submission instructions or email it to redeem@CarnationFreeBreakfast.com or upload your receipt to the website. You will receive a code back once the receipt has been verified that you can share with your friends and family for a free breakfast! (up to a $7.99 value). Participants can enter by texting a number, emailing, or uploading a photo of the receipt to the website.
I'm sharing my breakfast and you can too! Carnation Breakfast Essentials® will donate $25,000 to Feeding America to help those in need. Check out more information on the website or on the Facebook page.