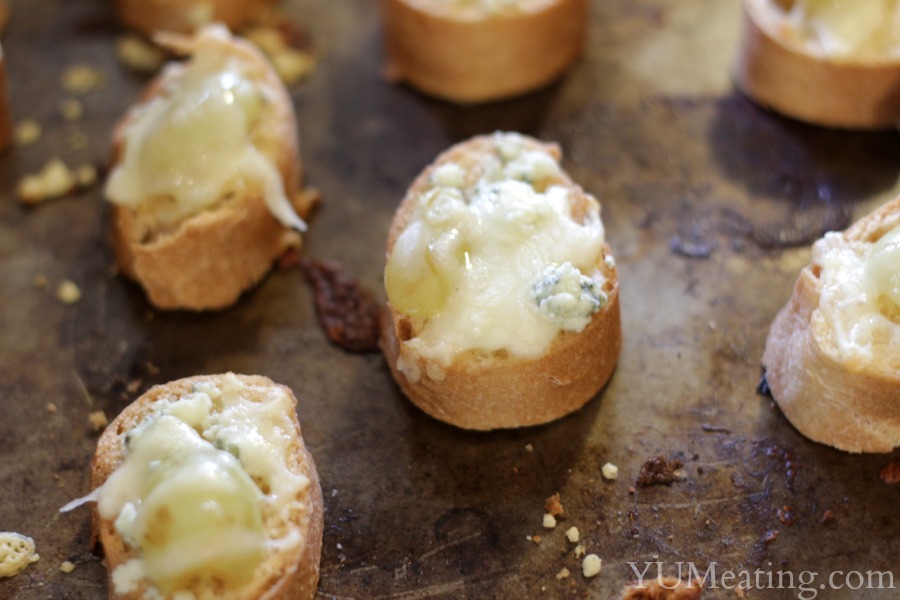 My dear  mother pointed these out to me in a cookbook called "Company's Coming Tonight! Magical Meals on Short Notice." I've never seen or heard of it before but a quick search on Amazon proved to me that once upon a time there was a market for it! My mom is pretty good about finding cookbooks that are hidden gems.
These are simple and perfect as a holiday appetizer. I've got a secret for you though. I did not mean for them to be gluten-free or wheat-free. It just so happens that when I went to the store the baguette I purchased were a 2 for 1 sale.  But that's ok right?  They turned out really yummy and honestly I couldn't tell the difference. My picky eater club had no idea.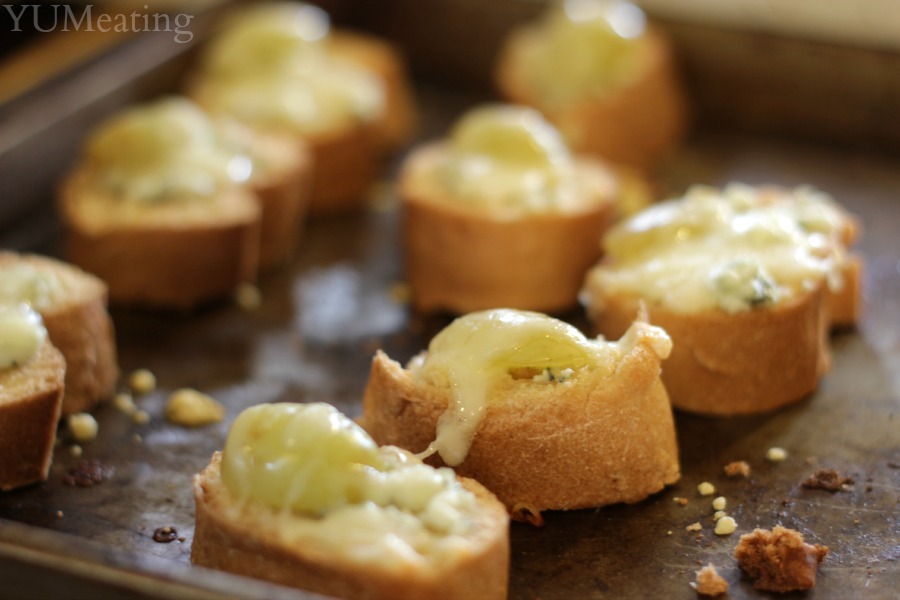 The husband is not a fan of blue cheese. Kiddo can tolerate it in super small doses. It's still a little strong for her. Both of them happily ate these up. We enjoyed them with a soup and salad lunch. Hey, what can I say? We had to test them out to make sure they were worthy of consumption before making them for someone else 😉  The recipe called for red/purple grapes but I picked green grapes instead. You could pick whatever grapes your tastes buds crave. I like the tartness of the green. It worked out well with the blue cheese. I'm a wine and cheese girl so this worked out in my favor.
There is also just a little bit of mozzarella melted on top of it all. This would also make a nice snack, especially for those of you following the Mediterranean Diet. (< About that link – I own that book and love it!)
I even had to make sure the blue cheese was gluten-free. Oh yea…it is!
Blue Cheese Toasts Appetizers
Adapted From the cookbook "Company's Coming Tonight" by Jean Pare
Ingredients
1

baguette bread

slice to your desired thickness

extra virgin olive oil

reduced fat blue cheese crumbles

green grapes

cut in half

mozzarella

shredded
Instructions
Turn oven to broil.

Arrange baguette slices on baking sheet.

Brush tops lightly with olive oil.

Place under broiler for 2-3 minutes or until golden brown.

Flip.

Sprinkle baguette with reduced fat blue cheese crumbles.

Arrange 2 grape halves on each toast with the blue cheese.

Sprinkle with mozzarella.

Broil for 1-2 minutes or until cheese is melted.

Serve immediately.