YUMeating #foodie Christmas Haul 2014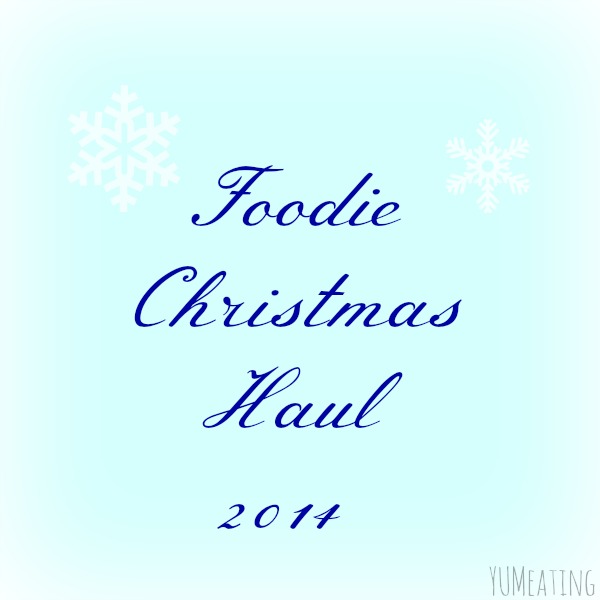 Last year I did a post about all the great foodie gifts I received for Christmas. I thought it would be fun to repeat the process again this year. It's always fun when bloggers post a roundup of their Christmas gifts. I enjoy seeing what others get; especially when I know it's going to help them create a great recipe. Another thing I do is check to see who got a new planner for Christmas. As we get closer to a new year its organizational season. 
One thing I am really excited about is that I received a new printer. Funny thing is I got to open it a few days before Christmas because the toner cartridge ran out on the older printer and the other one went out in the man cave so I can no longer print to it. I was going to have to buy a new toner for it – $75! (Think office copy/printer)
I'm loving it. It has Wifi and Bluetooth so I can print from any device from any room in the house. I tested it the other night by printing a Pinterest printable from my iPad. Success! So cool. And the ink is super cheap for it. Bonus! Nothing bugs me more than a cool printer where the ink is so costly. A few years ago I bought this super awesome printer on clearance from Target. They no longer make refills for it so over the years I have tried various printables without much success. So, this year I just purchased a smaller, plain lined one. Well, I am super excited because as I was popping around blogland today I found a printable set, for FREE! So, I want to share Amy's blogger (she has a non blogger version, too) planner with you. Here planner pages are just like the original ones that came with my refillable desk size planner.
Another thing I received that I did not take a photo of was a photography studio. It's basically a white light box with photography lights to help brighten things up when there is no natural light for me. It also came with some cool backgrounds. I'm excited to start trying these out. Mostly, I am excited for the lights as I have been needing those for a long time. Nothing bugs me more than when I have to shoot in the evening and the kitchen lights give off that orange funky glow which makes my food look like its staged for a horror movie.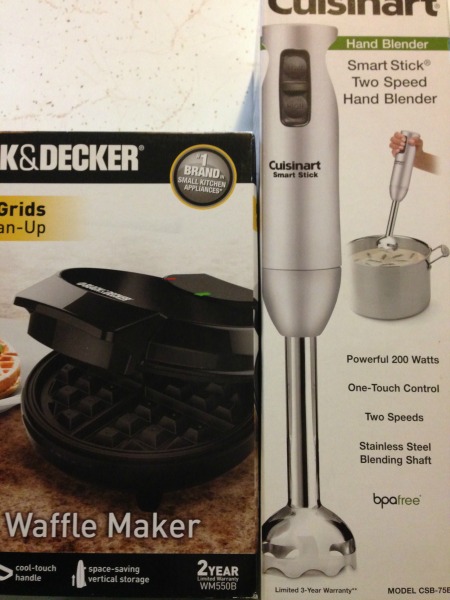 1. Black and Decker Waffle Maker. I'm really excited for this guy. We had a small little waffle maker last year we picked up at WalMart but I have no memory of what happened to it. I am pretty sure we broke it. It was one of those things that we used for a while, took a break from and then poof! I forgot about it.
Yeah. It happens. But, my blogger buddy Nicole over at I Heart Food sent me this really awesome peppermint chocolate pancake mix something or another (don't judge, I am too tired to get up and go look) that I plan on using to make some waffles with. So, keep your eye open for that fun little post.
2. Cuisinart Immersion Blender. I asked Santa for this and I can't wait to use it. When a recipe calls for an Immersion blender I have to use my regular blender or a food processor. And let me tell you, I hate cleaning both of them. I can't wait to use this and it's perfect for my smoothie making too!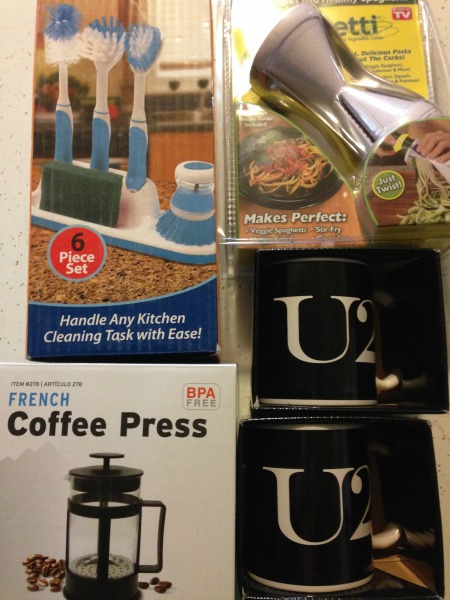 3. Who gets excited about a kitchen brush set? Mr. Yum and I do. We were laughing about this earlier. My mother purchased this for me. I think she thought she was being funny, but the truth is, this is something we can really get some use out of. We have pots and dishes that can't go in the dishwasher so brushes are a must.
4. My mother also got me two new coffee mugs. Because I need double the coffee or I just double love U2.  I love them.
4. Yahhhhhhh for the Veggetti spiralizer. This was another item from hubs that I had asked for. I love pasta but it does not love me. This has been on my want list for a very long time. I wanted one when we had the zucchini from our garden but I kept putting it off. I can't wait to share some recipes with you and perhaps do another version of the lean and mean meatballs.
5. French Coffee Press. Another item I had been bugging to get and hubs came through. We have a regular coffee pot but oooommmmeerrgggghd that blasted thing takes so long. Let me tell you, I live in the country. We have well water. Hard, well water. That means your appliances tend to get the crud. Lime and calcium build up. I clean. I clean some more. Sometimes just years of use and cleaning tend to take the toll on things. It works fine and it's spic and span clean but by the time it's done brewing I don't want the coffee anymore. Lately I have been noticing my coffee tastes a little flat. So, I stopped using it. We also have a Keurig. We've had that big boy for quite a while. But again, the water sits in the tank and over time the hard water sets in. I love my K-cups because they work when we want something quick and my husband loves it when he's rushed to get out the door to work.
But lately we haven't been using it. K-cups have gone up in price around here, topping off at $10. That's just not cost-effective for us. We don't drink coffee just for the sake of drinking coffee. We drink coffee because we actually like the taste of it. So, we can't buy just any coffee or it's pointless. So, we stick to beans, grind them ourselves and use a refill container for the Keurig. But, even that is starting to taste flat to me, too.
I love tea. I drink tea all year. I love the process of making tea. There is just something about taking a loose leaf tea blend and making something spectacular with it. Plus, I find it pretty relaxing. I am good with waiting for the teapot to boil as it doesn't take long.
Insert the French Press here. We've used it a few time and let me tell you, these handy-dandy little gadgets all of the very little dollars that they cost. The coffee tastes so much better. I'm in love.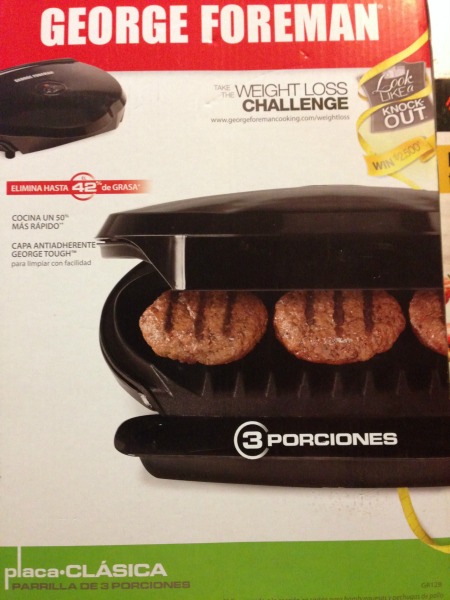 6. A basic George Foreman grill. I know, big whooptee doo. Everyone has one. Yeah. Me, too. Only, it broke. I can't tell you how many of these I have been through since their creation. A few. One of the things I am trying to do in 2015 is get the weight back down. I did a lot of George cooking back in the day and it really helped with time and my sanity. When I broke the last one I really wanted one with removable plates, but when this one went on sale for Black Friday I made sure Mr. Yum knew I really needed a new one. These are such a time saver for me.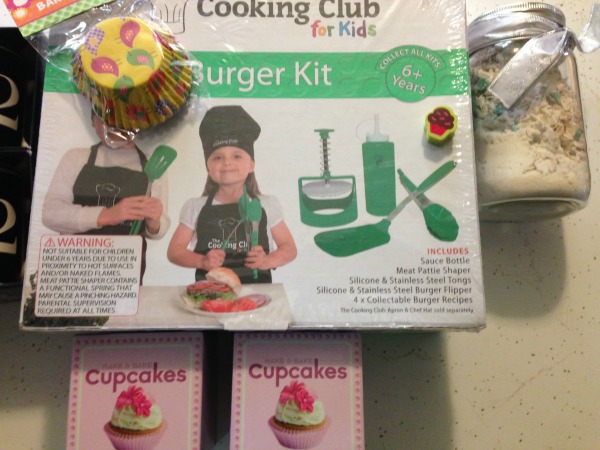 7. Ok, this one isn't mine. It's for kiddo from my mom, but I wanted to show you just how cute this Cooking Club for Kids Burger Kit is. Poor kiddo was super sick on Christmas but I am pretty sure she's excited for this. We'll test out her grilling skills this summer.
8. Two sets of "Cupcakes." This is actually a tiny recipe book inside a box with cupcake liners. One for me and one for kiddo. The cupcake liners have cute hearts all over them.
9. That jar is mint chocolate oat cookies from Nicole over at I Heart Food. She and I exchange Christmas boxes. When I make the cookies I'll be sharing the recipe and you'll also get to see the super cute apron she  made for me.
10. Bird cupcake liners – another gift to kiddo and this one is from Nicole. I just wanted to show you guys how cute they are.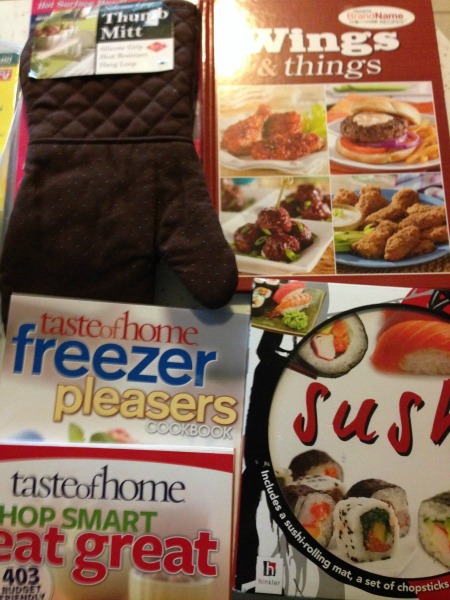 11. Thumb Mitt. I don't know where my mom found this, but its pretty cool. She bought it for hubs, but I am pretty sure I will be the one using it more. He also got 2 ove gloves. Just so we are clear – those things to burn. So this oven mitt has dots to help you grip. It's pretty cool.
12. Wings and Things cookbook. A gift from my mom. We love our wings.
13. Taste of Home Freezer Pleasers. I am excited to get this book from mom. I love the Taste of Home books and always find something good in them. I could really stand to get better with freezer meals.
14. I am equally excited for Taste of Home Shop Smart Eat Great. It is all budget friendly recipes and believe it or not many of them are already healthy and those that aren't can easily be swapped. I already have bookmarks (Oh, who am I kidding, it's just strips of paper) marking the pages.
15. The best gift ever. A Sushi cookbook that came with the roller. We've tried making sushi from kits before but we've never had the bamboo mat roller. We're already planning a sushi night. That'll be some serious #nomnom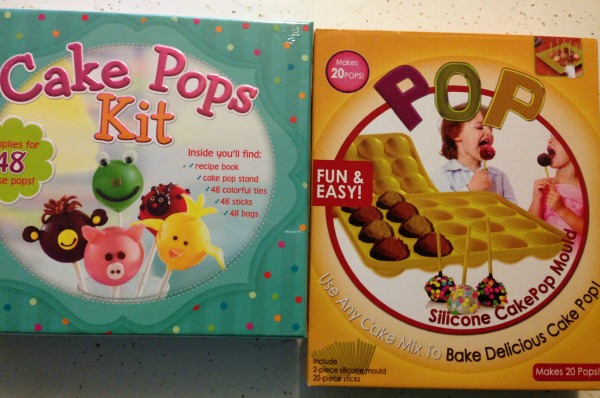 Can you guess which one is for kiddo and which one is for me? (LOL) Both of these came from my mom.
16. I received the POP Cakepop molds.
17. Kiddo received the Cake Pop kits.
Don't these look like fun?
Oh, sure.
Let me tell you a little secret: I've never made cakepops.
Never.
Never ever.
Well, I guess there is no time like the present , huh?
So that's that. I got some other random goodies so it wasn't all food and kitchen related.
How was your Christmas? What did you get? If you made a round-up post feel free to drop me the link in the comments; I would love to visit and see what you got!