Cancun Mexican Restaurant | Paw Paw, MI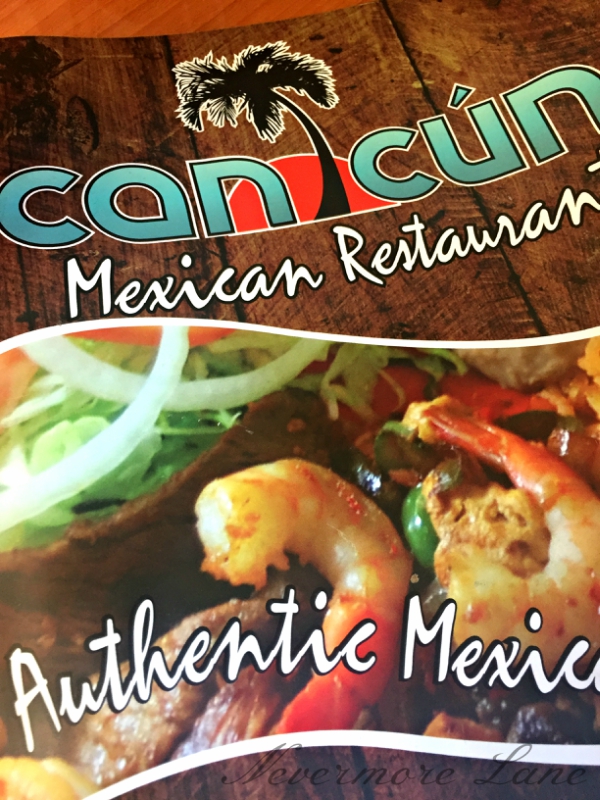 So, here's the thing. If you go back through some of my older reviews of Mexican food, you will see that I have not had the best of luck with the Mexican food here in the state of Michigan.
Little bit of a background, I promise I will try to keep this as short as possible. I spent the majority of my life in Oklahoma. Some consider it the south, some don't. Either way, there is a very large Mexican community which crosses over the Tex-Mex life. Mexican food down that way is very different from the Mexican food up this way.
When I first landed here, my mother took me out for Mexican food. I ordered a burrito platter. It came out, with gravy on top. GRAVY! Of course, she thought it was really funny. I didn't laugh as I sat there trying to scrape the gravy off. Now, I know some places have a 'wet' burrito that has sauce. This was not sauce. It was legit gravy and it really weirded me out.
After many attempts to find good Mexican food here in Michigan, I had pretty much given up all hope. I've been to a few places that were decent, some were good, and some were a little more than good. Maybe I am just too picky. Or maybe, I just like my Mexican food either way.
I'm out visiting my friend in Decatur and she says, "Okay, I am going to take you to Cancun."  Beach, yes please. 😉 We went, Thanksgiving/Black Friday weekend. I expected to see a ton of people in there. First, the place was not at all what I expected. Second, there was one large family and a couple.
As soon as I looked at the menu, and saw it had breakfast, I'll admit I did a little happy dance. It was too late in the day for me to have breakfast, even though I am one of those people who love breakfast food at all times of day. I zeroed in on the fish tacos. That has been my go-to lately, so I figured I may as well check them out.
I loved that they had a taco platter and you could pick from corn or flour tortillas. Hard or soft. Some places do that, but not many. Most come out how they come out. Not only could you pick your meat. Beans only, beef, chicken, shrimp, or fish. SOLD!
Chips and salsa. I am a salsa junkie. I absolutely loved it. So, I was pretty excited as I waited for my food because I felt if they had salsa that wowed me, their food was going to wow me as well. Hey, I am always hopeful.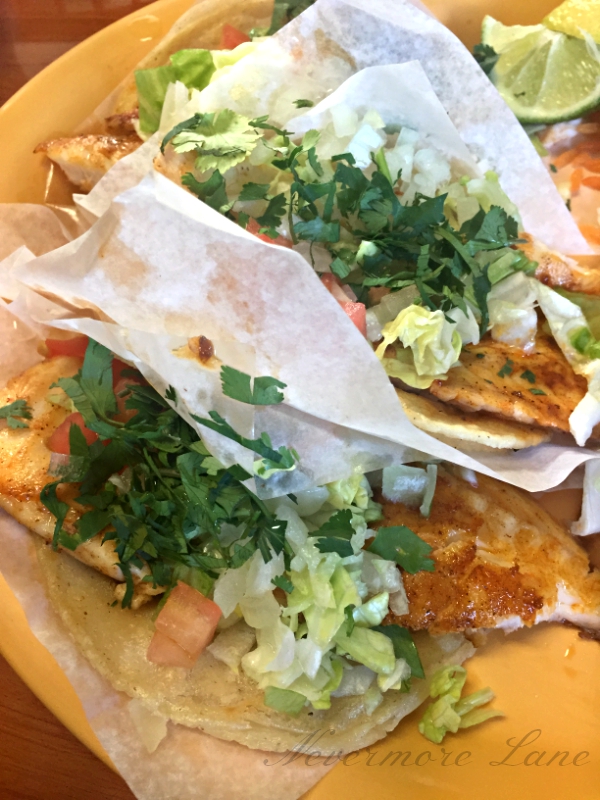 Fish tacos came out, I snapped my pretty picture, and then took my first bite. Major excitement that they gave me 2 corn tortillas per taco. There were 3 of them, by the way. That made me happy because nothing bothers me more than when the corn tortilla breaks and my stuff comes crashing down on my plate. Or, worse, my chest or lap. Don't laugh, you know you've been there.
The fish was not breaded. I forgot to ask if it was, but thankful it wasn't. You get a whole piece of fish. Not just a few broken up crumbles. But a whole piece. A couple of my tacos must have had longer fish pieces and they cut it to fit the taco, so it looked like I had more than one piece. The fish was seasoned, but not overbearing. The tacos were light and refreshing.
The refried beans were the perfect consistency. And the rice, I don't usually eat Mexican rice when I eat out because one bite and I am done. Here, I could barely get it in my mouth fast enough.
I am a happy camper. My only downside to this is that I live so far away so it's not like I can just jump in my car, head to town, and enjoy another meal. But, when I am back in town, I will stop by again.
Check out Cancun Mexican
Disclosure: This is not a sponsored post and it does not contain any affiliate links. Opinions are all my own.