Why I Decided to Travel By Train Across the Country
Why would anyone want to travel by train? I have asked myself that question countless times. And then, one day, I just decided it was something I wanted to do. Well, there was a small spark that pushed me into the "lets travel by train" category of people. 
Since my divorce there have been a lot of changes in my life. A whole heck of a lot of self discovery. One of the things I had really wanted to start doing was traveling. I started with some small, in-state trips last year, carrying over in to this year. Then, for my birthday, I went down to Kentucky. That trip was supposed to be a trip to Tennessee, but sometimes things don't always work out as planned and you have to go with the flow.
In August, I was supposed to go to Hamilton, MT to visit some friends and see my "brother" compete in the Highland Games. This was also to be my first meeting with someone super duper special to me. But, things didn't work out for my part of the trip and I ended up  not going. Everyone was understanding and that someone special had to work anyway.
Last year, after seeing an article floating around the Internet about a guy who had traveled across the US by train for under $300, I made the decision that it was something I wanted to do, too. I really wanted to do some traveling and I really needed to step out of my comfort zone. The train trip was something I could easily budget for. I would travel alone and write about my experience. I will say this, I applied for the Amtrak writers residency program every year they had it, and I was never picked. BOOOOOO ….  As for that travel article I read on Simple Most, it was all about this guy, Derek Low, and his personal account of the journey explains it all.
Traveling by train is definitely a different and very unique way of seeing the states. To me, it just seems very nostalgic, like a part of an era long past. I think a lot of us tend to forget that train travel use to be the most common way of traveling unless you wanted to ride a horse or sit in a carriage. When automobiles showed up on the scene, the just weren't equipped with that long-haul ability.
But there was so much more to it for me than just being on a train. To me, taking a trip across the US meant freedom. I was finally able to do what I wanted to do, travel. I had planned to do this trip alone. Across the states and back. By myself.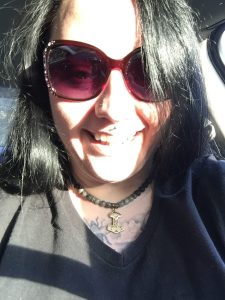 Did I mention, I was going to do this alone?
For me, it was to fully gain back my independence. It was also a way for me to really get over some anxiety and fears that I had. It was just something I had to do.
The original plan was to travel from Michigan to Oregon where one of my best friends lived. Stay a couple of days and then head back across. Things got switched around a few times.
Oregon friend moved across the states to be with her boyfriend after being in a long distance relationship for a few years. So, I had changed the train to end in Washington where I was going to meet a few friends. During this time, there were 2 other people I had invited to take the train with me. One of those people ended up moving, but since they were not far from Washington, we could still meet up. Things happened and the original people I was going to meet ended up fading from life.
That all worked out in the end. So, Sammi, my trusty travel partner and I set off across the United State on our grand train adventure.
Now head over to The Epic 'Traveling by Train Across the US' Adventure [photos] to check out all the good stuff. Once you are done with that one, you can head over to the Seattle post where all the other photos and stuff are from the Seattle adventures.