Mr. Yum's Homemade Spaghetti Sauce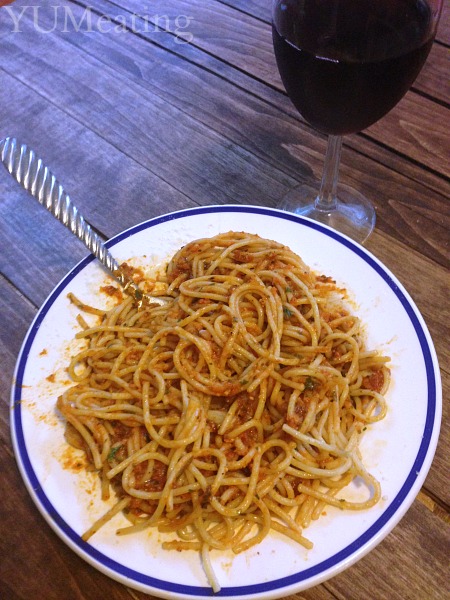 Hello! I'm Mr. YUM. AKA "Matt's Meals." I've done a few posts around here, but the Mrs. has always done them under her name and just tagged them. Well guess what?
She's allowing me to have my own logins and username.
What???
Yah. Cool, right?
Of course she still is going to edit and take care of the photos. But, at least I get to help with some of the posts. I know keeping up with her own cooking and recipes is hard work. So, I figured why not? I have a little time on my hands. I should help. 
I know that you all have had spaghetti sauce in the past, and have thought…"why do people keep adding this?" Well, i'm here to tell ya……I dunno.
Either way, I would like to share my spaghetti sauce recipe that I've made for a while now and it seems to go over well.
NOTE: this recipe is my own, and may be a little thicker than you would compared to normal sauce consistency.  It also uses a jar of Chrystal's homemade canned tomatoes.
First step. Boil the noodles until al dente. nuff said. Set aside. You can add oil to keep pasta loose, but it's up to you. I do it.
The next first step in the process is to get a can of tomatoes and strain almost all of the juice out. I can my own tomatoes, so if you do as well you will know what i'm talking about (By "I" that means my wife and mother-in-law can the tomatoes and I watch.) Don't go out and buy pasta sauce and just add herbs and spices, that's cheating. Get real canned tomatoes.
Anyways. Take the strained tomatoes, a small can of tomato paste, and add it to a food processor. The paste is not needed according to Mrs. Yum, but I like it and I'm the one making it. In addition to this comes the onion, oregano, parsley, thyme and garlic. Blend all that until it's sauce like.
I also add some dried oregano, parsley, and thyme in small amounts as well for added flavor.
Once this is accomplished, you can add the lemon juice, water, and salt and pepper to taste.
Finally, place sauce in a medium pot to warm up and serve over spaghetti noodles.
Serves either me by myself, or 3-4 people. You decide.
Mr. Yum's Spaghetti Sauce
Mr. YUM's creation
Ingredients
1

quart jar of tomatoes[/url ]

strained 90% of juice out

1

small can of tomato paste

optional-ish

½

white onion

2-3

cloves

of garlic

1

tbs

lemon juice

¼

cup

water

1

tbs

fresh parsley

1

tbs

fresh oregano

1

tbs

fresh thyme

2

tsp

dried oregano

2

tsp

dried parsley

2

tsp

dried thyme

1

tsp

salt and pepper
Instructions
Place all ingredients in a food processor.

Blend until sauce is at desired consistency.

Serve with warm pasta.

Sauce can be frozen or stored in refrigerator for 5-7 days if stored in an airtight container.
Thanks for having me. I hope you'll come back and check out some more of my recipes. I'll have some Asian inspired dishes up next week!
Do you or your family can vegetables? What is your favorite and what do you make out of them?