Food: A Love Story by Jim Gaffigan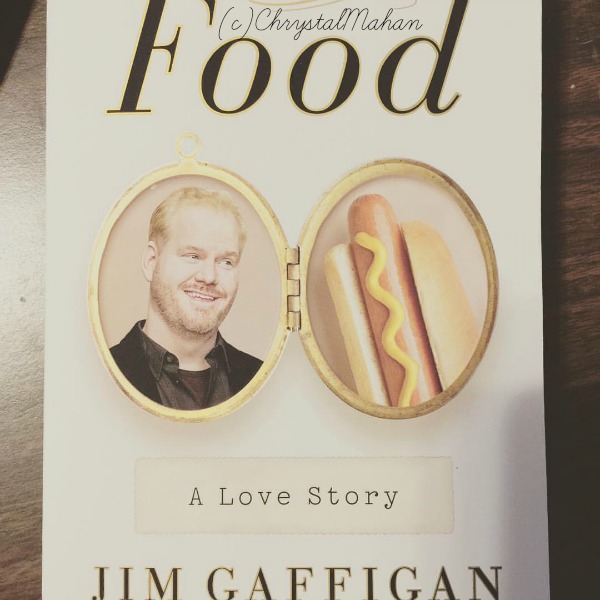 Oh food. How I love thee. Let me count the ways.
I, like many, feel in the trap of loving food maybe a little too much. Some people, like Jim, don't seem to have a problem with it, but for me – well..there is a reason weight loss is necessary! LOL
I'm going to be honest; I have no idea who Jim Gaffigan is. I know he's a comedian and I've seen him on the video stills when searching through Netflix and Hulu, but I am clueless to his work. I picked "Food: A Love Story" to review based solely on the simple fact that it is a food memoir of sorts. Everyone gave rave reviews saying he was a super funny guy and the book was a hoot. So, I decided to check it out for myself.
The first few short chapters are a peak inside Gaffigan's life and how the food book came to be. They were fun and a great way to get to  know Jim. Then we dive in to 'An eatie, not a foodie.'
Let me share with you some of my favorite lines from this chapter:
"I have a strong opinion about food, but I am not a food expert or a 'foodie.;"
"What I have is a very general and very personal knowledge of food. I know which food I enjoy, I know which food I hate. I know how food makes me feel."
"…..give some people the impression that I think of myself as a 'foodie,' but I don't. I think of myself as an 'eatie.'"
The rest of the chapter goes on to clarify and attempt to define the difference between a foodie and an eatie.
It got me to thinking; especially about my adventures here on YUMeating. And, it really makes me wonder how many food and recipe bloggers are foodies and how many are eaties. And honestly, does it really even matter?
The next few chapters dive into food topics like buffets, how America is divided in regions based on food and drink, and various other topics. They were interesting enough so I kept reading.
Sadly, somewhere in the middle, the book lost its zest. It started the American food journey discussing different restaurants and eats, but ended up generalizing areas as a whole. The switch is painfully obvious and it made the rest of the book difficult to read.
It was as if Gaffigan either didn't want to write any more, his wife took over, or he had nothing else to say so he made stuff up to cover the word count for his publisher.
I skimmed the rest of the book to make sure I wasn't missing something, but I didn't. I yawned and tossed the book aside.
Sorry foodie fans, the book was off and running but it quickly fizzled and lost its shine.
Have you ever read a food memoir? Let's talk about it.
Disclosure: I received this book for free from the publisher in exchange for my review. I am not being compensated for my time or this post. I am not forced to write a positive review. All opinions are 100% my own.