I'm Inspiralized #getinspiralized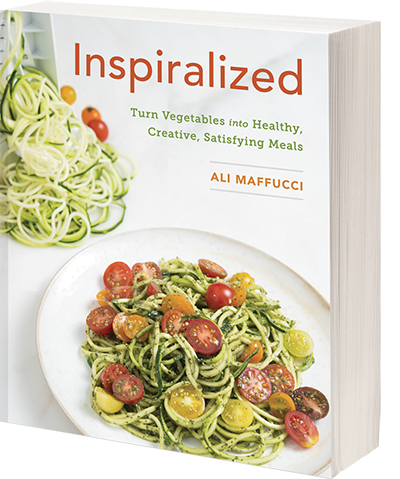 I am so excited to share this cookbook review with you guys today. Whether you follow your own plan, no plan, vegan, vegetarian, low carb, sugar-free, keto or you just want a different option once in a while; this is a perfect cookbook for you. So, that means, pretty much everyone. Let's face it, we all know that white startchy pasta, no matter how good it tastes, really isn't that good for us. Oh, who am I kidding, it's not good for us. At all. It holds no nutritional value and spikes our blood sugar like whoa. Wheat pasta? Whole grain pasta? Shiritake noodles? Have  you tried any of that stuff? Well, I have. And while I don't mind it, it's not the same. AmmmI right?
So let me tell you a little secret of mine: I've been obsessed with Ali Maffucci's website Inspiralized for a looooooooooooooooooooong time. When I found out she was finally going to release a cookbook I jumped for joy. I begged my husband to get me a spiralizer for Christmas and I am thrilled that he came through. Mine is very simple and it only does simple cuts. It's not at all fancy like Ali's with the crank and multiple blades. I don't have the counter space or the storage space. My little Veggetti suits me just fine.
Truth be told, I have had this cookbook for a while. I wanted to write a review weeks months ago, but produce wasn't so easy to come by in the right price range for me here in Michigan. Now that spring has sprung, the produce is starting to get stocked on the shelves at the spring price instead of winter. So, here's my review of the book with plenty of recipes to follow! I just need to figure out which ones to try first!
As I have mentioned in the past, I love cookbooks that have stories. I like to read about the author and where their ideas for recipes came from. I want to know if it was a family favorite. I want to know if it has some childhood memories to it. I have a lot of cookbooks. Some I use way more than others. But I find that my favorite ones always have 2 things. Big gorgeous photos and personal stories. When I flip through pages I want to not only be inspired to create, but be inspired by the words. I'm a writer (author, freelance/copywriter, professional blogger, entertainment new writer) but I am also a reader (translation: lover of words.)
This cookbook gives me everything I want. Gorgeous inspirational photos, simple healthy recipes and stories. While I drool over the photos I can read more about the author and the stories about how the recipe came to be.
So, for me, this book gets a two-thumbs up!
Now, if you will excuse me, it's time for me to go make my grocery list so I can get started on some of these awesome recipes!
[su_button url="http://click.linksynergy.com/link?id=MMN2g0RX/ZA&offerid=239662.9780804186834&type=2&murl=http%3A%2F%2Fsearch.barnesandnoble.com%2FInspiralized%2FAli-Maffucci%2Fe%2F9780804186834″ target="blank" style="flat" background="#d1f0f3″ color="#0f0e0e" size="12″ center="yes" radius="20″ rel="nofollow"] Get Inspiralized[/su_button]
Disclosure: I received this book for free from the publisher for review. I received no monetary compensation and I was not required to write a positive review. All opinions are 100% my own.