Do-Ahead Dinners: How to Feed Friends and Family Without the Frenzy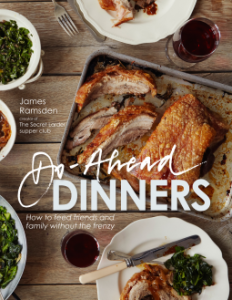 "Do-Ahead Dinners: How to Feed Friends and Family Without the Frenzy" is a perfect book for me. Husband is finishing his last year of school and clinical's. He works part time at the hospital and his schedule is just crazy. I spend a lot of time here on YUM but I'm also a freelance and fiction writer. My weekends are filled with cooking and photography while my weekdays are filled with writing. During the week I want quick meals. When I was given the opportunity to review "Do-Ahead Dinners" I was pretty excited because I thought it was going to be a cookbook full of recipes that I could use to my advantage and maybe share a few things on YUM. I also thought I was going to find a book full of crockpot recipes.
"Do-Ahead Dinners" is anything but a crockpot book. I was pleasantly surprised.
What this book is are 'prep ahead' meals. There is still quite a bit of work that goes into some of these recipes.The cookbook isn't a failure, it's just not what I was expecting. There are quite a few recipes calling for some exotic ingredients because it is an international cookbook. Its going to make it harder for some readers to find the ingredients. The photos weren't really doing it for me and I am not sure if that is because they were smaller due to being a digital copy, or if its just the way the dishes were photographed.  Each recipe did have a paragraph regarding the authors personal ideas regarding the recipe. I didn't find is as much to fun to read as "Melt."
However, we all have different cookbook tastes and this one might be for you. There are a few recipes in it that do look pretty interesting that I might try like the Fennel Soup with Brown Shrimp and Dill.
Disclosure of Material Connection: I received this book free from the publisher as part of a review program. I was not required to write a positive review. The opinions I have expressed are my own. I am disclosing this in accordance with the Federal Trade Commission's 16 CFR, Part 255: "Guides Concerning the Use of Endorsements and Testimonials in Advertising."