DIY Kitchen Utensil Holder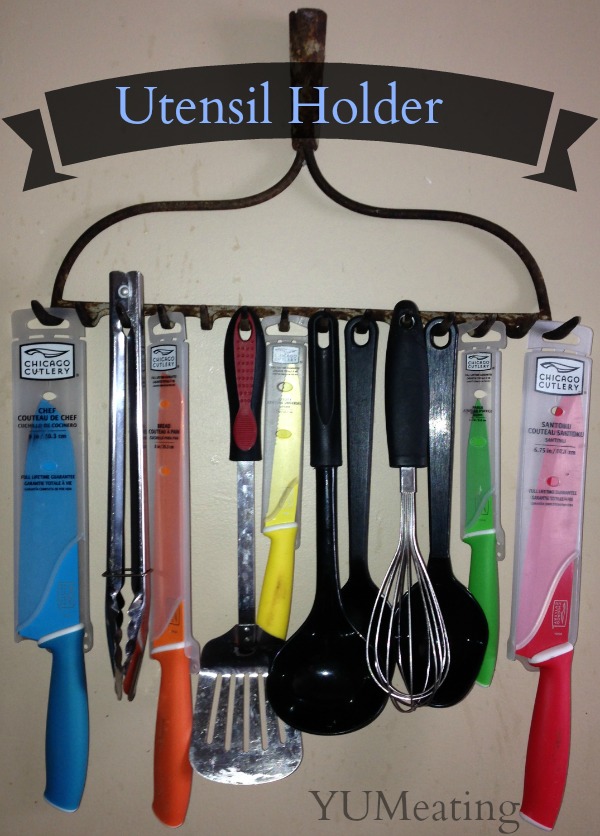 As a pre-Christmas present I received these awesome knives from Chicago Cutlery. Bad part was my utensil draw was already overflowing and my knife block was already full. I didn't want to take these out of their plastic cases so I have had them shoved in the utensil drawer.
It was getting to be a headache.
I needed another option. Problem was, I don't any spare counter space for a utensil holder.  I was running out of options and getting angrier by the minute. I need easy access to all of my cooking supplies and it's bad enough I don't exactly have the most functional kitchen.
While cleaning out our small and large barns last summer we ran across quite a few yard tools that are most likely as old as this house. Husband said they were here when he purchased the home. In the pile I saw a couple of rakes, but all of them had handles. One day I noticed we had a rake with a broken handle.  I never paid much attention to it and then a few weeks ago I noticed it was outside on top of some case, which was half buried in the snow.
I remember scrolling through Pinterest and seeing folks using these for jewelry and I always enjoyed how it looked. During all of this pinning I came across a pin for a homemade utensil holder. It too used a broken old rake. Of course, that rake looked much nicer than mine.
I forgot about it all.
After getting fed up with my drawer I decided to go outside and retrieve the broken rake. The snow had melted some and I was able to gather it up with no problems. I brushed it off a little , removed the photo on the wall and placed it just above my stove. A nail was already there so presto! instant holder.
I'm guessing I won't be able to keep the knives up there like that for long because eventually they are going to slide in and out of their plastic holders easier with use. But for now it's pretty handy and didn't cost me a dime.