Brand Ambassador: Diet -To -Go Review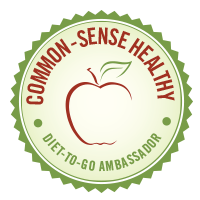 Hey, guess what?
Diet-to-Go was kind enough to let me try out their low-carb meal plan for a few days.
Woohoo!
I'm really excited to be able to share my food review with you guys.
I'm also really excited to try some other low-carb meals to give me a little spark on my own low-carb diet since I've fallen off the wagon.

That's a plus over some of the other meal plan delivery services which offer quite a bit of prepackaged meals. That is not something I am interested in, but at the same time, the condition my body is in I would rather eat some prepackaged meals in the short-term so I am able to reduce my weight and better myself for the long-term.
But, YUM isn't a weight loss website. It's about yummy food and the life that surrounds it. Weight loss is a bonus of the yummy eating, right?
Problem is that weight hasn't been budging, and sadly, I've been under a lot of stress. Stress eating isn't good for anyone, but it really isn't good for me and my broken body.
Enough about that though. We're here to discuss the yummy food Diet-to-Go offers!
For breakfast I had: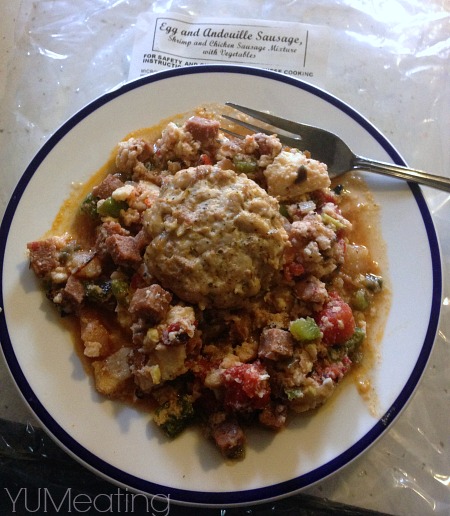 Andouille, Shrimp and Egg Hash with Chicken Sausage. This was my favorite breakfast. The sauce and tomato juice mixed together made things a little runny and that bugged me a bit, because it made my eggs a little runny. However, this was the best scrambled egg breakfast. I LOVED the flavor and the smells. It has been a while since I've had andouille sausage so this was a welcomed treat. I've never had shrimp for breakfast and I definitely wrote it down in my weight journal to try some shrimp for a low carb breakfast. My only issue with this was the eggs didn't get to set very well because of all the sauce/juice. The chicken breakfast patty was interesting. It had good flavor and gave me an idea to try to make some of my own ground chicken breakfast sausage.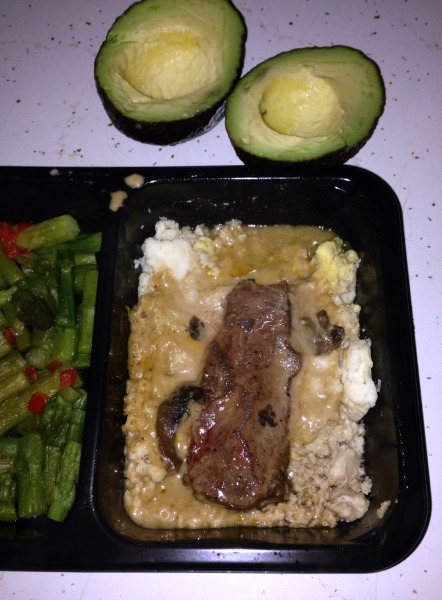 Steak and Eggs with Mushroom Cream Sauce and Asparagus. I was really excited for this meal. Sadly, I bit into the steak and it was almost raw in the center. The sauce had made the eggs funky and it was just unedible. I was bummed. The mushroom cream sauce had good flavor, but this meal just didn't work for me. I have an issue with texture and these eggs wouldn't set up. I thought about tossing the steak in a pan to cook some more, but that first bite really made me not want it.  I did get to each my avocado though.
Cheese Omelet with Spinach, Salsa and Bacon. No complaints about this. The cheese was nice and creamy. I did toss the bacon in the pan for a few minutes because I do like a crispier bacon. I didn't put the salsa on my eggs. I ended up eating it like a little tomato salad. I just can't get over putting some things on my eggs.
Scrambled Eggs, Canadian Bacon, Spinach and Cauliflower. This egg dish wasn't too bad. I think because their wasn't really any liquid for the eggs to absorb. I'm getting used to having different vegetables for breakfast. In the past the only things I would have are spinach mixed with my eggs or tossed in a smoothie. I never thought about cauliflower, asparagus or green beans for breakfast. That never felt like breakfast food to me.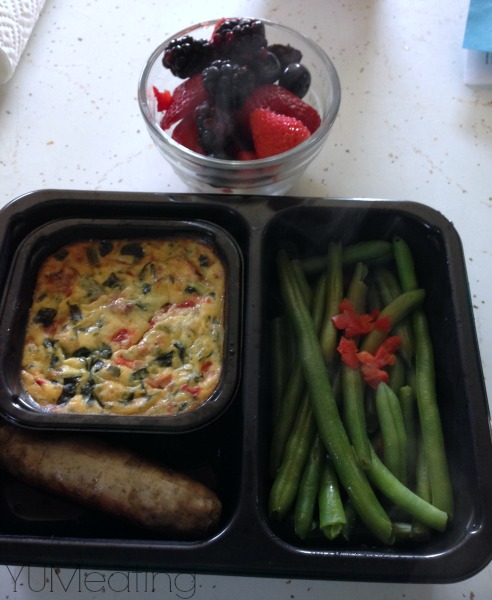 Spinach Quiche with a Sausage Link, Green Beans and Red Peppers. This was a fun little dish. These green beans had that frozen issue. Not a fan. But I happily gobbled the sausage and quiche. Like with many of the Diet-to-Go dishes, I feel for the price of the meals the servings should be a little bigger.  I followed a strict low-carb and keto diet for some time. When lowering carbs you can have good fats and protein. For dishes like this, more egg or even another sausage link would have been perfect.
For lunch I had:
Portobello Lasagna with a Mediterranean Veggie Mix. I did take a photo of this, but it did not turn out pretty at all. This was super yummy. Again, with the portions, I felt there could've been more than half of a portobello mushroom. The sauce was amazing.
Chicken Souffle with Dilled Green Beans. This was another item that was out of my comfort zone. The chicken was shredded into a souffle and wasn't like anything I had before. But, I enjoyed it.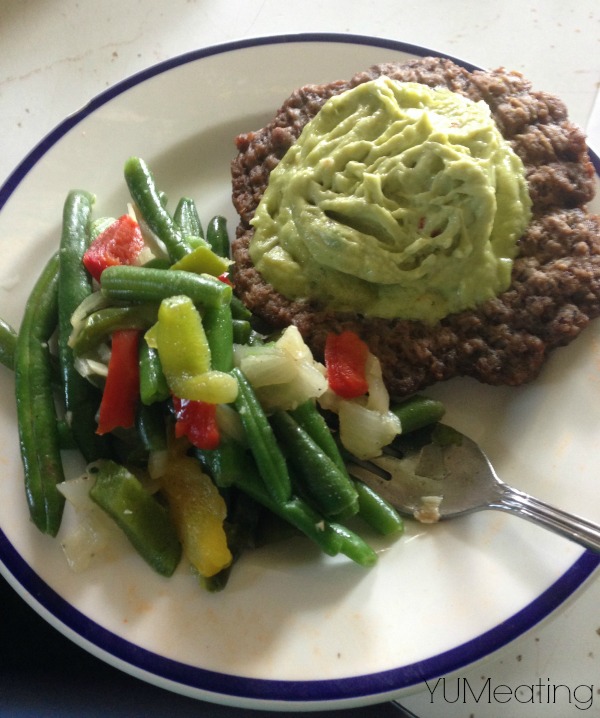 Fiesta Burger with Guacamole and Seasoned Green Beans. This was my favorite lunch. I love guacamole and was super excited to see some with my meal. I want to eat avocados every day. The burger was nice and big. I smashed the guac on it and eat it with a fork. It smelled flame broiled and had good tasting seasoning.  I did put a tiny bit of butter and pepper on the green beans.
Chicken Fontina, Red Peppers and Onions with some Broccoli Florets. Stuffed chicken breast with fontina. That's a cheese, by the way. I had no idea. Had to look it up. True story. Chicken. Cheese. It was awesome. Can't go wrong with chicken and cheese.
Baked Chicken with Goat Cheese and an Artichoke Melody and Cauliflower. Mmmmmm chicken breast, stuffed with goat cheese. It was amazing. I love goat cheese and was really excited to see it incorporated in this meal plan, especially this dish. It was nice and creamy, gave my chicken a bit of something special!
For dinner I had:
Grilled Chicken with Cauliflower Mash and Stewed Tomatoes. The cauliflower mash had such great flavor but it was so runny. I really think the little dish the egg souffle was in (see photo above) is what things like eggs and cauliflower mash or puree need to go in. When meats and other items are places in the same section of the dish, it absorbs the liquids and becomes runny. This was like eating baby food. It should not be that runny. It had such a good flavor though that I used a spoon and scooped out every last bit. The chicken was good, it stayed moist.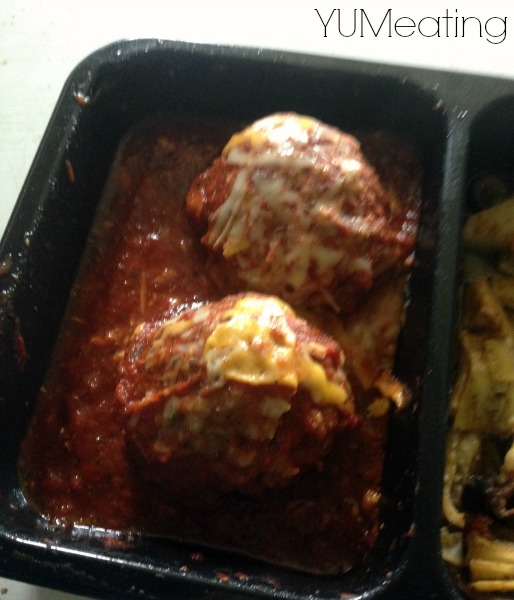 Italian Meatballs in Pomodoro Sauce and Seasoned Artichoke Hearts. These turkey meatballs were giants. They were also incredibly delicious. Artichokes hearts were top of the line too. Just a fabulous meal and really well put together Italian flavoring. This would be another I would definitely pick again.
Pork Chop Pomodoro with Asparagus and Peppers and Italian Green Beans. I still don't know what to think about this meal. It was a pork chop with red sauce and vegetables. I tend to eat my pork chops without any toppings. Sometimes we'll make some homemade Shake n Bake and faux fry them by baking or maybe put a little bit of gravy on them. The pork chop pomodoro had a great Italian feel, it's just one of those dishes that took me out of my comfort zone.
Roasted Half of Chicken with Cauliflower Puree.  I was really disappointed with this. The puree was whipped a little too much and the chicken was sitting on top of it. It make it even thinner as it absorbed any juice left from the chicken. The chicken was very small and only provided a few bites. I am not a fan of skin so I didn't eat that. The seasoning absorbed into the meat and provided it with a little too much pepper flavor for my taste.
Creole Catfish with Lemon Herb Sauce, Greens, with Artichoke Mix and Broccoli Florets. I was so bummed about this particular meal. I didn't even eat it. Not because I didn't want it, as the flavors sounded amazing, but I just can't stomach catfish. You would think that growing up in the south I would be someone who rants and raves about how great catfish is. Over the years I have tried it and just can't get away from that dirty grease flavor. I wish this dish was made with another fish!
So, not everything was a success. And, because I have to cook for YUM recipes and for my family, I did not eat 3 Diet-to-Go meals daily except for a few days. One thing I felt was that even with low-carb, these portions could have been a lot large, especially in the vegetable department. That was a huge letdown for me. Also, I did not get any meal plan regarding what could be eaten with the meals like a salad, fruit, or another serving of vegetables. If this was something that was available online, it clearly should have been written on my meal sheet or in the booklet they sent to me. Eating 3 of these meals alone, I was so hungry my stomach was growling. It just wasn't enough food. Since most diets want over half of your carbs to come from vegetables, I felt there could have been more for me to eat.
Another thing that was disappointing is that I was under the impression that this food was fresh prepared in their kitchen and then packaged and shipped in dry ice. Now, while that is all true, it is not completely fresh. There were a few meals I could tell the chicken and vegetables were purchased either from a food service market or someplace like Costco. I am not a fan of frozen vegetables. You can tell a difference between frozen and fresh that was frozen.
The things that I liked was that most dishes did have great flavors even if they were not for me. I would pick those items again. I would have to find a way to stiffen up the eggs in the dishes that didn't set well. I'm also excited that I tried some new vegetables with eggs for breakfast.
Because I did not follow the program as a weight loss program, I have no results in that department to share.
For the low-carb, 5 day program, cost is $136.99. There are three different meal plans to choose from, Vegetarian, Low Fat and Low Carb. Right now Diet-to-Go is offering 20% off for new customers. You can pick from a 5 day plan or a 7.  You cannot pick your food for the first week, but you can tell them what you don't like after trying something. The meals are on a rotation.
Overall, I think if you are short on time or just don't want to mess with trying to figure out a weight loss meal program that this is definitely a good option.
Disclosure: Diet-to-Go gave me 5 days worth of meals to try for free in exchange for an honest review. All opinions are my own.