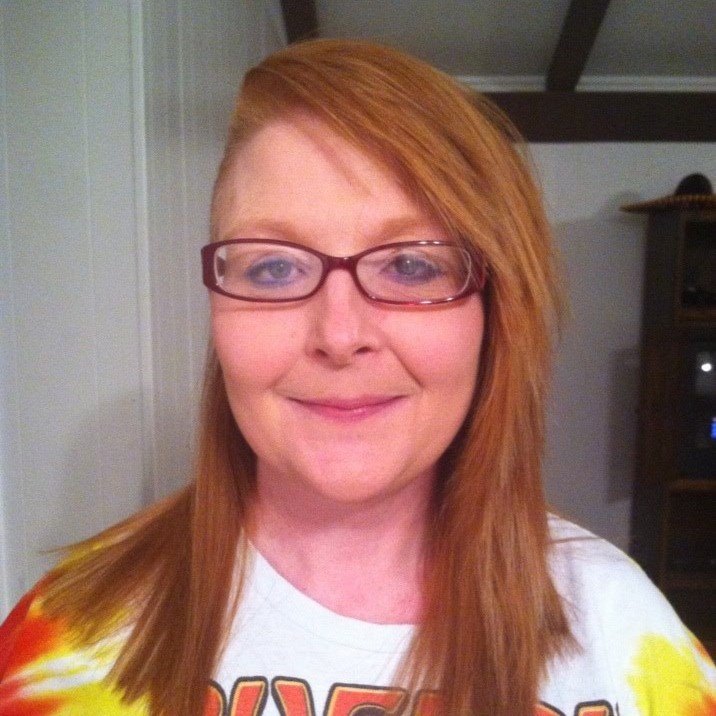 On Friday (January 15, 2016) afternoon, my sparkle left me. The world around me crumbled. This is going to get a bit long, so grab a tissue and get comfy.
This is Stephanie. Wife. Mother of 8. Daughter. Sister. Best friend. Card carrying member of the "Tulsa Eastsider's Crew" and the Queen of Sparkle. She was my life-long friend. I'm blessed to have many life-long friends and we've all had our "life took us in different direction" moments. But Steph was always my constant. When life took us in different directions, it was never for long. We always found our way back to each other.
Through the years I've collected bins worth of cards, letters and small gifts all from my sparkle. No matter what this woman was going through in her own life, she always sent a card or letter. Birthday, Halloween, Christmas, Thanksgiving, Valentines, St Patricks Day and when kiddo and her dad came into my life she then sent Mother's Day cards. Sometimes she sent a card just because.
She took time to make phone calls and send text messages. When I was first blessed with Facebook, it was only for college students. Over the years, things changed, and all of my friends, one by one, started to show up. Steph joined that world and I remember how excited she was to have friends she had met through stages in life all through a simple phone app access.
She believed in finding joy in the simple things of life. She didn't care about certifications and degrees. She didn't care about big houses and fancy cars. She believed in the little things. Her family. Her friends. Love. Friendship. Kindness. Her children. Her husband. Unconditional love. She taught me that no matter what you go through in life, as long as you had these simple things; you had enough. If you needed something else, it would find its way to you if you worked hard enough. She found joy in the smallest things. She believed in me when I couldn't believe in myself.
When I left Michigan at the age of 6 and landed in Oklahoma, my family moved around a bit before we settled in Tulsa, OK when I was in the 5th grade. I would live in the same area until I graduated from high school. In the 5th grade I met a wonderful group of people, many of whom carried on with me through life. I am thankful for so many life-long friends. I remember the first time I met Steph, this vibrant red-headed firecracker. She was friends with someone who was in my class and she sat by us in the lunchroom one afternoon. It didn't take long for her to realize I was new to the school. After she laughed, and snorted, then pushed up her glasses, she looked at me, stuck out her hand and said "Hi, I am Stephanie. I was new here once too." And she laughed again. "Now you know someone else here." I'll never forget that.
I didn't spend much time with Steph in 5th or 6th grade. We didn't have classes together but when our paths crossed she would take time to smile and say hi. I always remember that smile and wave.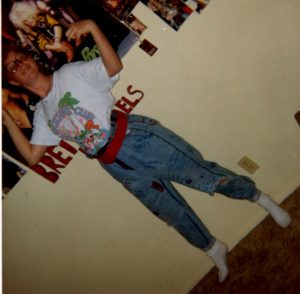 It wasn't until 7th grade when we landed in the same classes together that we instantly became best friends and she became a constant sparkle in my life. Over the years we shared gossip about classmates, picked each other up when a boy broke our hearts, planned our lives and shared our dreams. None of this changed when she went to a different high school, or later when she moved out-of-state. Or the few times I moved back and forth between Michigan and Oklahoma. Nothing was going to stop this friendship.
Stephanie was an interesting character. Every time she came over she would head to the fridge and grab the pickle jar, knowing we saved the juice just for her. "It helps your boobs grow!" she always said.
She was not only my best friend, she was my sister.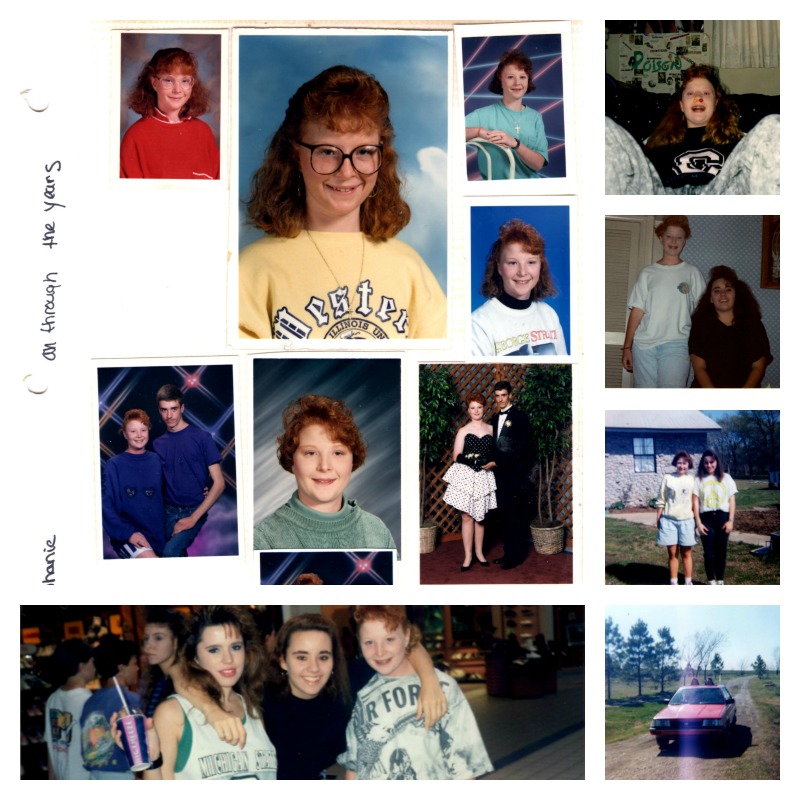 No matter where we were in life, we always made time for each other. Road trips, cards, letters, small gifts, photos and anything else we could fit in an envelope. We laughed, we cried and stained the paper we were writing on. We shared life events and tragedies.  We jammed out to Poison in my tiny bedroom. We were going to start a female rock band, live next door to each other, grow old together and share our life stories in the nursing home. We thought the Golden Girls were awesome!
Our senior year of high school Stephanie had her first child, Travis. I remember our friend Chris and myself took the trip from Tulsa, OK to Ark. during a terrible storm to get to her house for her wedding. We were so worried we were going to get in an accident and die and ruin her wedding. As adults we laugh at this story now. We just couldn't ruin Stephs wedding! Her brother chased me and I swore I was going to fall down and break my ankle! (LOL)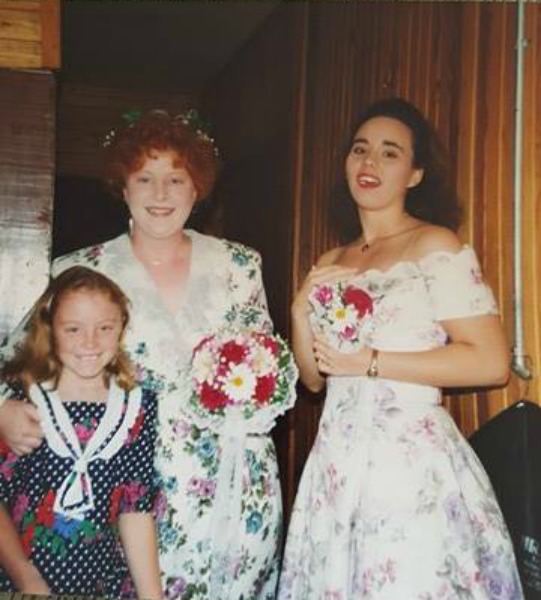 And when I graduated high school, Steph brought her newborn baby right along with her to watch us graduate.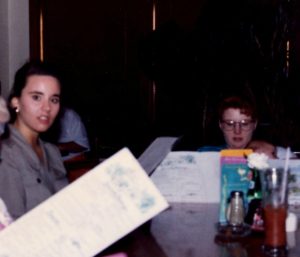 Stephanie knew every thing about me and I knew all of hers. No stone was left unturned; nothing was off-limits. No matter what she was going through in her own life, she was always incredibly thankful for the life she was living and always found time to reach out to me to make sure I wasn't consumed in my own darkness. Stephanie had her own struggles. Much like myself, she battled issues with food and weight. Later in life, she suffered through some fairly serious health problems.
The battles with food and weight, it was never easy for either of us and for her, after 8 kids and multiple health problems, enough was enough. She wanted her old body back.  Steph had a doctor which recommended weight loss surgery (WLS) thinking it might help with her other health problems as well.
A few years prior, my own Dr had discussed it with me WLS thinking if the weight would come down, a lot of my back and hip pain would be better managed. At the time, there was the possibility of my ex-husband and myself having children. I chickened out of the surgery but last year was open to the idea again. This time, because I was in so much pain and agony that the weight loss would help manage that. Steph told me she would be right beside me.
Stephanie kept me updated with her progress every step of the way; from doctor visits, to the liquid diet, to the day of surgery. We talked after the surgery. How it was going, how she felt, things like that. Then, shortly after her surgery she passed out. She was found unresponsive and landed in the hospital. She was in a coma for many weeks. The brain trauma caused her to have a slow recovery. They were able to find that she had a blood clot and they repaired it. She started to have psychical therapy; getting stronger every day.
I backed out of my surgery and was bound and determined to do it myself. As with any decision I made, she was proud of me and would be my cheerleader every step of the way.
Then, she passed out in the bathroom and in the process banged up her face pretty badly. She was black and blue; looking as if someone bashed her face in with a shovel. It was heartbreaking. During this time cards and letters stopped. She was so weak she could barely FB message. But, she tried. And I love her so much for that. She went to the ER, stayed a few days and went home with more questions than answers.
She wasn't home long before she passed out again. This time, she wasn't waking up. They took her to the hospital in Springdale, Ark. They couldn't figure out what was going on so the life flighted her to St. Johns Hospital in Tulsa, Oklahoma. All our friends, the Tulsa Eastsider's Crew,  went running. They drove while her parents spoke with doctors about the next steps. She had an internal bleed which was inoperable. Her lungs were failing and so were her kidneys. She was on dialysis. By early afternoon her poor, tired, frail body just couldn't take any more and she passed away.  Our friends didn't make it in time. 
The last time I saw Stephanie in person was July 2006 when my then husband and myself went to visit her for my birthday and ended up with drinks and tats. A year later I moved up here to Michigan and have been here ever since. When I told her Mr. McConnell and I were parting ways and that I would be moving back home sometime this year, she started planning again. We couldn't wait to see each other, it had been far too long.
Now, I won't get a chance to 'plan' with her when I return home. 
I've cried many tears these last couple of days. Tears of sadness for the loss of my sister. Sadness for her family and children which range in age from 23 to 1. Sadness for her parents, extended family, shared friends and the friends she's made along the way.
I cry tears of happy times; because lord we had a lot of them.
Last night my mother came to me crying. "All I can smell is pickle juice!" She trembled through her tears. I smiled. I knew Steph was making her rounds. I said "Mom, it's ok. It's going to be ok. Steph is just making sure you saved her some. One last drink before she goes." My mother loved her as if she were her own daughter and helped her through many life lessons. I know her heart is breaking, too. 
For many reasons I will be unable to attend her funeral services on Tuesday January 19. I know our friends understand. Stephanie knew my life, she knew my struggles and she knew what I was going through now. I'm sad I can't be there, but I lived a happy life with Steph full of many years of smiles and tears. Never a time went by where we didn't tell each other how much we loved each other. When she was in the hospital after surgery, friends and family passed along messages to her from me.
Even though Steph was proud I was able to obtain my MBA, what she was most proud of was my writing. It was something she always encouraged in me, from my simple paragraphs of prose to longer works of poetry. My short story fiction to longer works of word nerding. It seems fitting that she have her own special tribute here. If not for her encouragement, my web space may not exist. If not for her cards and words of encouragement my first book of poetry would be sitting in a box instead of published. Other works hidden from view.
I find peace in knowing she knew just how much I loved her – every day. 
I cannot stress enough, tell people in your life just how much they mean to you. Not just on Valentines. Not just on Mothers Day, Fathers Day or Christmas; but every day. You never know how long you really have with them.
With that I have decided to pay it forward. Stephs cards and letters over the years were a constant in my life and it really meant so much to me. Now, my mail box is going to be lonely. I've started a small pen pal club with some friends and would love for you guys to join me. If you'd like to get to know the voice behind the blog on a more personal level and get some good old-fashioned snail mail, send me an email me@chrystalmahan.com  If the list grows, maybe we can do a Blogger Pen Pal list and partner people up. But, for now, I'm happy to write letters and stuff to my little hearts content.
I love you 'Rikki.' Thank you for standing beside me for so many years. May your sparkle forever live on. I shall go forward in life keeping my eye on the simple things. This is not goodbye. I'll see you again my Stephie, when my time here is done; my story's not over yet. Forever in my heart. ~ 'Bret'