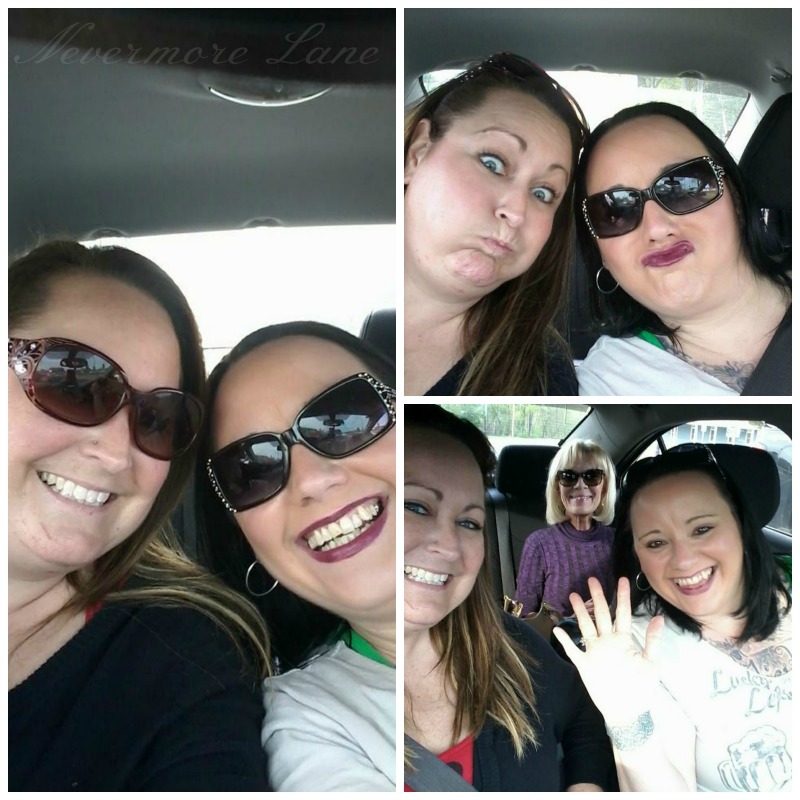 When push comes to shove, what do you do? Retreat? Push through? Drive to Cedarville, Michigan?
In the past, I would retreat. It was so much easier than dealing with all the drama that generally came with whatever was going on around me. That is a true testament to my sign the Cancer/Crab. Lately though I am busting through all the physical and mental health issue and destroying that tough outer shell. That also means the other part of my sign, Water, is calling me home. 
When I first met J, I had mentioned in passing that I was thinking about renting a cabin for the summer just to get away for a while and get closer to nature. I have so many writing projects that need finished and I have way too many distractions around here. I am thankful that I have a little side-egg gig that works around my health and I can work anywhere. The week I was hired on for that job he told me about his mother's cabin in Cedarville, MI; up in the UP portion of Michigan.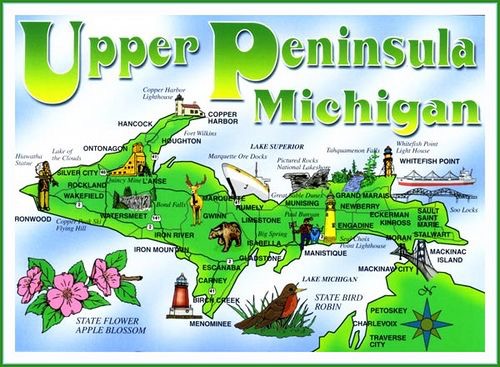 At first I was excited…. until I Googled it and saw where it was…… He wants me to go to the UP? ALONE? He's joking, right? Every little bit of self doubt and anxiety that could set in, did. After a few weeks I finally told him I wouldn't mind going up there to see the place before I decided whether or not it was the place I wanted to rent.
Push came to shove.
At first, the trip was going to be me and him. Then, his mother needed to go. Then, he couldn't go. So, it was me and his mom. Wait?!?!? What?!?!!? Me and your mom…a person I had never met before in my life are to drive 3.5 hours away.. alone… complete strangers?
Old me: No freaking way.
New me: Well, I really would like to meet your mom first so it's not as awkward. But I'm cool with hanging out with her.
The whole thing was completely rushed and somewhat spur of the moment. I asked my friend Kelly to come with me to the cabin and she was thrilled. Kelly was one of the first friends I made when I moved to MI years ago. Life took us in different directions and area codes. Now we are close to each other again and have been trying to hang out for months. I was thrilled when she said she would love to come. It was going to be a reunion for us! Yah!
I met Js mom on Wednesday; after he and I did some book work (that lasted an hour) we headed to the park for the day. Followed by dinner and a trip to his moms.
Old me would have been nervous and twitching in the car seat.
New me was actually pretty calm about the whole thing. Sure, my mind was going "Frack! You're meeting his mom!" But once I got there, we said our first hellos and all sat outside to chit-chat, all that went out the window. I even met his sister (also a J) and her boyfriend. It turned out to be a really fun night full of laughs. Many, many laughs.
I knew our trip north was going to be eventful.
Friday I picked up Kelly and we met Js mom and his sister in town.  Kelly, myself and Js mom got comfortable and headed out for our 3+ hour drive.
And apparently everyone else wanted to go up north. So, what do you do? Take a selfie of course!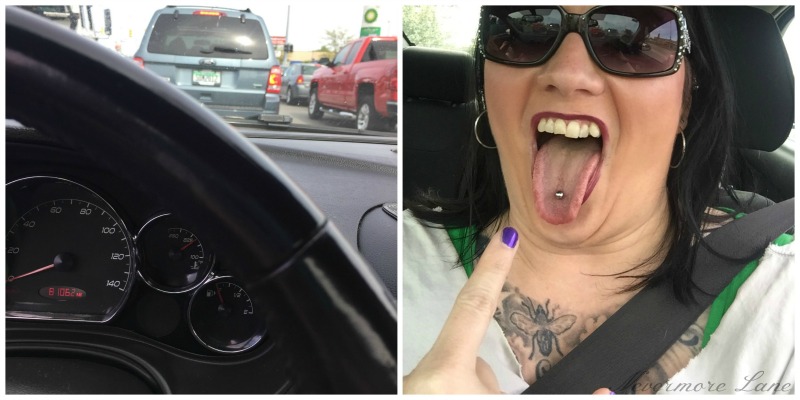 One: I have never been to the UP of Michigan.
Two: I have never driven over the Mackinac bridge….. (say it with me… mack – i – naw)
Three: Bridges freak me out. So, there's that.  (as I convince myself I should do the annual bridge walk)
I was so ready to kick anxiety to the curb; until my aunt and mother called to tell my that my cousin (in CA) had lost her son in a random gang shooting. He was at the wrong place at the wrong time. A week from graduation. Two weeks from leaving for the air force.
So, we pulled over and Kelly drove us over the bridge so I could:
1. collect my thoughts
2. take photos of the sunset over the bridge.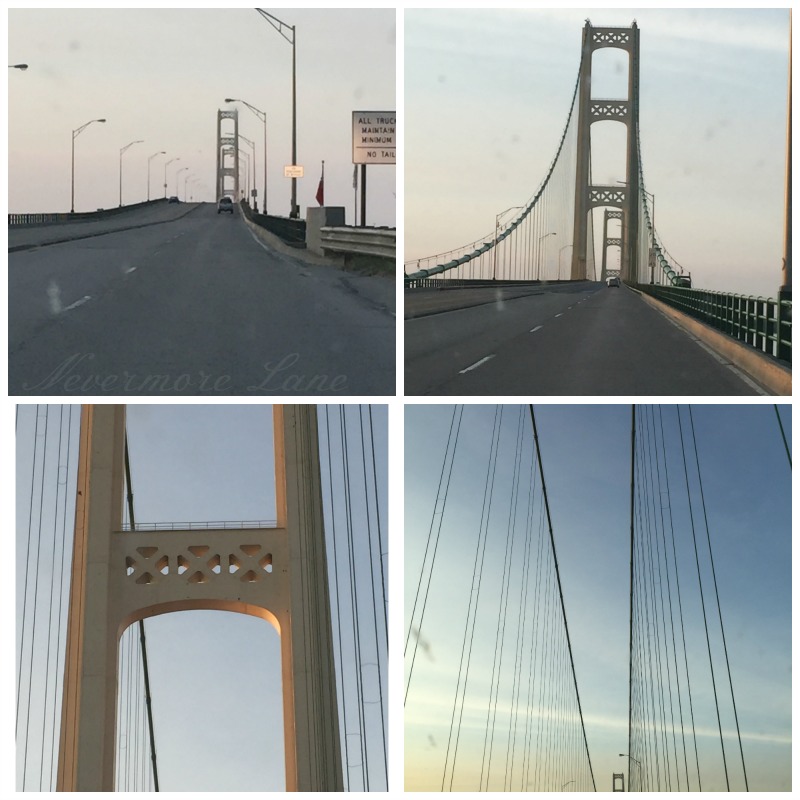 As Kelly drove I worried about my cousin and how completely lost she must be feeling. Part of me felt extremely guilty; here I was enjoying the view and the gorgeous sunset heading to a place I've never been – a new journey – realizing just how blessed and amazing my life was at that moment in time. Her's was just blown apart.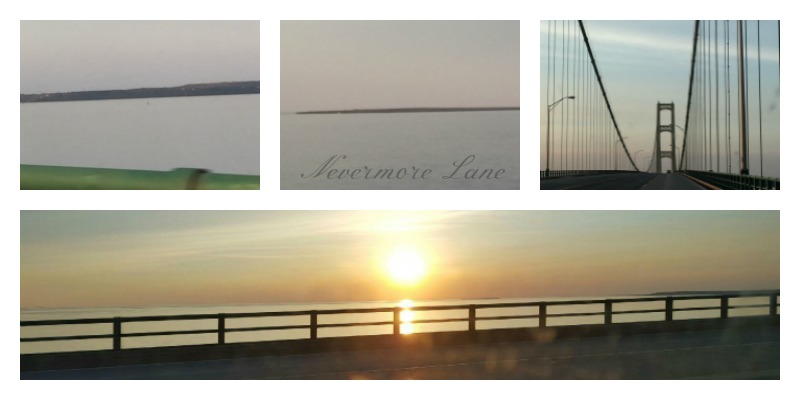 In that moment, I learned a very important lesson. While I have been on a new journey these last few months, I realized there are things which are holding me back. Things in my head space that I haven't been able to shake. As I spoke to my new friend and my old friend I realized, in this moment, I have everything I need. 
And that, my friends is how I pushed through the crap in my head and had the weekend of my life.
To be continued………………………………………