How to Make Your Own Sugar-Free Pancake Mix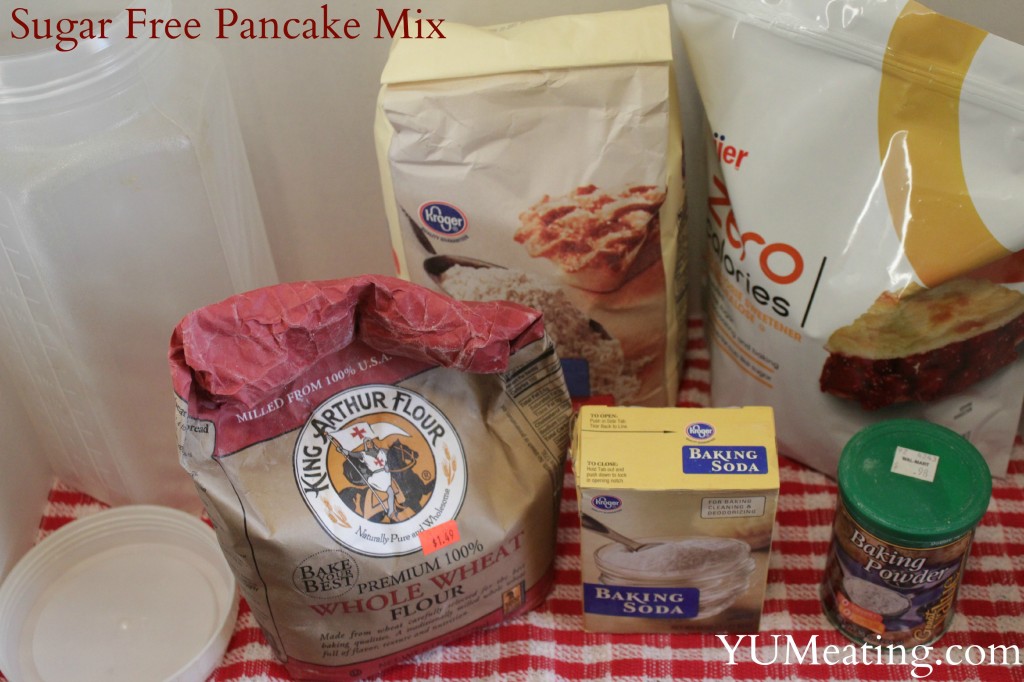 For a while there I was buying the Heart Healthy version of Bisquick. I'm on a quest to get away from as many boxed items as possible and save myself some money in the process. I am trying to stay away from white flour, but we don't eat pancakes very often so I can justify few servings here and there.
I do have a recipe for low-carb almond flour flax pancakes if something like that interests you.
This recipe is all about saving money and getting away from processed foods. Making your own pancake mix is really simple and will save you a lot of money in the long-run.
In my photos you will see obnoxiously low prices on orange stickers. That is because I shop at a 'scratch and dent' close-out clearance center. Sometimes I find things like that $5 bag of wheat flour for $1.49.
For this pancake mix you will  need an airtight container to store it all in.
As I continue my quest to cleaner eating this recipe can be modified. For my family it has been baby steps. Instead of 4 cups white flour use wheat and replace the 2 cups wheat with almond, coconut or flax. You could also make all 6 cups wheat flour. Also, I know there is a lot of controversy around artificial sweeteners, Splenda included. I am slowly transitioning from them simply because they are processed foods and I want to be as clean as possible with my foods. I received an email this morning from Paleo Hacks with some Low Glycemic Sweeteners that would work better for those who could have issue with raw honey and pure maple syrup from the recommended clean eating list. Again, these are processed, but you can find organic Stevia which would be an excellent option because it would be the least processed. Although, I am leaning more towards the coconut palm sugar.
What do you think?
Feel free to share your thoughts or some of your favorite pancake toppings in the comments below.
Sugar-Free Pancake Mix
Store all of these ingredients in an airtight container. You'll never have to worry about buying store-bought pre-packaged pancake mix again.
Ingredients
4

cups

white flour

4

cups

white flour

2

cups

wheat flour

2

cups

wheat flour

2/3

cups

no calorie sweetener

2/3

cups

no calorie sweetener

2

tbsp

baking powder

2

tbsp

baking powder

1

tbsp

baking soda
Instructions
Pour all dry ingredients in an airtight container.

Store in a cool, dry place.
I bet you're wondering now – well what do I do with it once I have the mix? Keep an eye out – I'll share that with you next.
Here are the ratios for making Bisquick® like Pancakes using this mix:
2 cups of the baking mix
1 cup of milk
2 eggs