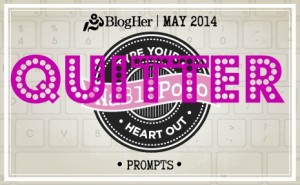 Yup.
It happened.
I just could not keep up with NaBloPoMo.
I'm a self-proclaimed quitter.
I tried really hard to keep up with it. When I first started I had planned on doing it both here and on Self Employed Writer.
Then, I quickly realized I was going to just have to do it here and then do a little cross posting for those that might be interested.
Last week I made a list of photo sets I still had on my hard drive that I still have not written out a post. I added to that sponsor posts that were about due, followed by the drafts I started and ideas I had jotted down. I had a piece of notebook paper that was filled on both sides.
I should have been happy about that, but I wasn't.
Things are picking up here at YUM and for that I am extremely grateful. However, some things had to give and I had to let a few projects to go. So, the BloPo was the first, followed by a few freebie sponsors. I just can't keep up with it all on top of my own material and really give everything the attention it deserves.
I refuse to quit YUM. I was heading in the direction of that "must quit I am so overwhelmed" feeling.
Sorry to those who were following along. Maybe once I get some organization and start knocking out these posts I'll try another blog challenge.