Confession: Food Blogging is Hard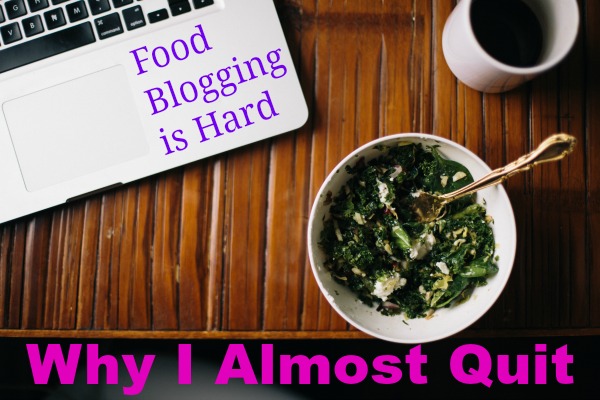 I have a huge confession to make you guys.
Food blogging is hard.
Food blogging is so hard, I almost quit. 
Food blogging hands down the hardest blogging niche I have ever been in. I've been blogging for the better part of 20 years now (Tripod, GeoCities..homepages…anyone? anyone?) I've never really considered myself to have a niche, but when I had More to Life than Chocolate a few years ago, I was posting so many recipes and they were my highest hitters, I felt perhaps that was a sign that I needed to niche-out. 😉 It was also suggested to me by a zillion bloggy friends.
Let me tell you something. Writing about food on a food blog causes you to think about food 24/7. Every meal you make, every bite you take, you are wondering if this is a blog op. Every trip to the grocery store starts with one list and ends with another. Every time you go out to eat – near or far – you wonder if you can sneak a pic and turn it into a blog post. Then comes the worry on whether or not I should have brought the dslr.
More to Life than Chocolate was started as a healthy website with myself and a good friend; Mr. YUM even joined us for a while. It became a place for me to talk about by struggled with PCOS and was around for a few years and when I started YUM, I couldn't keep up with it anymore, so I let the domain lapse and eventually just rolled the recipe posts here and the rest were either put on another site or deleted altogether.
Looking back, sometimes I wish I would have just kept that site. Sometimes someones niche is to not have a niche at all.
Here is my other confession, I have an eating disorder. Well I did. But, just as with any addiction you are never really over your illness. You just learn to deal, handle, make better choices.
Only….
I didn't handle and make better choices.
Hello my name is Chrystal and I have a binge eating disorder. I overeat. I used to purge by using laxatives because I couldn't throw up. I am a food addict. Constantly thinking about food 24/7 put me in a bad place. Most of you know I already suffer from anxiety, PTDS and other mental health disorders. This was just the icing on the cake and its sent me into a downward spiral.
Instead, I lost my true focus.
Myself.
And, instead of me I focused on building my recipe database here on YUM eating.
Like most bloggers, it takes a while to find your voice.
In the beginning I was focused on using real foods to create simple recipes. Some super healthy, others were just super-duper comfort food. I started to find my way in a lot of cleaner eating, whole food, no processed, blogger exchanges. These bloggers were featuring my recipes on their site and it was awesome.
But, I wanted to brand and grow a business, too.
While my business grew a little, my waistline grew a lot. Some of my past food issues started to appear.
Overall, my chronic pain issues became worse because of the extra weight I am carrying around. I'm miserable. My depression and PTSD have been overbearing and I've been struggling to even maintain daily day-to-day activities.
Now, here I am accepting offers for foods that don't really fit my lifestyle or business model I had set for YUM just because they paid. And sadly, there aren't a lot of offers out there for the items I do use. I started to feel really shitty about it too. I was stressed out. It felt forced and not at all me. It started to not be fun and exciting.
I guess I just lost my way.
I discussed with all my sponsor companies about switching from an all-food blog to a lifestyle site so that my main focus does not have to be food. All of them were perfectly fine with that and a few of them felt it would be an awesome opportunity for me because that would mean more sponsorship opportunities.
But, at the end of the day, YUM is my love. It's my little restaurant on the web and there is a reason why I write here.
So, I had to start checking bloggers who do not use sponsors as their focus of income and instead focus on things like selling their photography, selling their recipes, creating and selling printables, creating and selling recipe books and bringing in advertising and sponsors that do match.
These last few weeks I have had to take a step back and find my focus again. I'm going to be 40 in a few weeks days and that really has me evaluating a lot in my life.
I want to go back to creating healthy, clean recipes.
I want to focus more on me and getting healthy and less on paid sponsorship for items I have no business putting in my body (or bringing into my home;) even if that means a severe drop in my blogging income.  I'll still take on sponsorships, but only if they are truly something I want to create with and enjoy.
I'm also going to be saying 'no' a lot more to people who want me to review their products for free (unless it is something that fits and is extremely useful to me; making it worth my time.)
I'm going to spend more time going back to the beginning and going back to what got me here in the first place. Blogging has been a part of my life for so long I can't imagine a life without it.
Honesty. Integrity. Real food and real experiences. 
Healthy weight loss will hopefully come in the process.
Thank you to all of you who have stuck around through all the ups and downs and even these last few months when I wasn't posting as much. It really means a lot to me.