The Beauty of Asparagus and Mushrooms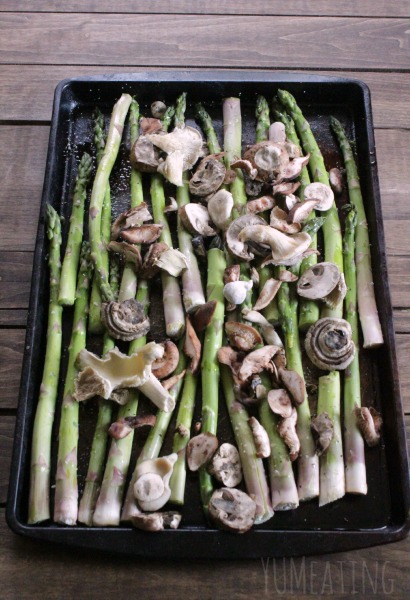 Not a recipe post today. Just some photos of the things that could have been. 😉 Sounds a little weird, I know.
I love asparagus. It's one of my favorite vegetables. All my life my mother has called this goodie 'ditch weed' and for good reason. Every summer when we would travel from Oklahoma to Michigan my mother and I would take a drive out to my grandparents old farmhouse, just a few miles away from their current home. We would go pick these 'weeds' out of the ditches and wild patches that would form in the yard. Everyone in my family called them ditch weeds. I guess it was something my grandparent's coined when the family lived on the farm. 
When I get fresh asparagus from the store or farmers market I am always transported back to those happy times with my mom. I don't have a lot of happy childhood memories so I always make sure I hold on to the ones I do have.
Roasting asparagus with fancy mushrooms, some garlic and extra virgin olive oil is one of my favorites. I love how the asparagus is just a little bit crunchy.
Things don't always turn out as planned. I have these great photos. I think about my mom, holding my hand as we walked down the road.
I take a quick breath as I am transferred back to reality.
Damn.
I burned them.
I don't have any more so I can't create another batch.
Hey, it happens.
So, today I'm just sharing with you my pretty picture and happy memory.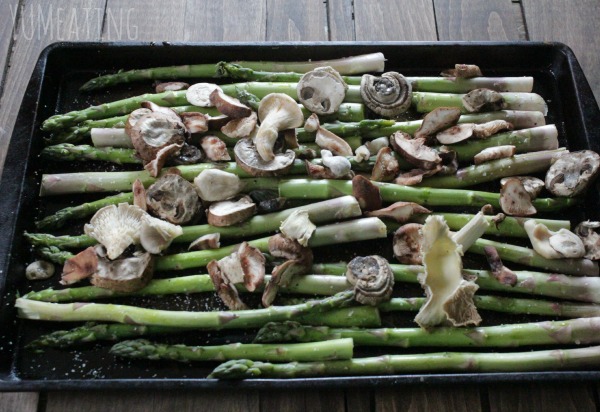 What have you burned recently? Wanna talk about it? How about a happy family food memory?