Bacon, Mushroom & Egg Ramen Chicken Noodle Soup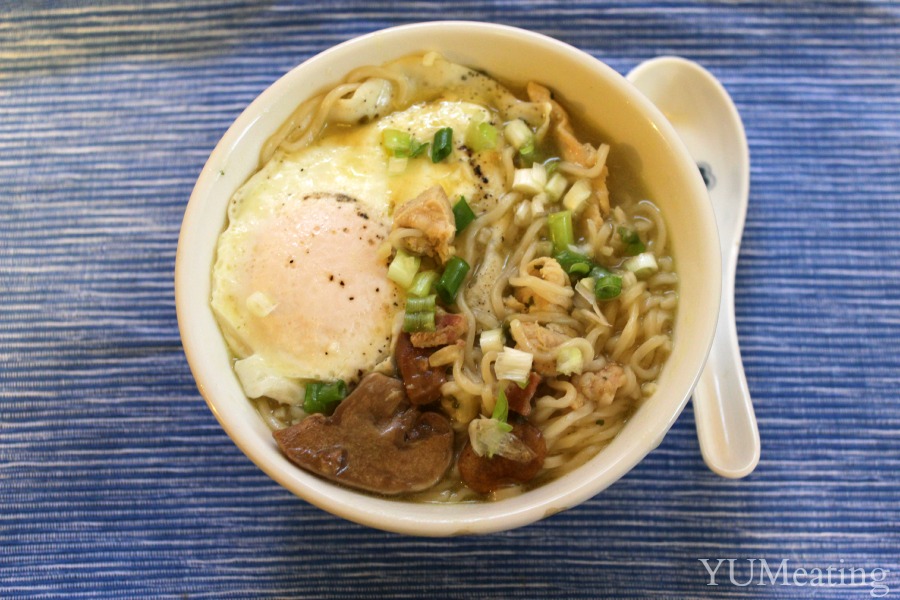 I've got serious issues with Ramen noodles.  Sure, they are cheap. But after I watched  Marc Summers in 2008 school me in the ways of how this block of noodle was made, I vowed never to return to the 10 cent package of wonder. (For those curious minds, check out this YouTube video. While not exactly Unwrapped, it is pretty close to the production I saw. Only difference is Marc took us behind the scenes and showed us the process and all of the ingredients. It was kinda, yuck.)
Until now. 
Thanks to the October 2013 issue of Food Network Magazine Ramen noodle entered into my life again.
Now I know there is a huge different between the Ramen you can buy at the Asian mart and those little blocks in the supermarket.  But this recipe actually called for the grocery store kind, but you have to toss the flavor packet.
The Ramen Noodle Soup recipe is available on the Food Network website but it doesn't do justice for the photographs and topping choices that magazine showcased. What caught my attention was the bowl of Ramen with the egg right smack dab in the middle of it. I love eggs. I want to eat their creamy center all the time.
The basic Ramen Noodle Soup recipe had a few issue for me. First, I had no desire to sit and boil 4 pounds of chicken wings. Nor did I want to boil, boil, and boil some more. I wanted to  make this as quick and simple as possible, otherwise I would abandon the project.
The magazine suggest plenty of toppings for this basic recipe. Shredded roasted chicken, mushrooms, seaweed, kale, tofu, snow peas, scallions, bean sprouts, sesame seeds, radishes, kimchi, watercress, jalapeno, pickled ginger, wasabi, the fried egg, sesame oil, squash, shrimp, pork belly and sriracha.
With a list like that I knew I could toss together the basic stock and then the husband and I could add our own toppings.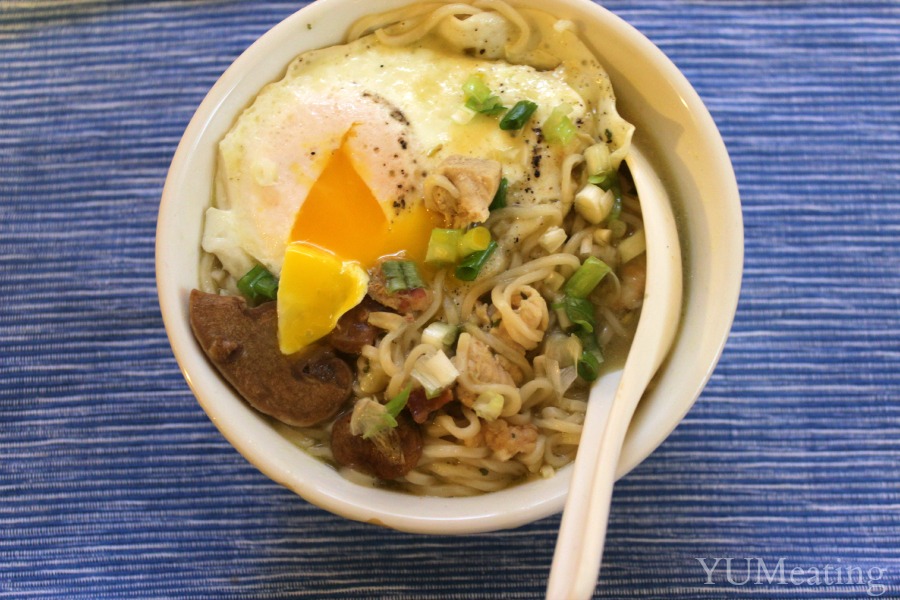 I preferred mushrooms, friend egg, scallions and then there was the bacon and chicken from the stock recipe.
I don't know where this has been all my life but let me tell you, it completely changed how I look at Ramen. Although, I'm still not sure I am a fan of the 10 cent packages. For now, I am OK since it's not like I am eating them daily.
Our recipe was greatly inspired by the recipe in the magazine but we didn't follow the complicated heat, cook, reheat, boil this and that method at all. I think ours is much simpler. (even though after I type it out it doesn't seem so simple, but it really is.
Mushroom & Egg Ramen Noodle Soup
Ingredients
6

packages of Chicken Ramen

3

TBSP

Olive Oil

8

Stalks of Green Onion

sliced

8

Garlic Cloves

smashed

8

Slices

of Ginger

1/2

pound

of Bacon

4

Chicken Breast

1

cup

Frozen Mushrooms

Parsley

dry
Instructions
In a medium size frying pan add 1 TBSP olive oil. Then add the green onions, garlic gloves, and ginger.

Saute until warm.

In a second frying pan begin cooking the bacon. Once done leave in pan.

Remove the seasoning mixture from the first frying pan and set aside. Use this pan to cook your chicken. If you have a George Foreman type grill you could use this for your chicken instead and use the season pan to cook your mushrooms.

Once your chicken is done, remove from pan and set aside.

In a large stock pot, fill half way with water.

Bring to a boil.

Crumble the cooled bacon.

Add the bacon fat, bacon, green onion, garlic and ginger mixture.

Add the Ramen noodles and flavor packet.

Reduce heat to low.

Stir.

While this is cooking shred or dice your chicken.

Add the chicken.

Allow the soup to simmer for a few minutes but do not overcook or your noodles will get mushy.

Place soup in bowls and garnish with parsley.

For the mushroom and egg variety, add the cooked mushrooms to the bowl. Fry an egg and add it to the top of the soup.