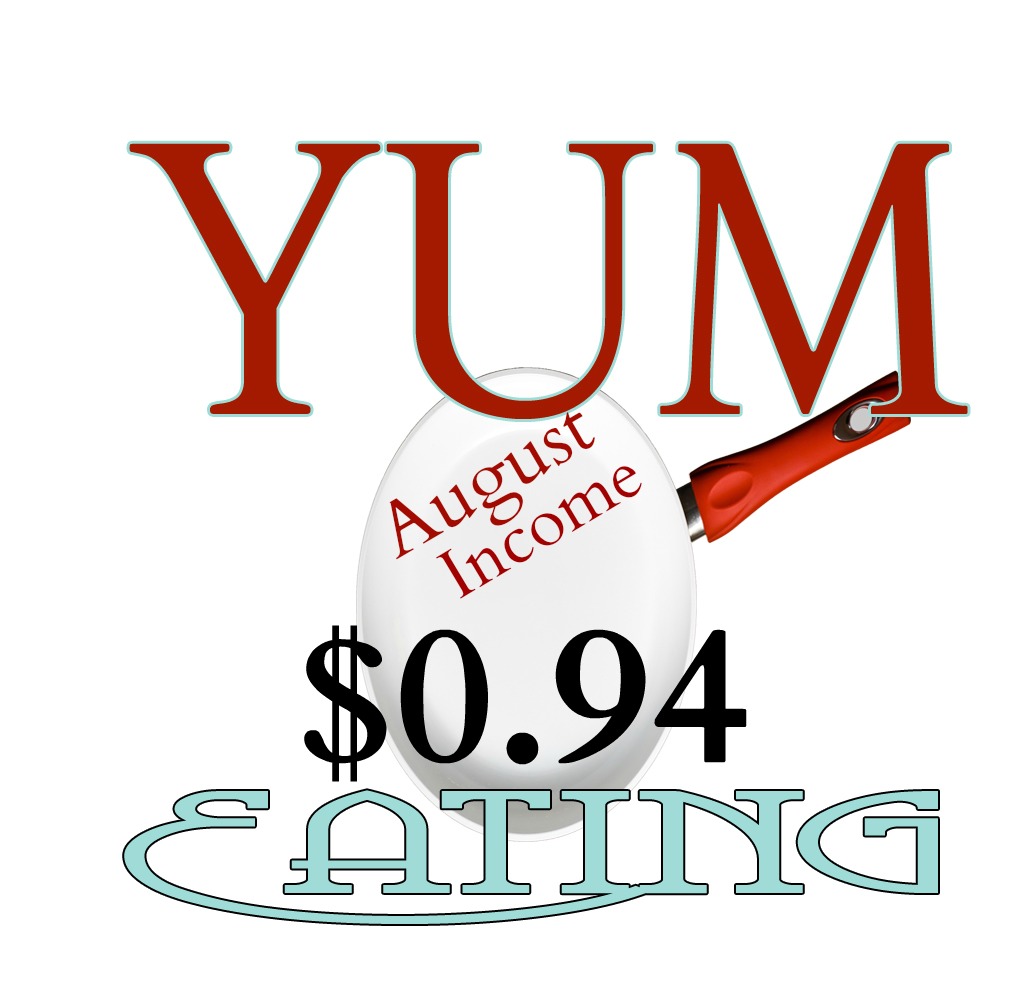 August earnings are in!
As I stated in the "coming soon" post I wanted to be completely transparent here at YUM eating. Plenty of bloggers kept their earnings to themselves. Some share their earnings but don't bother telling how they got their earnings. I've found a few food bloggers that are ready and willing to do both. Over the years I have crossed paths with many site owners who have helped me with my past sites. If I would have taken that knowledge and used it with my other sites I might be in that "$5k a month" club (or more!) like so many of them are.
Shoulda, woulda, coulda. I was too busy working on school to really worry about websites.
Now, I want nothing more than to have a site of my own instead of pounding away at the keyboard for someone else. To be quite honest, I am sick of rules, deadlines, crappy editors, stipulations to keep log-ins, cranky clients that seem to think they know what they want and when you give it to them – they think otherwise. When I finished my Master's degree in June I decided enough was enough of working for others and my time is now. Of course, I didn't really realize it then. I had go through all of these events with content writing and building my own websites to finally put the puzzle pieces together and create YUM.
YUM couldn't be more perfect for me. YUM wasn't created overnight. It took a lot of websites for me to get here.  I guess my niche was right under my nose this whole time – I just needed to work through some of these other sites to realize what my true niche really was.
First thing one must consider when looking at this months earnings is that my August earnings are not for a full month, nor are they for a lot of new posts. YUM eating started as a move with More to Life than Chocolate. I removed all the posts and then posted the recipes here. I originally had planned to do away with M2L, but when I realized I was actually making money from the site AND I was still going to need a place to vent about my PCOS struggles. I realized M2L needed to stay. Thankfully it was really easy to upload the posts because all the original links just stayed in place. I will be moving M2L to WordPress to take advantage of YUMs unlimited hosting.
Which brings me to my next order of business. Expenses. I paid about $90 for a years worth of unlimited hosting  which I will use for 6 domains. In that $90 is also the domain. Not all of my old domains have emails so I did purchase $30 email package for 1 year. $120 total GoDaddy/6 sites = $20 per site. I did buy some thrift store & $1 store bargains for photographs. Not counting the food because technically YUM is still considered "hobby income" at this point.  Legally since this is just a "hobby" I can't take any of this as a tax deduction until we get over the hobby threshold. (I'll plug the book I am working on "Food Blogging Tax Guide" when its done!) – almost. folks, almost. Just some minor tweaks.
In case you are curious – I started studying accounting when I was 16, worked in the field for many (many) years. I do have a freelancers tax guide on the market titled "Easy Accounting for the Self-Employed."
August 10 was my first post here. Anything prior to that was from the move.  I had 16 posts, 12 or so were food posts and a few were just food photos with no recipes. October will be a lot of learning, building, and networking. I am not expecting $1000's right out the shoot. I know it's going to take time to build my empire (hey, I have high hopes here).  My income was minimal. I spent a lot of time building and "getting ready."
Income:
Lijit – $0.42
Adsense – $0.52
Total Income: $0.94
I know, I know. Don't go spending that all in one place, right?
Honestly, I wasn't expecting to make anything. I knew I was going to be spending more money than I was going to make. I was going to just start with buying a domain and then stick to good old-fashioned free Blogger because that is what I have been using for years. I have never had a problem. The one time I did take folks advice and switch to paid self-hosting it turned out badly and I ended up breaking-up with Word Press very soon after.  So, I wasn't expecting much. I knew it was going to be a lot of hard work because building any business is. I have high hopes for this site. I want to become part of a few syndication networks and most of them require features that only Word Press can provide. I also know that Blogger is very limited with those features and how the site can be designed. Rather that build on Blogger and move later I figured I may as well just start right on Word Press.
Expense:
Godaddy -Domain/Hosting / Email – $20
Theme (that I ended up not using) – $50
Props – $105
Pinch of Yum Photography Book – $19
Easy Recipe Word Press Plug In – $24.95
Dreamstime for stock image of YUMs logo – $14.99
Food Blogging For Dummies – Free thanks to a $15 Amazon Gift card from Darwin's Data.
VistaPrint YUM business cards – $6.99
I shopped through FatWallet to get cashback.
For this post I am not going to deduct expenses.
September will see more building, more networking and a lot more cooking!  We'll be trying some different forms of income and the expenses will change. I also hope to finish "Food Bloggers Tax Guide."
I hope you have enjoyed YUMeating so far and will continue to visit.
And remember, there is a reason for this all.
I am in no way discouraged by my 94 cents.
~Chrystal
Disclosure : This page may contain some affiliates. If you click those links YUM might make a few bucks. Regardless, I only link to those that I use or I feel would benefit my readers.