That Time I Bought a $1800 iMac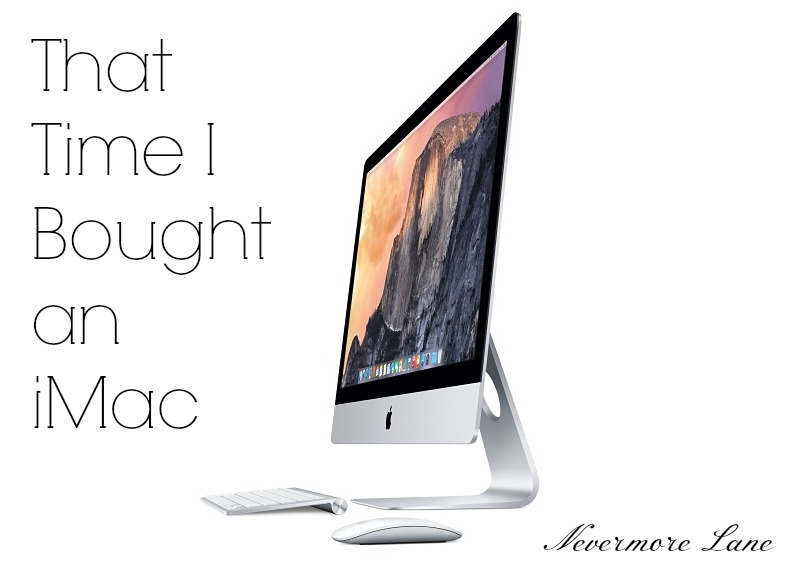 UPDATE 1/25/2015 – In the 5 days that this post has been live I have received some incredibly rude comments. I love trolls. They are the highlight of my freelance career. What makes me laugh is how they stop by, formulate thoughts, and then just assume they know everything about me. So, let me say this – this post was written out of sheer frustration. I'm also pretty sarcastic; maybe a bit dramatic too. You have to add some entertainment value right? I wouldn't be doing my job if you didn't laugh at least once. If you don't see that, that's your fault. I never say within this post that I hate Apple or the Mac. I started working on a part two for this post after this one published. I guess now I have something else to discuss. Comparing Apple/Mac to any computer brand running Windows is like comparing apples to oranges. I'm also not someone who purchases things to be popular or be a part of the cool crowd. I made my purchase because I do like Apple and my iPhone and iPad are truly my favorite things.
So please read this post with an open mind and some laughter in your heart.
~Chrystal~
***********************************************************************************************************************************************************************************
$1800.
Ouch.
But, before we get to that, let me tell my little tale. I promise, I'll try to make it quick and painless. I'm going to be 40 in July (another Ouch!) and I have been using computers since I was about a Junior in high school (I graduated in 93 for those doing the math.) We had switched from typing class on typewriters and merging to computer keyboards with built-in typing programs on the computer. I took a business class and we did everything on the computer. Internet was extremely limited in those days. I didn't get on the internet until college around 95ish. I had a computer at home a friend had given me to type up papers, but it was a while before I got dial-up. So I would visit the campus computer lab and hang out until all hours of the night surfing around this land of Inter.
When I finally got dial-up at home and a computer of my own I started blogging. It was so different in those days. I think my first computer was an HP, but I can't remember. Gosh, it seems so long ago now that I think about it. I do remember it was expensive. That computer cost me over $1000. Computers weren't cheap then and their wasn't a lot to pick from. Now I am starting to feel really old. Back in the days of using the telephone line so that when folks called they would always get a busy signal. Oh, those were the days. Pagers where necessary and soon folks were getting cell phones. But computers had Windows and that's what I used.
At some point that computer went bye-bye and I upgraded to a sleeker style by Dell. That computer stuck with me for a very long time. When my mother and I opened our own business, we purchased another Dell for that store. When my mother moved from Oklahoma to Michigan to take care of her parents who were battling cancer at the time, I took the newer Dell from the store. For the life of me I can't remember what happened to my first Dell. Maybe I sold it..maybe I gave it to someone who needed it. Either way, Dell was a good computer company in those days. I never had a problem with them. They lasted and they worked. Dell had great customer service. When I packed up and moved here to Michigan, I brought the Dell with me. When I moved out of moms house and here with hubs, I left the Dell behind for her to use and I used hubs old Dell. My mother used that computer almost everyday for the 6 years I have lived here. We did upgrade the RAM. I tell you what, that computer traveled and if it could talk I am sure it would have some stories to tell. Sadly, that computer finally bit the dust a few weeks ago. I am guessing it was about 8 or 9 years old. So, I would say we more than got our  monies worth.
A few years ago I got a sweet Black Friday deal on an ASUS laptop. I had a Dell Mini that I had used along with the desktop. The Mini allowed me to write as I traveled and I didn't have to be tied to a desk. Now that Mini is obsolete because it has Windows XP which is no longer supported and it's not equipped to handled Windows 8. It makes me sad. That was a great little computer. Key word being 'little.' As the years have passed, my eyes seem to be getting worse. So, I used that Mini less and less until it got stuck in my desk drawer. When my moms Dell died, I passed it along to her so she could at least check her emails and do her online banking.
My ASUS laptop is a dual core i5. It works really well and I've since become a fan of ASUS. Over the years I see that Dell has declined in their computer department and customer service. I do not know if I would go back. I am very happy with ASUS. However, I have been using this laptop as a desktop. It was my intention that I would hook it up to two monitors and use it as a desktop when I am working, and then I'll unhook it when I want to be mobile. Only, that never happened. The laptop is widescreen. It's great for watching movies on, but not so great to work on long-term because it gets heavy. Another thing that bugs me about the laptop is the mouse pad is not centered. It drives me crazy because my left wrist constantly bumps it. So, I'll be typing along and the next thing I know, my paragraph is missing cause my stupid wrist just deleted it.
Needless to say, the laptop hardly ever leaves my desk anymore. I finally got to the point where I really wanted a laptop that I could use. So, I thought I'll check out a Chromebook. It would be perfect for me to travel with and then in time I can just get a new desktop and sell my laptop. I had used my step-mother-in-law Samsung Chromebook and liked it well enough for me to use when traveling or in the living room. Where ever I needed to go to get out of my home office. When I went to Best Buy, I ended up with the ASUS Chromebook because it just felt better to me overall.
That ASUS lasted me a few days before I took it back. I can't really explain why. I really loved it, but at the same time, it wasn't as fantastic as I needed it to be. I contemplated on keeping it for my mom since we found out that her desktop can't be repaired. Well, it can. But she would just be better off buying a new computer for the price. So, I didn't give her the Chromebook because I was afraid she wouldn't use it.
Ok. Now that I have gotten all of that out-of-the-way. Here is where Apple comes in. 
I love Apple. My first iPod was the U2 limited edition model. It was thick, like a deck of cards and had the clicky wheel. I loved it and it went everywhere with me. I still thank my ex husband for that purchase because I think it was the best present I ever got. I kept that iPod for a looooooong time. It went with me through a divorce and a move. It went with me when I met my new husband. When the iPod Touch came out, I got one, thanks to my now husband/then boyfriend. Soon iPhone came out. I got that and traded in my Touch. I had also sold my U2 iPod, which is something I really regret.
iPhone led to 4, 5s and I am sure eventually it will lead me to 6. Maybe 6 Plus. I can't decide. Point is, I love my phone. I love having my iPod inside my phone. It's awesome. I don't really play games. But, I do check emails and social media. My iPhone would be pretty boring compared to most. I certainly don't utilize it like a lot of people do. Eventually that love of iPhone got me an iPad. I had a Nook when they first came out. But, I quickly became frustrated when a lot of authors would put their books on Kindle but not on Nook. So, my reason for the iPad was to read all book formats on. And, that is mostly what I use my iPad for. Sometimes I use it for the internet and once in a while I'll browse a recipe app.
So, when I took the Chromebook back I decide once and for all I was just going to get a Mac. Every time we went to Best Buy I would stand at the Apple table and just gawk. I love the MacBook Air. I wasn't really in the market for a laptop though. I really wanted to get the iMac with its big, beautiful 27″ screen. When we found out there was a floor model/open box that was a few hundred dollars cheaper, I had to check it out.
It didn't take long for me to decide I really wanted that iMac. I wasn't thrilled with the price, but it would be worth it to have my iPhone and iPad work well with my computer. It would be nice to not deal with all the problems Windows computers have. (What are those again, exactly?) After using dual monitors for years, I thought, "Wow, it would be nice to just fit everything on one monitor!"
I should point out that years ago when I worked at an interior design firm, we had Macs there. So I wasn't a stranger to the Mac OS.
I've kind of always wanted a Mac.
So, we get to the desk to pay for my quad-core i5, and hubs ask the guy to plug it in. Just to be safe. So, he does. And there we are faced with a username and password option. Ugh. So, it goes back to Geek Squad, I pay my $1800 (Floor model discount, plus Geek Squad, Protection and tax), and go home empty-handed. Day 2, no phone call. By day 3 I told them to have it done by noon or I was going to get a refund. I mean, how long does it take to reformat and set it up for me? C'mon Geek Squad. Hubs goes to get it, brings it home, we hook it up. It's the same damn screen as when we were at the store.
WTF Best Buy? What did you do all that time you had it? Why would you send me home without a password and login? I was so angry. My husband started calling people. I was ready to take it back. After a few hours of Googling, we found an answer and tried it.
Yah. Success.
So, I am all up in the Apple. Working. Testing things out. Getting completely frustrated at how backwards everything is. It took me forever to figure out how to set up the right-click on the mouse. Even then it still sucked. And lets not forget how backwards the scrolling is. Or, is it upsidedown? While I like the Apple mouse and the two finger scroll, it's useless when I'm going the wrong way!
And that dinky keyboard that it comes with? I have one of those for my iPad. I rarely use it. As someone who has to be able to type all day and at a quick pace, that keyboard was not very user-friendly for me. Tried it. After a few hours I set up my wireless ergo keyboard and mouse that I used with my laptop as a desktop. Worked ok. But, the scrolling and clicking was still backwards.
Ctrl + P no longer worked. Ctrl + V ugh and wait for it – Ctrl + F….non existent.
When I plugged in my iPhone to grab a video to put on YouTube, instead of being able to go to the file on my phone and upload, iPhoto and iMovie started to load (this was after I had to install them.)
While I realized I was going to have to learn all new things, I guess I was not prepared for just how much was going to change on me. For a bit, I was willing to learn.
Then, I started to install programs that were necessary for me to create and share. Like Photoshop. Like Lightroom. As if buying the Mac wasn't expensive enough, trying to convert my Windows program to Mac was going to cost me another arm and a leg. I have 2 external hard drives and while Mac can read them, I can't edit or save anything to them. I did find a free trial of a driver that helped with that, but it's only free for so long. I don't have the means to move all the 1000s of files elsewhere to reformat the externals. So, there's that. But, when you install something, it's not this quick install like Windows. It's install, move to desktop, install, run and then delete all the crap that was placed on your desktop.
You also can't drag and drop like you can on Windows.
You also can't save to a specific folder on external hard drives which really irks me.
During this time I see that half  of the software that my Mac was supposed to come with was not installed. There was more time wasted dealing with Best Buy. By this time I want to just throw it out the window. But, I can't. It's not paid for and it's too pretty.
Word. Microsoft Word has been a huge staple in my life. I've been using it for as long as I can remember and I use it daily. Mac doesn't come with a related program. They have iPages, but you have to pay $19.99 for it in the app store. There is the Word for Mac option, but it costs even more and from the reviews I have read it pretty much sucks. So, I tried Open Office. Open Office to me is like Word was back in the late 90s early 2000s. Lets face it, free is awesome. I can see why people like it.  However, it sort of ate up some of my Word files and that's just not going to cut it. I have multiple documents and books on my hard drives that I need a writing program for.
How many learning curves do I need at once?
Now, let me tell you about this 27″ screen. Sure, it looks cool. But dammit, it burned my eyes. When people joke about Retina Burn, now I finally get it. I installed Flu.x which changing the colors and brightness according to the time of day. It helped a little.  I miss my dual screen. Even though this screen is huge, it's a little too big for my poor (always) tired eyes. The screen is big, the text is small. You change the text size and things get all squishy. You put things side-by-side so that you can have two documents or a document and a browser and things get either too small or too large and squished.
I can't win here.
Chrome runs ridiculous on a Mac. I can't even tell you how disappointing that is. I tried using Safari, but damn, where is my bookmark bar? Oh, it doesn't have one. #fail And, in order to get to my actual bookmarks and I have to push the webpage over to get to them.
After 5 days of owning a Mac, dealing with Best Buy, trying to learn and work through my issues, I can honestly say, I have buyers remorse. I'm not thrilled. I am not wowed and I certainly expected more for my money. Maybe it was the Best Buy customer service experience that led me on this path. I guess I just expected so much more from this machine. Sure, it's pretty. Sure it works well with my gadgets and it has some neat perks. But, at the end of the day, I am not super thrilled with my experience.  Like I said, I know there is a learning curve, but some of these things are a bit much for me. I just don't think it's worth the price tag at this point.
X out doesn't close. It minimizes. So you are forced to manually quit programs.
When you do maximize, it's a very interesting experience.
The dock isn't as customizable as it should be.
Don't even get me started on the Java issues.
iMac, you didn't wow me.
Before we get into any debates about anything, let's clear the air.
People buy Macs because they think they last longer. Not true. PCs and Macs can last the same amount of time.
Most Macs are not upgradeable, but PCs generally are.
Macs have less software and the software they do have costs more than the Windows counterpart.
Macs DO get trojans and viruses. You just don't hear about it as much, but it does happen.
Macs don't freeze.  Yup, they do. I saw it with my own eyes. I'm sure Mr. Photoshop will back me up here. Safari probably won't since he sides with Apple.
There are a lot of myths about Macs, you just have to search Google for them. We could be here all day.. and I am already rambling on. 🙂
So why did I get a iMac?
Honestly, I got the Mac because I always wanted one. With it's great story, it's charming products and pretty packaging.  I felt it would work better with my devices, streamline my work day and help me to get better organized. I also thought it would help with productivity and creativity. I mean, that's what Macs are known for in the creative circles, right? I mean, everyone I know in the blogging world (ok, maybe not everyone) has a Mac (laptop or desktop,) most of my designer friends do, most of my vlogger friends do. You get the idea. And they all say the same thing. They switched from Windows to Mac because the photo / video / whatever programs were better and it helped them to be much more efficient and productive in their workday.
For $1800 I expected this thing to poop out gold bricks. 
So, there was this time I spent $1800 on an iMac and decided to just take it right back. So, back to Best Buy I go in a few days. I am sure they are going to love me.
I do not know what computer I will try next. I think I'll just clean up my laptop, hook it back up to my dual monitors, and call it a day. Maybe I'll just buy a ASUS desktop tower. Who knows. I do know that I am over my fascination with the big, beautiful iMac. I guess I am a Windows girl after all.
But just remember kiddies, bigger is not always better. A higher price tag means nothing. 
Was there a product you purchased that you had severe buyers remorse after the purchase? I'd love to hear your story.