Stir-Fried Chicken Pad Thai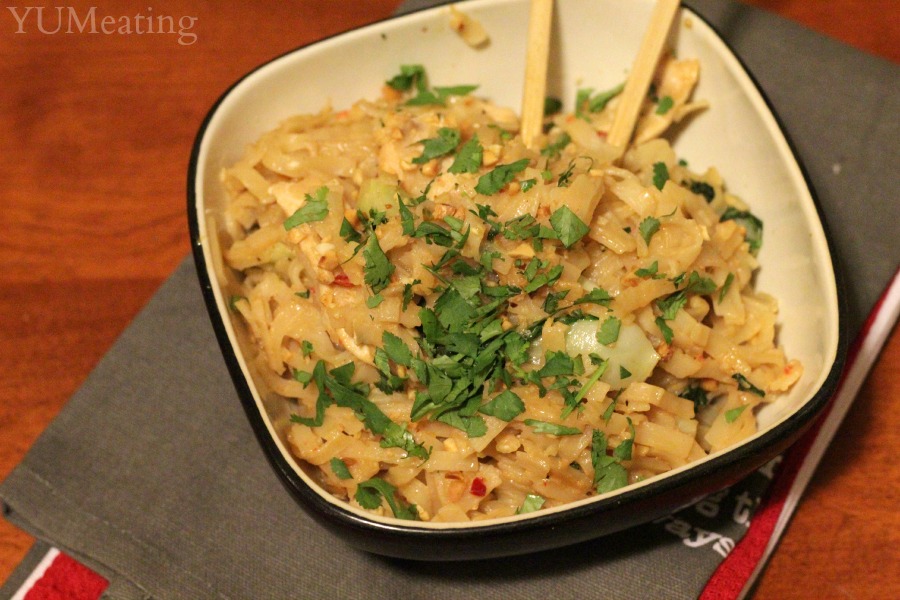 Today's recipe is brought to you by Blue Apron. Actually, I am sharing a few, but the Pad Thai was my favorite of the bunch.
Blue Apron is a meal delivery service which takes the guesswork out of meal planning. Each week you'll get three meals to prepare with free delivery. Items are sent FedEx in coolers so they will arrive quickly and fresh.
My first box arrived with ingredients and recipe cards to make Thai Coconut Shrimp Soup with Lemon Grass & Red Curry, Top Round Steak Fajitas with Guacamole & Whole Wheat Tortillas, and Turkey Meatloaf with Roasted Potatoes and Sautéed Spinach.
Sadly you could tell an accident happened and the box had shattered open. FedEx scooped up the ingredients and taped the box back up. It was a very poor job. I was actually pretty upset because I had looked forward to my Blue Apron meals. I was even more upset because I really wanted to try that Thai Coconut Shrimp. My produce was wet and slimy, the potato and avocado were smushy and waterlogged. My meats had thawed out. I did not feel safe eating any of it. The only thing I felt I could salvage was the can of coconut milk. When I contacted my rep at Blue Apron she was more than happy to let me know that had I been a customer they would send another box – no questions asked. She told me I would get another box with new recipes the following week.
That box arrived safe and sound. Blue Apron had sent out three new recipe cards and that weeks ingredients. Each meal costs $9.99 per person. So, for about $60 for three meals it can be a little expensive for some, but the amount of fun the husband and I had creating these meals compared to how much we spend when we go out to eat…well I'm sure you'll agree that given those types of thoughts, $60 for a few meals could be worth it. You can place your account on hold anytime you want. I really liked the thought of that. I also like that we get to keep these really nice recipe cards so we can create the recipes again.
So, my newest box had recipes and ingredients for  Salmon Caesar Salad, Pan-Roasted Bratwurst with Sweet and Sour Red Cabbage & Crispy Potatoes, and my favorite the Stir-Friend Chicken Pad Thai with Baby Tatsoi & Spicy Peanut Sauce.  It was a hit.
We tried the bratwurst, while yummy, and as much as I like cabbage, I just couldn't get with the sweet and sour flavor of it.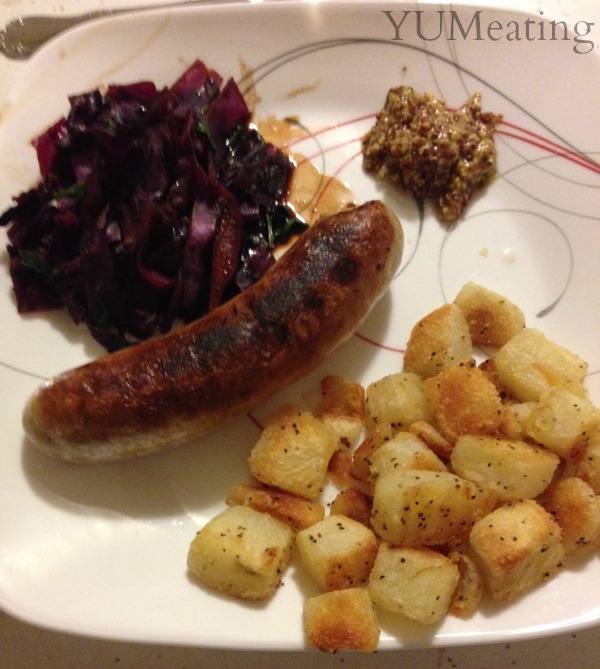 My husband was a huge fan of the crispy potatoes and he was so excited to learn a new way to oven fry potatoes. I had to add my own potatoes because somehow these didn't end up in my box.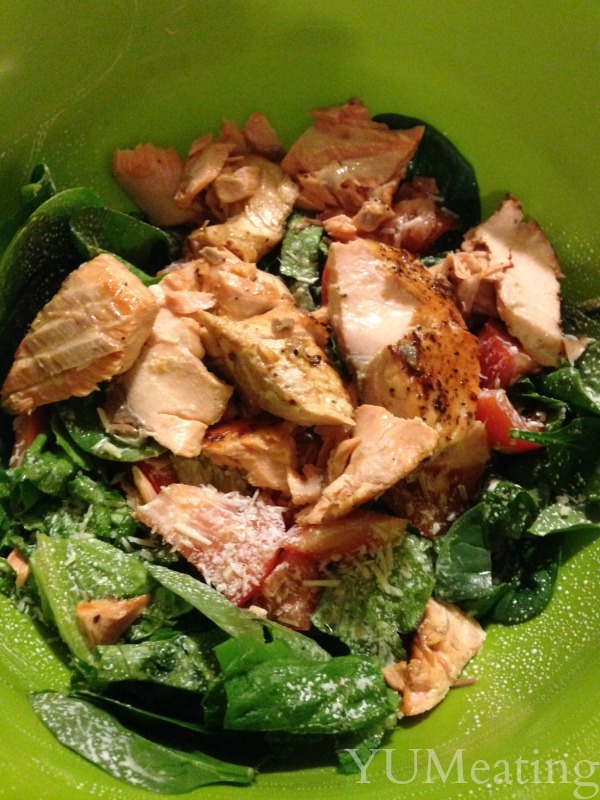 The salmon is something he is not a fan of. I love salmon, but not a fan of all the mayo that went into this recipe. The salmon salad was 625 calories per serving as prepared. So, I made my own salad and ditched the mayo. I was a little disappointed at how oily the salmon was. I had never had so much oil in my pan after cooking salmon before. I had to blot it with a paper towel, and even then I still had that greasy feeling in my mouth.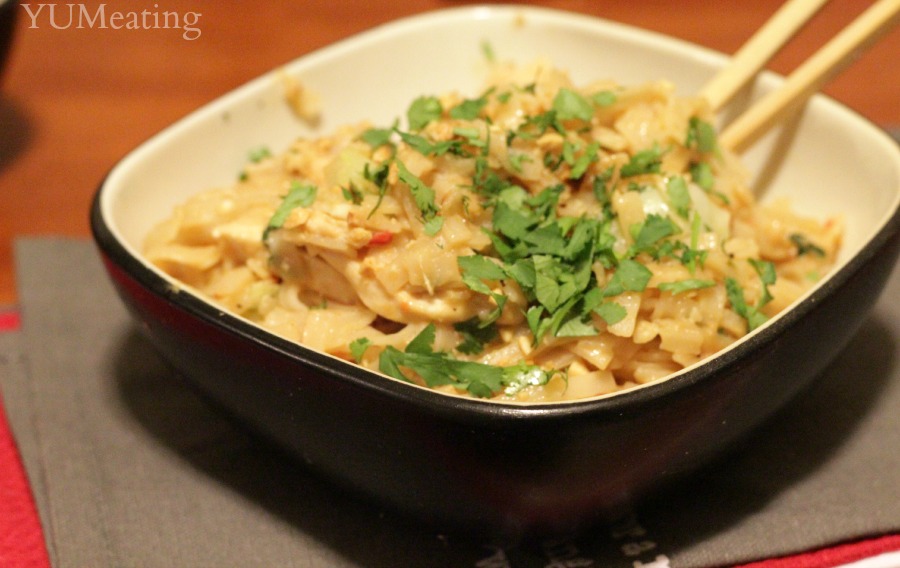 The Stir-Fried Chicken Pad Thai was to die for though. Each serving was 650 calories, but I can tell you eating half of this recipe was way too much food for me. We ended up with three servings so that cut down the calories quite a bit. My husband is a huge fan of Asian foods so I can certainly see us making something like this again in the future. It was so much fun for us to make this together and the taste of the peanut butter mixes with mirin, sambal oelek and tamarind was a pleasant taste of creamy sweet and spice.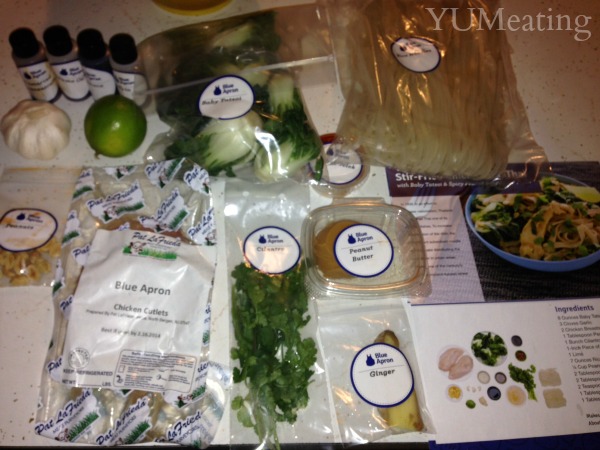 What I really enjoyed was that a lot of the ingredients we were sent had come from local butchers and farmers in the New York and New Jersey area. This made me feel like a city dweller who had left my apartment, went for a walk down the street, and came back with an armload of groceries for dinner.
Maybe I watch too many movies. 😉
If you are interested in getting started on meal delivery check out the Blue Apron website.
Recipes with ingredients and instructions are available on the Blue Apron website. You can also download as a PDF from there.
Disclosure of Material Connection: I received this book free  from the publisher as part of a review program. I was not required to write a positive review. The opinions I have expressed are my own. I am disclosing this in accordance with the Federal Trade Commission's 16 CFR, Part 255: "Guides Concerning the Use of Endorsements and Testimonials in Advertising."