Project Semicolon | Warrior Tattoo | Electric Chair – Clio, MI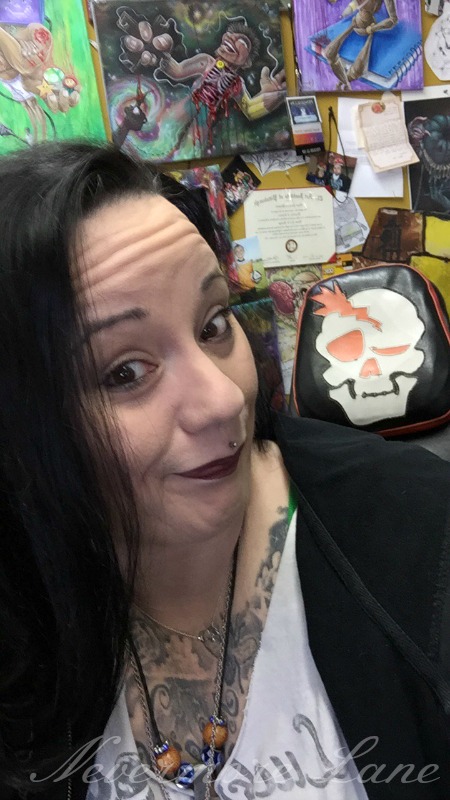 As most of you know, I suffer from mental illnesses, something I have been battling for most of my life. In 2010 I did the chest tattoo as a reminder that my life is worth living no  matter how hard I struggle. I put it there, so every morning I was reminded to keep going. The piece is a combination of song lyrics that helped me get through some dark depression and suicidal thoughts.
That was the 1st half of my life. Now that I am in my 40s, and still battling, I felt it was time to start connecting the chest in to a sleeve with another set of lyrics to remind me that the second half of my life is worth looking forward to. Before I get started on that, I wanted to get a Project Semicolon tattoo. It is something I have been wanting to do for a while.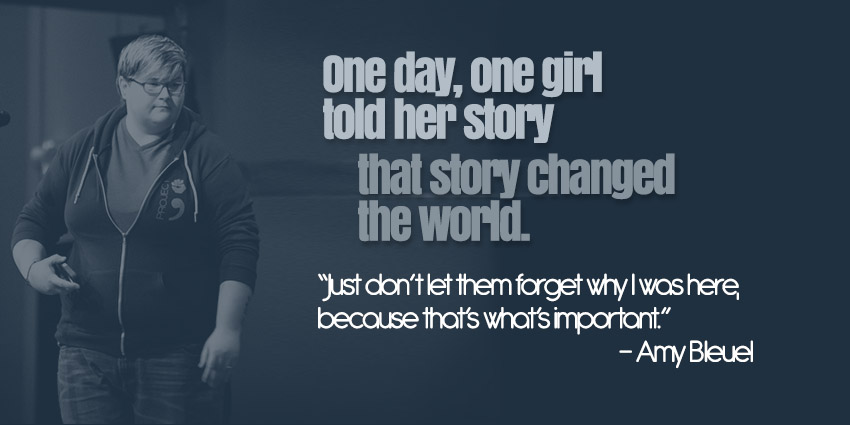 The week before I went to Electric Chair Tattoo (Flint, MI) to get  Medusa piercing. It has been a while since I have gotten a new piercing and I just knew it was time. There is a side to my mental health where I just need to feel alive. Tattoos and piercings remind me of that. Having a creative, artistic soul, it only seems natural that I use my body as a canvas. There is some therapy there for me.
September is National Suicide Prevention Month and a lot of the tattoos give out free or low-cost Project Semicolon tattoos. I had plans to do it last September, but just never got around to it.  This was probably for the best as I was really indecisive for the longest time about how I wanted to do it. I had made a list of words that I could replace a letter with the semicolon but no matter what I did, my tattoo was going to look like others. I didn't want that. I had to make it original somehow. I needed a word that had more in-depth meaning to me than what I was writing on the surface.
Then, began the process of finding words that fit my life this year. I took those words and started to play with fonts and drew a few things out here and there. There were even a few Shinedown quotes I tossed in there thinking I could make those work since I had plans to start connecting my chest piece in to a sleeve.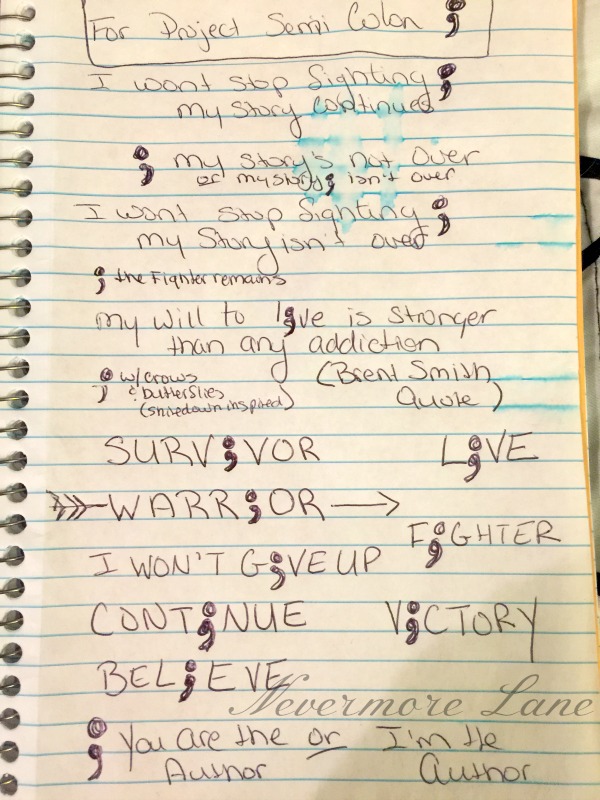 My chest tattoo is a collection of Shinedown song lyrics turned in to art. A story of my life; where I have been, what I have survived. A tale to remind me that my life is worth fighting for.
After a while, I had decided I wanted the word 'Warrior' to put on my left arm. I felt this word went along with my Shinedown tat, the whole survivor and fighter theme. I had it jotted down on this notebook paper and it kept calling to me. I just knew I had to make it different somehow.
That was a bit of a battle for a while. Then, one day while doing laundry, I was folding one of my viking shieldmaiden shirts. That is when it hit me. I started looking up rune style fonts and had decided the O should be a shieldmaiden shield.
The idea was born.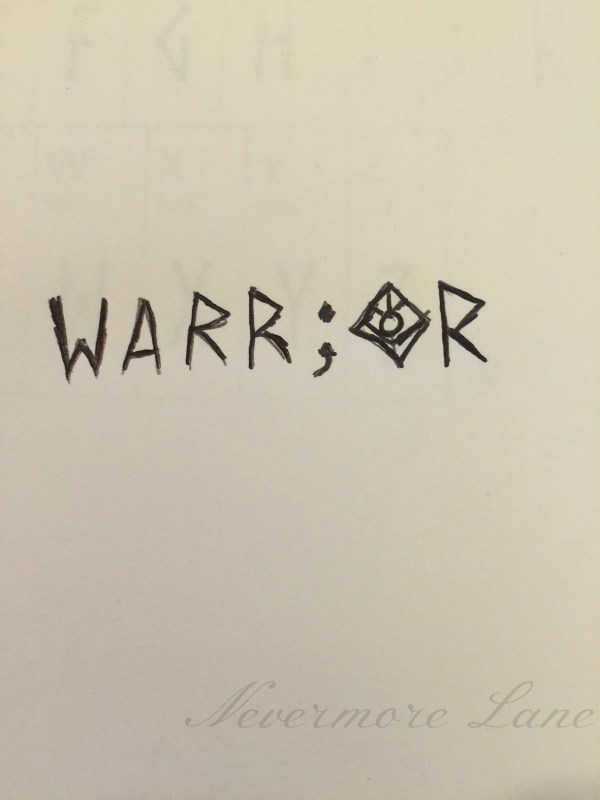 When I finally got in to see my artist he turned it into something even more personalize. Chad made the lettering have more of an etched in feel, like it would look if it were carved into stones. And a bit of a paint splatter from the blue.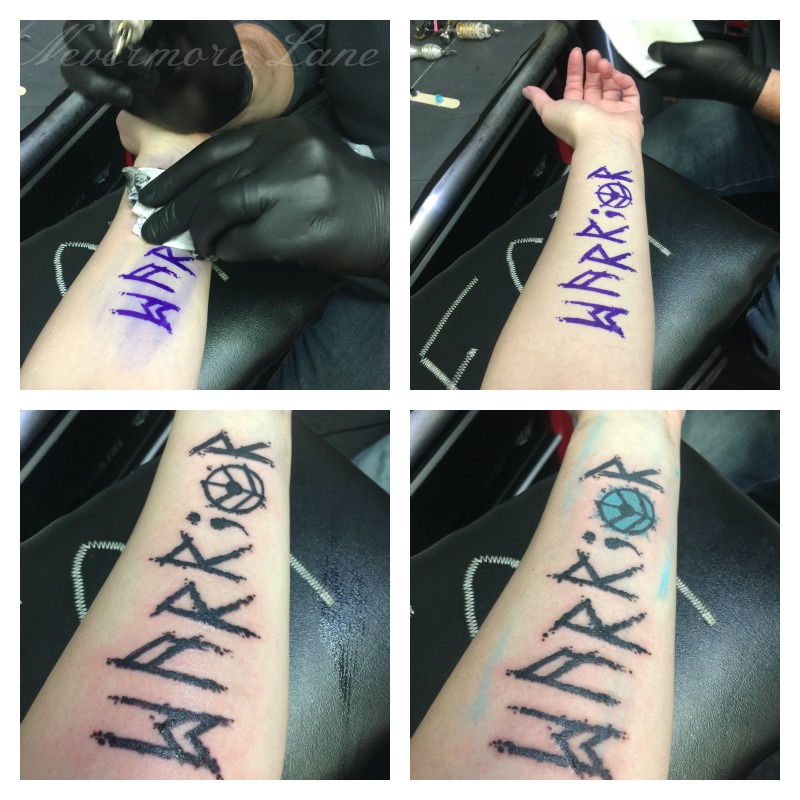 I couldn't be happier.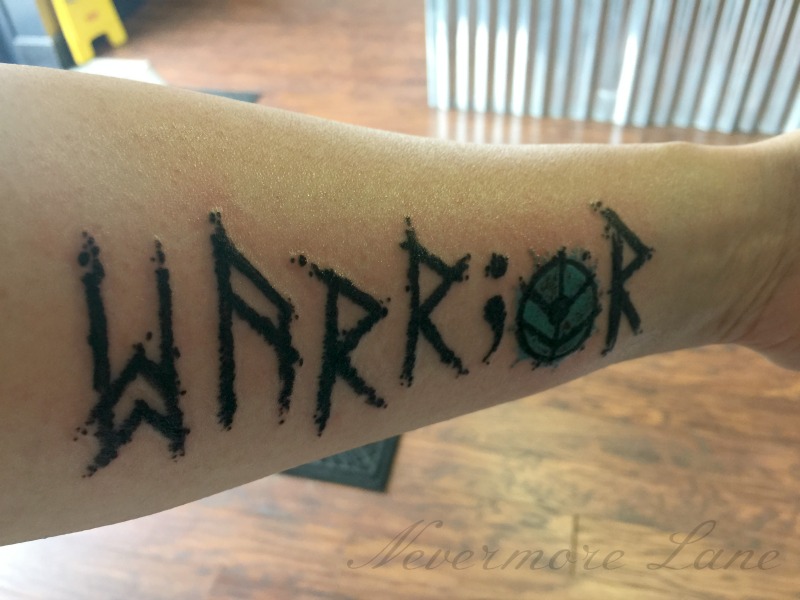 Thank you Chad for being the amazing artist and listener that you are ! 
Sadly, Amy Bleuel, founder of Project Semicolon passed away May 2017 at the age of 31.
If you or someone you know needs support right now, call the National Suicide Prevention Lifeline at 1-800-273-8255, the Trevor Project at 1-866-488-7386 or text "START" to 741-741. 
Visit Project Semi Colons website, Facebook, Twitter, and YouTube.
Visit Electric Chair in Clio website, Facebook, and Chad's portfolio. 
Disclosure: I am not being compensated for this post. These are not affiliate links. All opinions and photographs are my own.