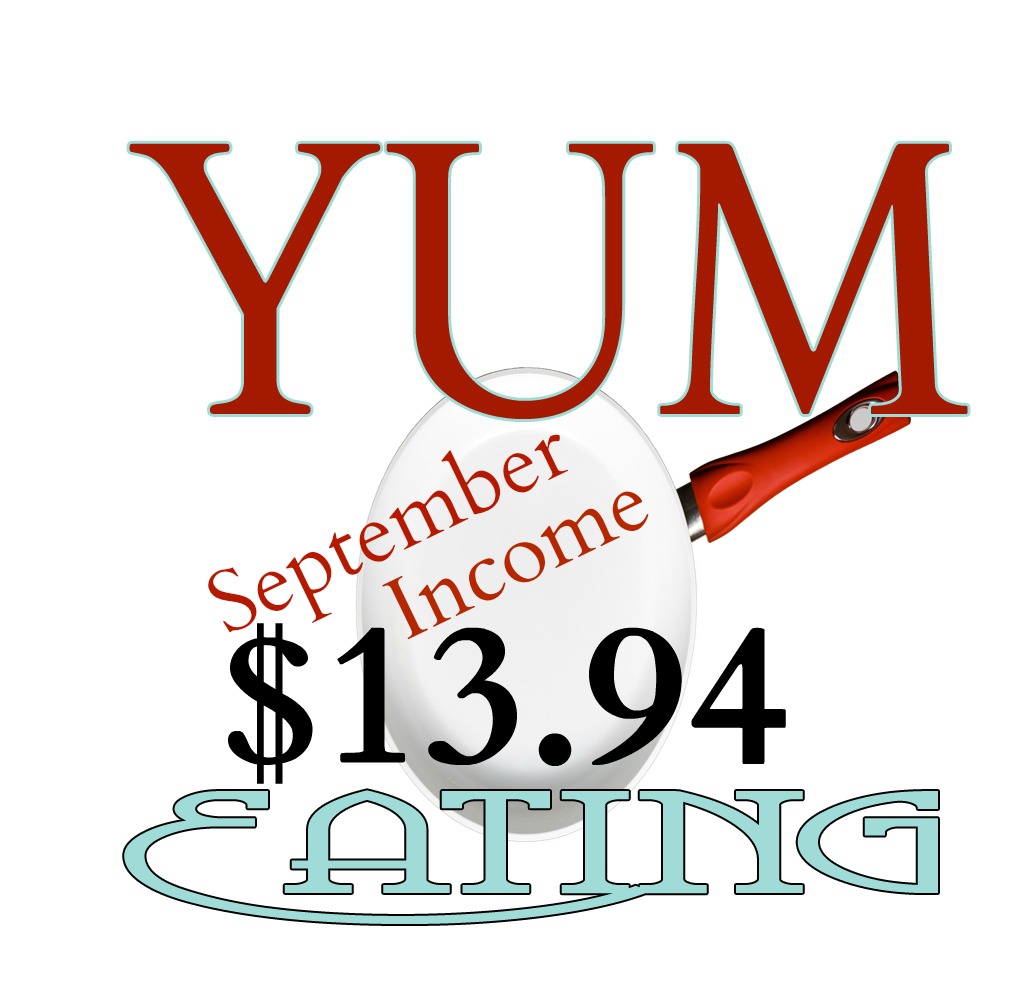 As I discussed in the August post I wanted to be completely transparent here at YUM eating.  On my writing site, Self Employed Writer I've never discussed blogging income but I have discussed some of my residual income from revenue share.  There are so many food bloggers out there and I am finding many of them are discouraged because they don't know how sites are pulling in $1000s because so many bloggers just don't want to share. If you check out my "Bloggers Who Share" you will find many do.
If you checked out the August post you will see quite a bit changed. I made a whopping $0.94 last month. YUM was brand new and I was just getting started. This month I am still pretty new and I had a lot going on. Building a website is just like building a business. Just because your website is up and running doesn't mean your business is finished. You can't just sit back and wait for people to find you. In order for your food blog to be successful you have to actively participate.
I wrote and published "Food Bloggers Tax Guide." During the month I did a freebie promotion. The guide got into the hands of 107 people for free and I sold 2 copies.
My only real expenses this month were a few small food related items that didn't really add up to anything worth mentioning.
Income:
Lijit – $2.59
Adsense – $2.57
Swoop – $0.99 (these are the little ads you see in my recipes)
Infolinks – $0.66
Amazon – "Food Bloggers Tax Guide" – $4.18   (my share)
Amazon Associates – $2.95 (affiliate)
Total Income: $13.94
At the end of the day I am very happy with my results. I am learning a lot from Food Blogger Pro. I knew this was going to take time. All great blogs do.  I am working on some updates for "Easy Accounting for the Self-Employed" and I am getting ready to publish "Blogging for Dollars: Bloggers Tax Guide."
My blog is very new. Because of this a lot of the ad networks won't even give me a second look until  I have 100 posts and/or I am 3 months old. Many require 6 months in the age department. So, I am using my time wisely and building my YUM empire as best as I can.
My family and I have been working hard on creating some new recipes and we have even decided to video some of our kitchen madness so be on the lookout for some of our YouTube videos very soon.
There is a reason for this all and my $13.94 makes a big difference.
Until next month,
~Chrystal M.