Paws Up for Grammy's Pot Pie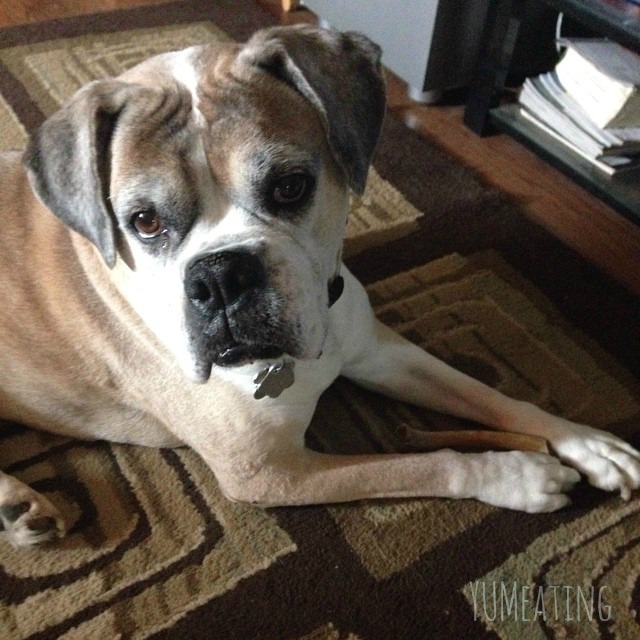 Where has the time gone? It sure has been a while since I have done a post about my furkids. Furkids gotta eat, too, right?  Speaking of time flying by – can you believe that beautiful girl up there is turning ten this month? We don't know her exact birth date because I rescued her when she was about six months old. This poor baby had been left for dead in a field outside of the town I lived. The HSUS knew I had a male boxer and was looking to expand my fur family. I had done some volunteer work with them and the animal shelter so they knew I would provide a good home and care for her; so they called me immediately.
Casey was full of fly strikes. She was nothing but skin and bones. On the verge of starvation. They found her at the edge of the field, they assume trying to make her way to the road in hopes of finding food or water. In Oklahoma, the temperatures get rather warm quickly. It didn't take long for fleas and ticks to find their home. She had patches of fur missing where the flies would strike at her.  Sometimes, if you look close, you can still see some of her scars.
I don't tell you this to make you sad. I tell you this because even after losing her brother a few years ago, Casey is just as strong as ever. Sure she needs an 'old-lady pill' of glucosamine to help her get through her days. This girl saved me just as much as I have saved her.  I love this girl with all of my heart.
So why not celebrate her 10 years with a wonderful treat from Chewy? Casey has an extremely sensitive stomach so I am unable to change her food and I have to be very careful about the treats I feed her. Chewy has hundreds of products at my fingertips that are perfect for Casey's sensitive stomach. Since they are so good, I don't have to worry about whether or not Tink can eat them. In this house we have to share 😉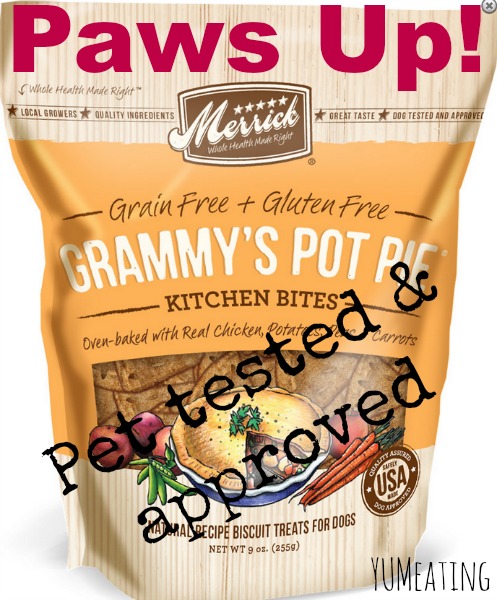 Sometimes I get so tickled about product names and packaging. This is one of those times. Grammy's Pot Pie snacks turned out to be this cute little biscuits that smelled so good I wondered why we didn't have a human pot pie snack. They are shaped like little triangles….the piece of pie missing from the pan. Adorable!
So, I got my camera read to snap some photos and those boogers got the treats out of my hands faster than I could snap the pictures. I guess that's a good sign. And since they are grain free and gluten-free I felt ok about giving them a couple of extras in hope I would get a decent photo.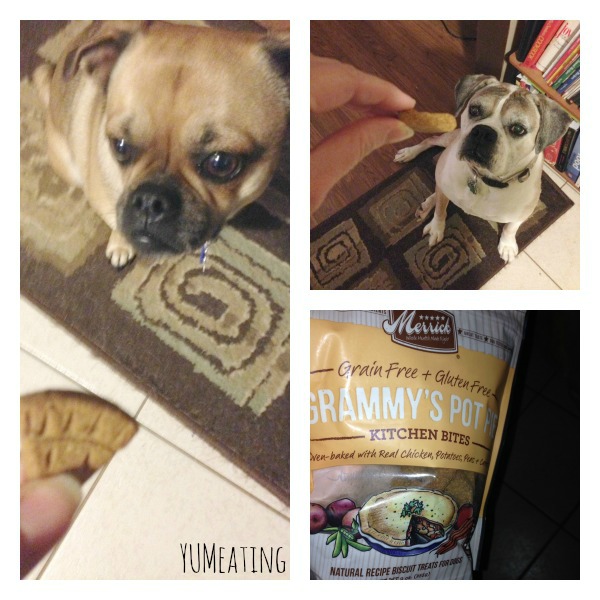 I failed. But, at least we know the treats were good.
Here's some information about Merrick Kitchen:
Merrick Kitchen Bites are all-natural, oven-baked biscuits based on Merrick's innovative and award-winning classic can recipes. Kitchen Bites start with real deboned meat as the #1 ingredient for a single source of high quality protein, then fresh fruits and vegetables, for a crunchy and healthy treat for dogs. Unlike many biscuits that include rice, flour or wheat, Kitchen Bites are grain-free and gluten-free. These Grammy's Pot Pie biscuits are oven-baked with real chicken, potatoes, peas and carrots.
This 9 oz. bag of super yummy pie shaped treats retails for $8.74 (at time of writing this post they are on sale for $4.82.) Since I don't give the girls treats like this every day, and even with two dogs, this product lasted us a few weeks.
Tink and Casey give two paws up each. Pet tested, pet and human approved.
[su_button url="http://www.chewy.com/dog/merrick-kitchen-bites-grammys-pot/dp/104949″ target="blank" style="flat" background="#d1f0f3″ color="#0f0e0e" size="12″ center="yes" radius="20″]Buy on Chewy [/su_button]
Disclaimer: I am a part of the Chewy blogger outreach program and received this product free for review. I was not compensated for this post and all opinions are 100% my own.