Chasing Fairies in Northville, MI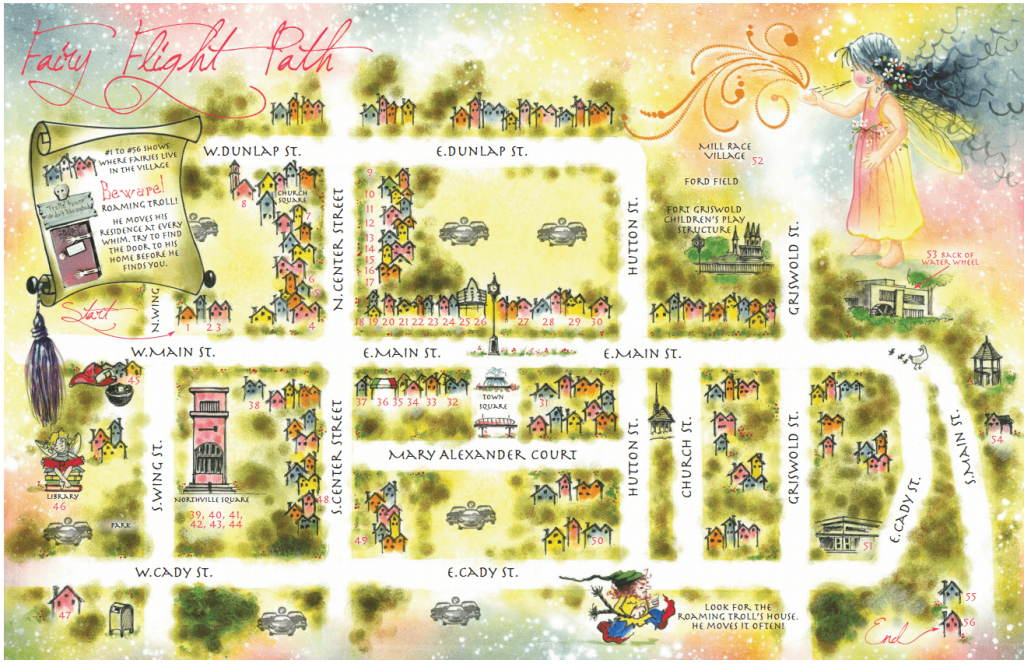 I've got a confession.
I'm obsessed with fairies and have been for as long as I can remember. Sure, like many young girls I latched on to Tinkerbell in Peter Pan and was jumping up and down with excitement when the Tinkerbell franchise spread its wings. 
But my obsession goes further than that. I've read countless tales from adult stories to children. My biggest obsession is Celtic / Irish fairy folklore. Imagine that, right ? 🙂
My family has lived in Michigan for my entire life. I spent my life in Oklahoma; that is until 2007 when I landed back here. In all this time I had no idea there was a village of fairies living just a short drive away.
Now, I do have a fairy shop in my backyard. In Frankenmuth, MI (home to Bavarian, Zenders, and Bronners) there is a little shopping center on the water called The River Place. Within its walls houses a very cute little fairy shop where kiddo and I frequently visit to check out the new offerings called The Enchanted Forest.
In our living room we have an antique dresser and mirror that was a gift from my aunt. While I have every intention of using it as a legitimate dresser, right now we are using it to house my food photography stuff in the drawers and the top portion holds our fairy garden. We started with just one garden pot and it has grown to two along with extra houses and wind chimes.
So, when we decided to drive down near Detroit and head into Northville in order to eat at Tom + Chee for opening weekend, I had no idea what sort of adventure we would find ourselves in. When we decide to take a drive somewhere, I like to have something planned to do in order to justify spending the gas and heading into unknown territory.  As I set out to Google everything I could in the area, I stumbled on an article regarding the fairies lurking in town.
That article led me to some information about the downtown area and a map of the fairy houses. I printed off the map, had kiddo pack her 'in-the-car' bag and add the map. A few moments later we were heading down the expressway to Northville, MI.
Our first stop was Tom + Chee. It was there we had some fun and funky grilled cheese sandwiches with tomato soup for opening weekend. We visited with the district manager and tried a chocolate bacon dessert donut. #yumeating
Once we were done, we heading towards the downtown area. I've been to Detroit and I've been to Novi but I have never stopped in Northville. It's a gorgeous town. The downtown area is beautiful and you can tell they take care of their shops, patrons and city residence.
Sadly, I didn't bring my camera and I didn't really get a chance to take photos of anything outside of what we ate and the fairy houses. I wish I would have taken a few more photos of the actual shops downtown so I could share them.
Truth be told, I was only planning to write about Tom + Chee over on YUMeating. I wasn't really thinking I would write about the fairies, but we had so much fun chasing them and visiting their homes that I thought it would be interesting for others to see what we were able to find. Plus, you just never know who might be searching for fairy destinations in my home state and land here on this page.
We visited quite a few of the shops which were open. We visited The Northville Gallery and purchased a little book for kiddo which tells the stories of the fairies and where their homes are. There is even a place for her to get a stamp from each of the store owners. My husband purchased a piece of art for me as an early birthday present.
It has been ages since I have purchased art. Most of it is in storage (aka my moms house.) But, it really spoke to me and when I get the office I so desperately seek, I'll hang it in there. For now, its in the hallway. The first thing I see when I "go to work."
We continued through town and checked off the fairies as we found/visited them. Some of the stores were closed so we were unable to get her book stamped. We left treasures for the fairies (pennies and dimes) and even made wishes in the fountains.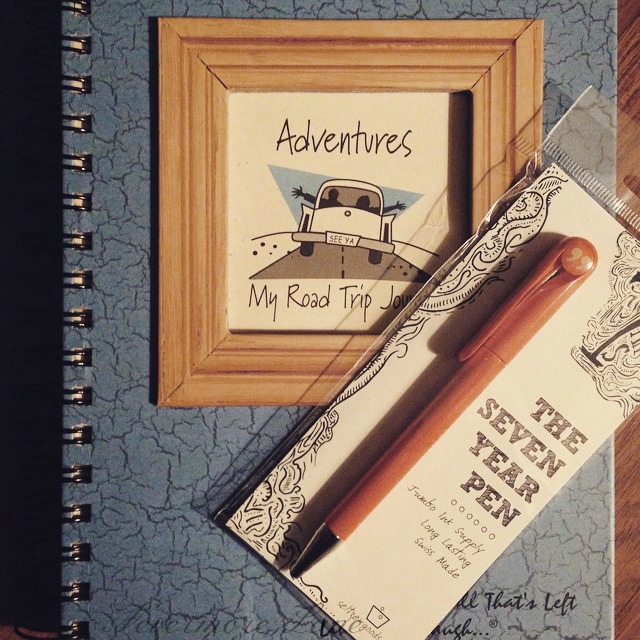 To round out my early birthday present hubs bought me this really cool 7-year pen and travel journal. The pen states -"enough ink to write 1.7 meters a day for 7 years" and you can buy them on the manufacturers website. They have quite a few to pick from. I'll be getting the shamrock for sure. I wish the store had that one. The one I bought was the punctuation pen, which I felt was very appropriate.
We ended the day at a non so great restaurant and as we were leaving it started to pour down rain. We had a wonderful day and we can't wait to return to the land of the faeries and continue our mission of meeting them all.
A fun-filled family adventure, complete with fairies.
Do you have any fairy towns in your state? Kiddo and I would love to hear about them.