2014 Income Reports : January – June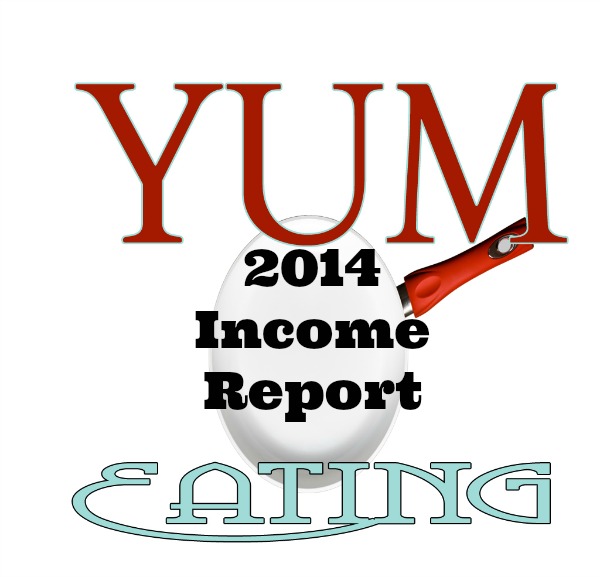 When I first started YUM I had this idea that I would create income reports. I wanted to be completely transparent and show people that they can make money with a food website. When I started my other site, Self Employed Writer,  I never really took the time to monetize it as it served more as a sounding board and portfolio. I've been working behind the scenes to clean things up and try to bring some of the older posts forward and pin them since Pinterest came after.
I am not sure why I stopped writing the income reports. It could be a combination of things. First, I felt like no one was really reading them. Second, I did not want to mislead anyone because it is very common for bloggers to not make much money during the first year or two of blogging. I was ok with this, but what would others think? Especially when there are some bloggers out there who triple what I  make in their first month. I guess I feared harsh judgement. I also was afraid of failing. And sometimes I feel like I am. But, I had to come to terms with the fact that I just can't compare myself to other bloggers.
One thing led to another and then I became extremely busy with posting, photographing, editing, writing, and networking. I just felt I couldn't add one more post to the mix if I didn't feel it was going to draw in readers somehow. This is a food site, not a money-making blogging site.
Another problem I had was I am still very much in the experimental state. I have been trying a lot of products for ads and links. Some working, some not. Some I just did not like. I was not sure how useful this information would be.
Lastly, per my Foodie.com/Mode Media (formerly Glam) I am not allowed to disclose the amount of money I make with them.
That was a kick to the gut. For my last income report I just XX out their amount. Readers can get the general idea.
Recently, I have had quite a few folks contact me wondering if I was going to update my income report. It took me a while, but I finally went back through everything and decided to try and sum things up as best as I could.
Money Making
One thing you will notice is that my pageviews dropped, although I am working on getting them back up. That would likely be my own fault. As much as I was trying to network and gather new readers, it wasn't going to compete with December.
Another issue I had with money is that when Glam was taken over by Mode, we got a raise. It was a good one too. Then, not only did we get that raise taken away, we got another $50 take out of our pay. So, our payment for posts was cut in half.
Mode also has a few other channels like Tend and Bliss. Bloggers on these channels also post recipes on their sites, although they are not food bloggers. The downside is that we are all competing for sponsorship's that come through. I am seeing less and less of these.
I have not been earning anything with Viglink. I still have $18 in my account from last year. I just think YUM is not a good fit because I don't talk about a lot of brand names or use a lot of affiliate links.
January
Mode –  $1XX.XX
Adsense – 5.55
Swoop – 2.91
Amazon – 0.48
Infolinks – 0.99
Total Income:  $19X.XX
Pageviews – 11,123
February
Mode – $3X.00 *
Adsense – 5.43
Swoop – 0.74
Amazon – 0.24
Infolinks – 1.68
Total Income –  $4X.XX
Pageviews – 9410
Pinterest – 1999
* I was pretty unhappy this month. I did a post and did not get paid for it and I did not get any sponsor offers.
March
Mode  – $ 1XX.XX
Adsense – 5.40
Swoop – 3.48
Do Anything with Protein Powder ebook – 5.06
Food Bloggers Tax Guide – 2.06
Amazon – 1.45
Infolinks  – 3.88
Total Income:   $2XX.XX
I am not sure why my Infolinks was highest this month but I went ahead and removed them from YUM because they were not playing well with my theme.
Pageviews – 7173
Facebook – 1509
Twitter – 4338
Instagram – 3463
Google + – 464
LinkedIn – 252
Pinterest – 2058
Bloglovin – 25
RSS – 33
April
Mode – $1XX.XX
Adsense – 5.27
Swoop – 1.32
Do Anything with Protein Powder ebook – 3.33
Food Bloggers Tax Guide – no sales
Amazon – 0.57
Weave Media – 150
Total Income – $3XX.XX
Pageviews – 6239
May
Mode – $2XX.XX
Adsense – 4.73
Swoop – 0.43
Do Anything with Protein Powder ebook  – 7.28
Food Bloggers Tax Guide -0
Amazon – 27.04
Weave – 175
Total Income – $ 4XX.XX
I have no idea how that giant amount came to be in my Amazon affiliate account!
Pageviews – 5586
Facebook – 1553
Twitter – 4464
Instagram – 3477
Google + – 582
LinkedIn – 259
Pinterest – 2269
Bloglovin – 34
RSS – 37
Google Page Rank – 3
June
Mode – $1XX.XX
Adsense – 10.60
Swoop – 1.38
Do Anything with Protein Powder ebook  – 2.74
Food Bloggers Tax Guide -0
Amazon – 7.90
Weave – 0
Sverve – 0.98
Pinch of Yum affiliate for Tasty Food Photography – 9.50
Oh My Veggies affiliate for How to Monetize Food Blog – 10.00
Total Income – $ $3XX
Pageviews – 7946
Facebook – 1695
Twitter – 4527
Instagram – 3506
Google + – 630
LinkedIn –
Pinterest – 2426
Bloglovin –
RSS –
Google Page Rank – 3
Alexa Rank – 94,424 (when I started YUM I was in the 2 or 3 millions!)
Alexa Rank – US – 12, 632
Sites linking in – 447
My big expenses for the year so far were a few ebooks, and renewal of the hosting and domain.  I haven't really been tracking expense all that much for this site because a lot of the stuff I have to pay for is shared with all my other sites and my freelance work.
Alright, so there is a lot going on here. For sponsor and media purposes I have started tracking my social media follows and analytic information. As for my income, things came and went. Readership went up and down which caused income to go up and down.
Grand total income for the first half of 2014 – about $1600. So while I am not getting rich, it has helped me to give this little guy a little something extra along with our monthly gift. It should also be noted that I do have other websites and I do freelance writing. So, this is not my only source of income. I only report what I make as a direct result of YUM on here.
After reading all of this, if you are still deciding whether or not to start any sort of website, my answer is always going to be yes.
It is a fact that most bloggers don't make a whole lot of money their first year. The average year a blogger reaps real rewards is generally by year three. The reason for this is simple. The Internet is a huge place. Readers come and go. For every reader that comes and social shares or comments, they are helping your site statistically. You have to build it, your readers are your customers and this is no different from if you had an actual storefront. There are so bloggers who do better than I during their first year and there are some who are worse.
At the end of the day I feel this website is worth every minute of the time I put in to it. I started reading some new books about monetizing and I feel like if I put some of those things to work, I will get a better return on my investment. I am also working through a few classes for Photoshop and my camera.
I'll try to get better about doing these in the future.
If you have any questions, feel free to ask them and I will do my best to answer.