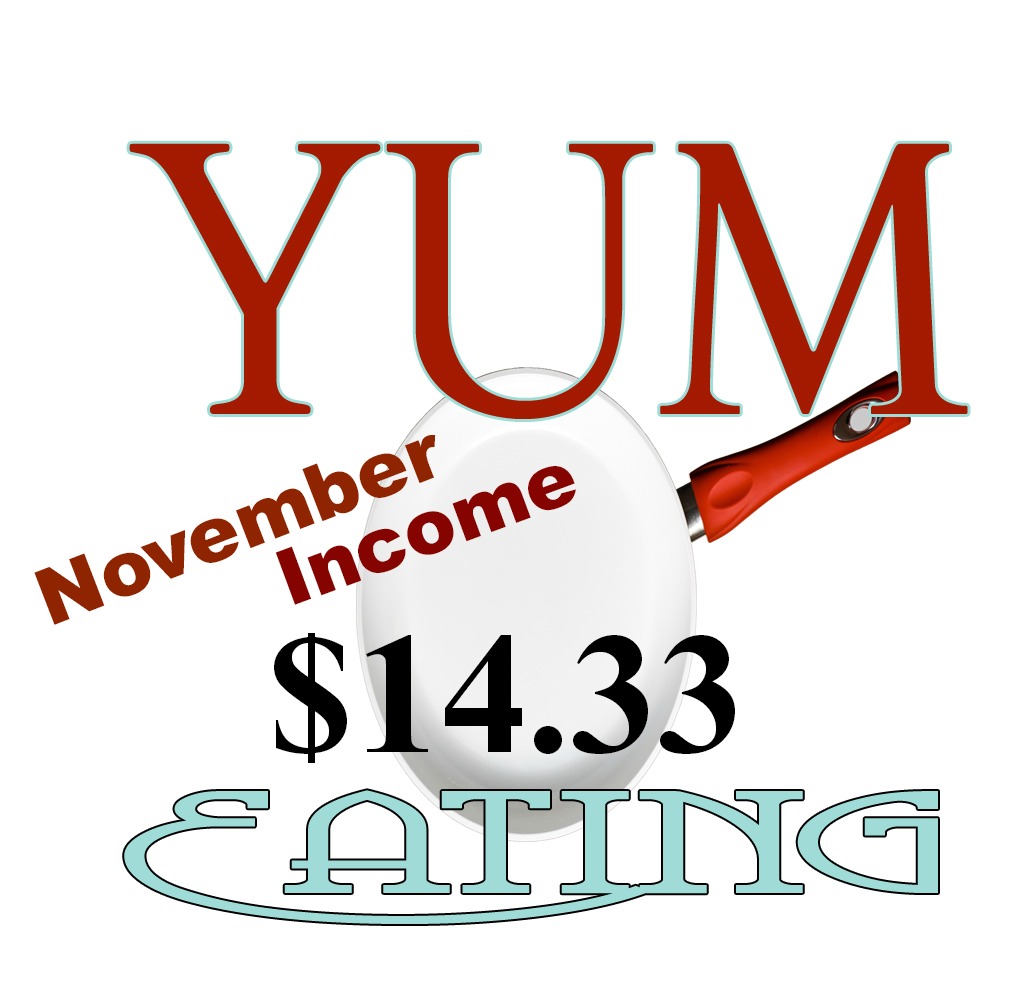 Well November certainly was an interesting month for YUM and one full of changes. I can't begin to tell you all of the things that are finally starting to click for me. When I started Self-Employed Writer years ago I tried so hard to monetize it. At the time I was also working on my Bachelors degree and that took up quite a bit of my time. My other time was spent working on my freelance career because bills were also a priority. SEW was started as a way to brand myself. I needed a website to get my name out there. Showcase my work. It became a place for me to discuss so many things related to working from home. Then, somehow it became a writing and book review site. Now I am working on a new work at home site, Work at Home Living.  Because I didn't take the time to monetize correctly then, I am paying the price for it now. Thankfully, I know how, I just didn't do it. I had a little bit of a head start with YUM and it's been interesting to put all the pieces together that I have been hanging on to for so many years. Now that I am building WAH Living in my spare time (for now) it's been pretty cool to see how quickly all my puzzle pieces quickly get put together.
Ok, ready for some YUM numbers?
August – $0.94
September – $ 13.94
October – $ 9.82
Income:
Lijit – $ 1.94
Adsense – $ 5.37
Swoop – $  3.97 (these are the little ads you see in my recipes)
Infolinks – $ 1.57
Glitter Network – 276 impressions and no money earned
Amazon Associates – $0 this month
Food Bloggers Tax Guide – 67 free copies were given away
GLAM – $x.xx  ****
Total Income: $ 14.33
Let's Discuss
I'm up from last month. That's a plus. My Lijit went down because I removed their ads. My adsense went up, despite me having to change their ad placement. Swoop was another big increase compared to last month.  Infolinks was actually less than last month which I find a bit odd since my pageviews were higher. I know some folks do well with sites like Glitter and Escalate Network, I'm just not one of them. I think YUM isn't a niche for them. I get a ton of clicks but no conversions and for most of them all you have to do is like a Facebook page to enter a contest.
I ran another freebie book promo and it got into the hands of 67 people, but none of those people make purchases through links like last month so there was no affiliate income.  I was picked up by Glam Media and that amount was for the last few days of the month.
As for my expenses, technically I am in the hole because I paid for hosting and the domain upfront.  I talked about that back in August. I was going to move all my websites over to self-hosting but a few of them I am going to give up and others are merging.
I haven't really be reporting my expenses  here like I should because most of my expenses are for all my websites and my freelance writing as a whole. Since I started YUM so late in the year a lot of the expense separation really didn't matter.
For this year and the purpose of the income report I'm just trying to show you that the first few months of blogging are the learning curve, the point of  networking, and content building period. You can make a little money, but it is rare that a blogger makes "pay a bill" money instead of "buy a pizza" money unless they have a post that went viral. Right now I am not buying pizza. I'm adding that money to the money for my sponsor child. Check out "Why I Write" for more information.
Expense:
Amazon Cloudfront –  $0.87
So what's new?
My big change for November was that towards the end of the month I had to remove Lijit ads and search in order to put up Glam Media ads because I was accepted to be a part of the Foodie network. December will be my first full month so it should show a significant increase and positive  changes in all departments.  ***** Due to my contract with Glam I won't be able to post exact Glam amounts and contract information, but you'll get the general idea.
After all these years I am still not very good at understanding Google Analytics. You would think with an MBA I would be able to figure it out. Too many things for me to click. I do know that Pinterest seems to be a huge source of traffic for me and it's also my social media network with the highest amount of followers. I am going to spend some time in 2014 utilizing this to my benefit. Now that Facebook is really pushing hard on promo posts for pages many website owners are seeking out other alternatives to get their sites in the faces of others. I have a Tumblr set up but I don't really maximize the benefit. I also have G+ which I should use more because there is quite a network out there.
I'm also hoping to set up a little foodie studio so I can start submitting photos to places like FoodGawker and TasteSpotting. I have yet to do so because I'm lacking the things they are seeking.
I'm still very pleased with the results of YUM. It's been a lot of fun and it is something I look forward to with such a joy and happiness.  I would say not bad for a site that is only a few months old.
December should show me some of that "pay a bill" income. 2014 is going to be a great year for YUM. I can feel it.
How was your blogging income for the month?