Foodie Penpal Haul & Reveal for October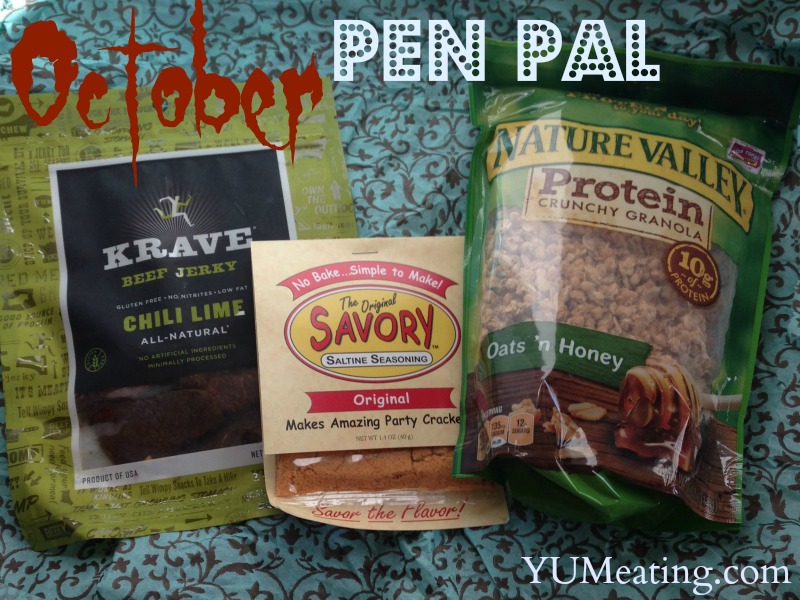 This is my seconds month participating in the Foodie Penpal program. I was really excited to connect with another foodie. Last month was a lot of fun but Audrey and I didn't get a chance to talk a whole lot. After the September reveal I spent some time going through the blogroll and noticed a lot of the participants had really spent time getting to know each other and you could tell that good, solid friendships had formed. You could also tell they spent a lot of time picking food items and preparing their boxes. As someone who works from home and spent the last 5 years completing a BA and MBA all from home I missed out on making connections after moving to MI. I'm finding at my age it is becoming harder to form friendships so I am always looking for ways to make connections with people.
Most of the folks in the Foodie Penpal program are connected through Twitter, Facebook and blogs. This months penpal didn't have a blog to linkup with and it did take quite a bit of time for her to answer her emails. I started to wonder if I was going to have to have Lindsay find me another match because mine dropped out of the program. Finally Monica appeared! I emailed her back, again there was no reply. Finally we were able to connect on Facebook.
I guess during a lunch break we spent a few minutes discussing the south. I grew up in OK and have been in MI for a few years now. I had friends in Arkansas, where she was from so we spent some time talking about the chicken farms. She's also really close to where my friend lives so we also discussed the lovely sulfur smell. I felt we were really connecting and I thought maybe I had made a new friend.
Sadly, we haven't really talked since then. 
I was excited to make Monica's box. Having been a runner before the osteoarthritis and degenerative disc set in I know all about proper fuel and nutrition before and after a run. I packed her up some wonderful energy and protein bars that had been some longtime favorites of mine.
I spent quite a bit of time snooping through her profile. I found some mentions and photos of her running, a mention that she was queen of whipping up some salsa, that her kids like pumpkin seeds and some other random tidbits I picked up.  For those of you who follow YUM on Instagram you know we have been working behind the scenes preparing our second batch pumpkins for our Christmas gift baskets. This meant a lot of pumpkin butter and pumpkin puree to be canned and roasting pumpkin seeds to be canned as well. I had packaged up a little sample for Monica. I sent some mints and other fun treats. Each package had a mason jar printable tag with a hand-written note that I found via Pinterest. They are so cute I plan to use them on the jars for the Christmas basket too.
I really put some thought into her little box. 
I let her know her box was on the way. She replied some time later with the same note. She did let me know that she had forgotten to put her letter in the box. I suggested sticking a stamp on it and mailing it separate.  Her box arrived a few days later and I was so excited I literally skipped to my office. But when I opened the box I felt this sudden sense of sadness. I don't mean to sound ungrateful or that I am not thankful to be a part of this program. I am glad I crossed paths with Monica for that one day we had a really nice conversation.
Her letter never arrived. Perhaps it contained important information as to why she made these food choices. I guess I'll never know.
My box contained 3 things.
1. Krave brand beef jerky. Chili lime flavor. I thought it was sort of funny because I received Krave last month from my foodie penpal. While I liked the texture and company, the chipotle flavor wasn't my favorite. This months flavor was chili lime. I wasn't thrilled but I went ahead and gave it a try. Nope. Still not thrilled. Sorry, Monica. I gave it my best shot.
2. The Original Savory Saltine Seasoning – Original. At first I wasn't sure what this was. I thought it was dip and then I realized it turns your saltine crackers into flavor crackers. We don't eat white crackers in our house and we tend to keep the salt to a minimum. I thought these might be good for some grain crackers until I realized the mixture has to be made with 1 3/4 cup Canola Oil. Just the thought of that makes my stomach churn. The sodium content of this package is 95g per 1/2tsp. There are 40 servings in this package. That's not good for hubs and I.  So, I thought about trying it with Olive Oil or Hazelnut Oil, but again, that sodium content…wow. Not all is lost though, holidays are approaching and this *could* be a holiday gift basket item or a snack item for Thanksgiving or Christmas. So this item could be useful with the oil swap. I also think I could add some of my own dried herbs and seasonings to fluff out some of the sodium.
3. A giant bag of Nature Valley Oats n Honey Granola. This used to be my favorite granola bar. I'm here to tell you – I love granola. However, not all granola is the same. These days I prefer it in the most cleanest stages and unfortunately my trusty favorite doesn't make the list. Boo.
I know you are going to ask me why.
Well for starters the ingredient label says whole grain oats but it does not carry the Whole Grains Council label. I don't eat a lot of carbs, but when I do, I need them to be the best kind. Otherwise my PCOS makes my body all out of whack. Second ingredient is sugar. Then soy – another no no. I limit as much as possible. I am sure she meant well. Thing is, I saw her 'Like" YUM's Facebook page and had she taken the time to poke around a minute she would have noticed that the foods were not at the top of my list.
So, I am sort of bummed. I was really hoping for a fun foodie match this October.  Now I am debating on whether I should try again for a third month or if I should hang up my foodie penpal badge.
While I think the Foodie Penpal program is GREAT I think that bloggers should be paired with other bloggers, and non bloggers should be paired with other non bloggers.  I also think folks who aren't online much should be paired with others just like them, those who just want a traditional penpal. I have a feeling (I know for a fact) I am not the only one who feels this way.  I think Lindsay has done a GREAT job with her program and I know it is a lot of hard work to manage.
 There are other foodie exchange programs out there. All with their own rules. Each with different formulas. However – if any bloggers would be interested in a snail mail foodie program with other bloggers in order to connect with other foodies with blogs  reach out to me or Nicole at 350 Preheat. You can join us on Foodie Blogger Forum, too as we continue to grow and build our foodie empires 😉
How was your experience? Did you get something amazing?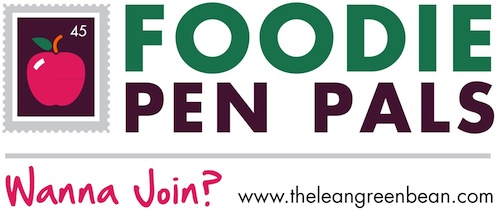 If you are interested in joining the Foodie Pen Pal program head on over to The Lean Green Bean for US and Canada  members or contact Carol Anne This is Rock Salt  rocksalt@thisisrocksalt.com for UK members to get signed up.