Today we're moving on to F….. I had F planned for Forgiving…but decided at the last minute to save that for another post and use F to tell you guys about the Fit Girls challenge that I am starting on April 18th.  This challenge is a big deal for me for so many reasons.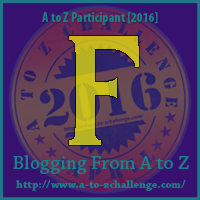 I've been following the Fit Girls on Instagram for quite a few months (it may actually be about a year now) and watching all the members and their progress was always such an inspiration but I had so much going on in my life that I just couldn't commit. Or, I would get ready to and something would come up with the pain and agony I was going through. Now that I have dusted myself off and started doing some walking/jogging/running and working out, I feel like I am ready to through caution to the wind and really step up my game.
On April 18th (hey, tax day!) I am going to really hit the ground running with a clean eating meal plan and home workouts. My plan is to get back to the original foodie here on the site that I used to be and share all the fun meals with you guys again. I'd like to start sharing my workouts here too, instead of just on Instagram and Facebook.
I am feeling really good about this and I think it's just in the direction of my journey I need to go in.