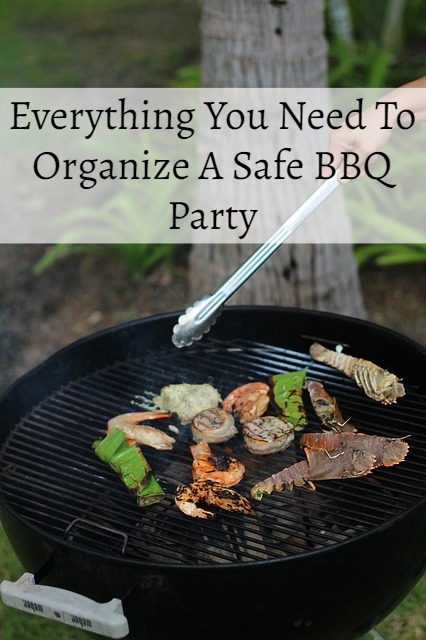 Having a barbecue party can be great fun but one needs to be careful and make sure that safety measures are taken before hosting the barbecue party. If you're wondering about what you can do to make sure that your barbecue party is organized in a safe manner, we have a whole list of tips and suggestions for you to incorporate. Here's everything you need to know:
Figure Out the Weather Conditions In Advance
Having an outdoor barbecue party can turn into a disaster if it unexpectedly rains down on your parade. If you want to have a safe and successful barbecue party, you need to make sure that the weather conditions on the day of the party are favorable. If it unexpectedly starts pouring down in the middle of your barbecue party, the whole purpose will be defeated. You can also make arrangements to set up a small marquee so that in the event that there's a drastic and unexpected change in weather, you're prepared.
Provide Shade and Coolers For Guests
If you're having your barbecue party on a bright and sunny day, then you need to provide shade, coolers and other such heat-beaters. There are often times when the blazing sun causes severe dehydration and exhaustion. If your barbecue party is an all-day one, you don't want a few of your guest's fainting due to dehydration. Keep floor fans, chilled juices and beverages and maybe even a small moveable gazebo handy so that your guests can stay out of the sun when it gets to them.
Install Fire Retardant Artificial Landscaping Products In the Area
A barbecue party means a flaming barbecue set. This can prove to be a fire hazard. If you're looking to install plants for decorative purposes, then you must opt for large artificial trees and plants. There are several artificial silk trees and landscaping options that are fire safe and ideal for outdoor parties. Wholesale artificial flower arrangements that are fire retardant are also excellent décor options for your outdoor barbecue party. If you're looking to give the surroundings an oriental theme then you can opt for fake bamboo trees for the space. These fire retardant landscaping products are affordably priced, visually pleasing and will prevent any mishaps from occurring during your party. A lot of these products are also approved as per fire department standards.
Keep the Cooking Area Away From Kids
If you're having children coming over for the barbecue party, you need to make sure that the cooking area is separated from the children's play area. If the kids end up running around the barbecue area, they can trip, fall and even face severe burns. Try to separate out the barbecue section with temporary separators. Make sure that parents are keeping a watch on the children too. Keeping the children safe is very important for a successful barbecue party. You don't want any mishaps to occur when you're hosting such an event.
Wear Proper Protective Gear When Working On the Barbecue
When working on the barbecue grill, you need to make sure that you wear proper protective gear. Get non-flammable gloves, wearing clothing that is fire safe and so on. Use proper tools and equipment when handling the hot meat too. If you're going to be spending a massive amount of time in front of the barbecue grill, make sure that you carry a change of clothes because the smell of the meats may linger on you all day long and you don't want to be smelling like a roasted chicken through the rest of the party.
Proper Cooking Equipment Will Be Required
Raw meat tends to carry bacteria. If you're going to use the same tongs, knives, and spatulas for the raw meats and cooked meats, it can be extremely unhygienic. Also, make sure that you carry with you a meat thermometer to ensure that the meat is properly cooked and nobody ends up going home with food poisoning or salmonella. Visit your local barbecue accessory store to get all the cooking utensils and tools that you will require for a safe, fun and absolutely successful barbecue party.
Cutlery and Crockery For The Party
Using your finest crystal ware and China for a barbecue party may not be the wisest idea. You need to get cutlery and crockery that is sturdy and durable. Opt for plastic plates, stainless steel forks and knives, and other such options. Avoid using glass, ceramic or any other easily breakable materials at your barbecue party. Nowadays, you can even get environmentally friendly disposable paper cups and glasses at your local party accessories store. If you don't desire to spend additional money on disposable cutlery and crockery, or you don't have enough plastic plates, you can always tell your guests to bring their own china when you invite them for the event.
Stock Up On Cleaning Materials
You need to make sure that you have enough cleaning materials and equipment for your party. Clean water, hand sanitizers, washcloths and sponges, drying towels, antibacterial wipes and other such cleaning materials are essential for a successful barbecue party. If you're working with raw meats, make sure that you wash your hands thoroughly after handling them. You will also need to keep hand washing liquids or antibacterial soaps handy at the venue for your friends and family.
Well, now that you have all the information that you need to host a safe and successful barbecue party, you can start planning one immediately for your friends, family members, and loved ones. Hosting a barbecue party can be great fun as long as nobody gets hurt and you're planned and prepared well in advance. A summertime barbecue party or a springtime barbecue party would be ideal for you as the weather conditions would be appropriate during these seasons. So get right to it and start putting your plans together and host a barbecue party that will be a memorable and amazing one!
Disclosures
Links, disclosures, privacy, and all legal matters can be found here.