Curwood Castle Museum & Park | Owosso, MI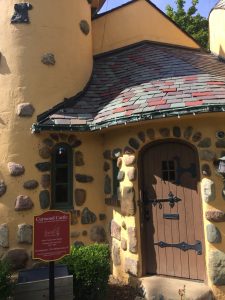 Do you guys know that there's a castle located in Michigan?? Well, there is. It's not the size or style of castle that first pops in to mind when you first get a vision in your head when you hear the word 'castle,' but, it works for us. 😉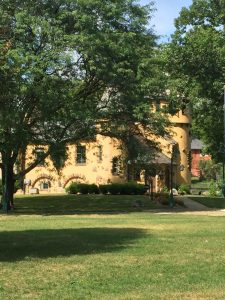 Curwood Castle Museum and park (grounds) is located in Owosso, Michigan, not too far from where I reside.  The castle itself stands on the banks of the Shiawassee River and served as the writing studio of James Oliver Curwood. Curwood was one of America's foremost authors of adventure novels and one of the first advocates of environmental conservation. 
Owosso holds one of the richest collection of historic homes and buildings here in the Midwest. This castle is actually a replica of a Norman chateau, which was completed in 1923. Curwood used this castle until his death in 1927.
The castle is now a museum which is open to the public for a nominal fee, but exploring the grounds is free.  With a sunny, minimal cloud day, and Kelly in tow, it was the perfect day to explore.
And if you explore the town of Owosso, you will see one of these things still standing.