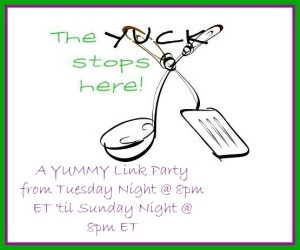 Welcome to another week of The Yuck Stops Here.
Last week was such a crazy week for me. I keep looking back at it and wonder where in the world did I let the time go. My father passed on the 4th. But, no one told me. It's a complicated story, but we haven't spoken in over 7 years. I was forced to make some decisions and come to terms with some things. Because of that, my blogging sort of came to a halt.
Good news is, I was able to put together a post for my Skinny Chicken Pot Pie Soup. I'm pretty excited about it. I've been so behind in my recipes that my drafts and hard drive are full of half-done posts, photos and ideas.
I'll never run out of good recipes, that's for sure.
Especially when I keep hanging out with these wonderful food bloggers who provide me with endless inspiration, ideas and beautiful food photos that make me want to lick my screen.
Hey.
Don't judge me.
Ready to paaaaaaarty? I know I am.

GET PINNED! GET LIKED! GET TWEETED! GET SHARED!
Welcome to week #7 of The Yuck Stops Here link party! I am very much enjoying hosting and I hope you are enjoying partying with us! I hope all you mothers out there had a wonderful day yesterday and enjoyed time sharing good food with family!
Please remember that this is a RECIPES only party, recipe tips are welcome, but crafts, etc. belong somewhere else (not that we don't LOVE them, we're just sticking to recipes here)!
We're still looking for a few good hosts!
Hosting brings traffic to your blog, gives you exposure, gives you an opportunity to meet new bloggy friends and improve your social status and gives you tons of great recipes as resources for things like roundups! If you would be interested in joining us in our effort to Stop the YUCK everywhere, hop over to our The Yuck Stops Here Hosting Info page for more information.
Each week, each of our awesome Co-Hosts will pick a special feature, so please visit each of their sites to see who's recipe made the cut! We will also feature the MOST CLICKED post. ALL of the featured posts will be pinned, tweeted and shared on all of our social media sites. All links will be pinned to my The Yuck Stops Here Pinterest Page so please feel free to visit.
Every link will be tweeted or shared by at least one of the co-hosts!
What to do:
Link up your delicious recipe posts!
Don't Re-link (if you've linked it here before, don't link it here again).
Link directly to the recipe post, not to your home page.
Include ONLY family friendly links.
Include a link back to the party (grab the button in my sidebar if you like to make linking back easy or just link back on your post – here's some info on how to link back)
As a courtesy to others, visit other posts (I usually visit at least 3) and leave a comment if you are so inclined.
MEET YOUR HOSTS! Please follow each host via at least ONE social media platform, and visit each host's website to check out their features for the week!
Host: Cheryl King – Hot Momma's Kitchen Chaos
Facebook Twitter Pinterest Google+
Co-Host: Teri Schuler – The Freshman Cook
Facebook Twitter Pinterest Google+ Bloglovin'
Co-host Chrystal Mahan – Yum Eating
Facebook Twitter Pinterest Google+
Bloglovin' Stumble Upon Instagram
This Weeks Features:
The Most Clicked Post was:
We had a TIE for most clicked this week! Both of them look absolutely delicous & before I knew which posts were the most clicked, I was looking at them both as possible favorites!
Fish Tacos from Fork Heart Kentucky – Besides a georgous recipe that my pescetarian daughter can enjoy and that the rest of us will like as well, I love the honesty and humor of this post! Aimee really tells her story! And I think the orange zest on these looks totally YUMMY too! SCRUMPTIOUS

Grilled Eggplant Parmesan from BeBetsy – I adore eggplant parm, and this looks so delicious and sounds like a great twist to the usual recipe! And a bonus for me is that this is another meal my WHOLE family can enjoy!
With so many wonderful posts this week it was so hard for me to pick my personal favorite from last week!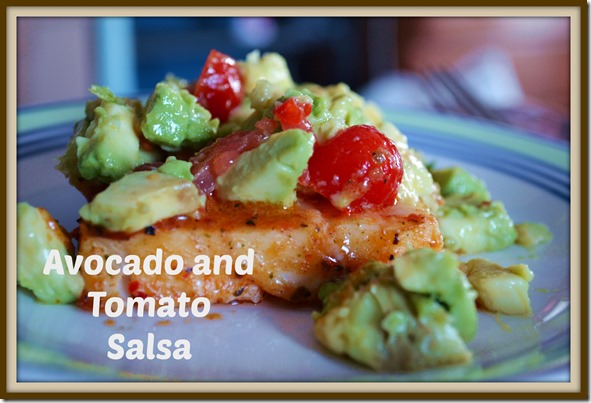 I picked Hollybee's recipe because its full of avocado and tomatoes. Tomatoes are a garden favorite for me and we spent a lot of time canning tomatoes during the season. I'm also a huge fan of avocadoes and I know I talk about how I can eat them every day so often around here! I'm loving this avocado tomato salsa recipe and thinking about all of the wonderful things I can put it on top of. Knowing me though, I'll just eat it right out of the bowl, as-is. I know. I have a problem.

If you were featured, grab an "I've Been Featured" button to show how awesome you are! And remember, each co-host chooses her favorites, so click over to the other co-hosts to check out their favorites for this week!
If you want to be featured you MUST link back to our party in some way. To do so grab our link button (mine can be found in my sidebar) or simply include a link back to our party in your post. Here is a tutorial on how to do that.

By linking up you are giving the host and co-hosts permission to use your link for social media and other promotion such as round-ups. We will try to notify you any time we plan to use your link.

NOW ON TO THE PARTY!