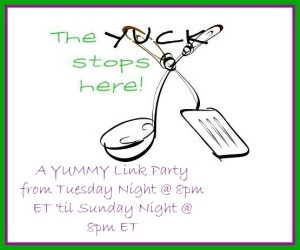 The Yuck Stops Here has landed on YUM eating again! Time flies right? I'm really excited to be co-hosting with my new friends and a wonderful set of ladies, so you should definitely check them out. Check out some of the amazing recipes that get linked up too. I promise you'll find something you want to make immediately!
It's been a busy week for me. Last week I was just getting in the swing of co-hosting, this week I start my co-hosting duties on another day to help out for the summer.  I'm going to be a busy blogger!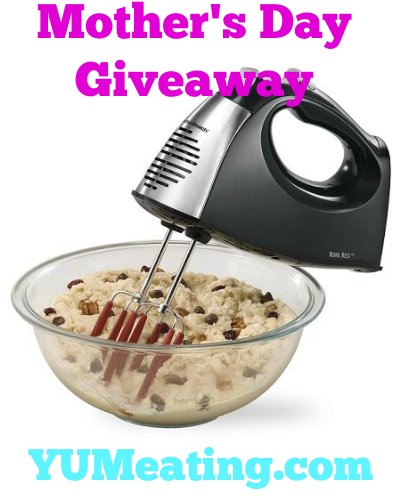 There is a contest running here on YUM, in case you missed it. I'm giving away a Hamilton Beach Softscrape Hand Mixer. I'm really excited to be a brand ambassador for Hamilton Beach. Once this contest is over, I have another super awesome prize to giveaway! Can't wait. Still working on a fan-tab-u-lous recipe for that.
I desperately need to get better organized. Now that I have co-hosting duties (I feel so important!) and YUM is moving up in the world with brand ambassadorship and sponsor posts I find myself completely unorganized. I used to be diligent about my planner, but that was when I only had a couple of clients and just wrote on my website whenever I wanted. Now that YUM is a big thing for me and I have things that must be done, I need a different organizational system.
Right now I have a refillable planner that I print pages off to write the blog posts and if something is due, I write that on the due date. It worked for a while, when I was good about scheduling posts in advance. Now, it's just not enough room. I have a notebook full of post ideas. There is another notebook I use to write all my recipes in when I am cooking and taking photos. Then, I have another planner that husband picked up from his college that I use to write due dates, work schedules and other dates to remember.
This is NOT working for me. So, I am on a mission to get better organized.
I have a hard drive folder full of photos I have been taking of recipes that desperately need to get put up here. I feel so far behind! I also have to get my notebook ideas typed out, along with the drafts I have already started.
YUM has some printables; recipe cards, grocery lists, and meal plans, but no planner pages. I need to design some. Otherwise I am going to Wal-Mart to spend $8 on the 18 month planner I fell in love with. Sadly, it's not refillable, and I hate that. 🙁 BOO!
If anyone has any tips, please send them my way.
How about a yeah? Husband graduated with his Associates in Respiratory Therapy last Friday! Woot! Sadly he did not get the job he wanted, so now we have put our moving plans on hold since we have no idea where we will be going. 🙁  We took a look weekend vacation and there was some drama and rain, but we made the best of it. I have a lot of little posts to write-up from the places we stayed, shopped, and of course, ate at!
So, are you ready to party now that I have all that news out-of-the-way??

GET PINNED! GET LIKED! GET TWEETED! GET SHARED!
Welcome! Welcome! This is the sixth week of The Yuck Stops Here link party. Please remember that this is a RECIPES only party, recipe tips are welcome, but crafts, etc. belong somewhere else (not that we don't LOVE them, we're just sticking to recipes here)!
We've changed our start and end times! The party now starts every TUESDAY evening at 8pm Eastern Time and ends the following Sunday at 8pm ET. That gives you plenty of time to link up and to visit eachother's awesome posts!
We're still looking for a few good hosts!
Hosting brings traffic to your blog, gives you exposure, gives you an opportunity to meet new bloggy friends and improve your social status and gives you tons of great recipes as resources for things like roundups! If you would be interested in joining us in our effort to Stop the YUCK everywhere, hop over to our The Yuck Stops Here Hosting Info page for more information.
Each week, each of our awesome Co-Hosts will pick a special feature, so please visit each of their sites to see who's recipe made the cut! We will also feature the MOST CLICKED post. ALL of the featured posts will be pinned, tweeted and shared on all of our social media sites. All links will be pinned to my The Yuck Stops Here Pinterest Page so please feel free to visit.
Every link will be tweeted or shared by at least one of the co-hosts!
What to do:
Link up your delicious recipe posts!
Don't Re-link (if you've linked it here before, don't link it here again).
Link directly to the recipe post, not to your home page.
Include ONLY family friendly links.
Include a link back to the party (grab the button in my sidebar if you like to make linking back easy or just link back on your post – here's some info on how to link back)

As a courtesy to others, visit other posts (I usually visit at least 3) and leave a comment if you are so inclined.
MEET YOUR HOSTS! Please follow each host via at least ONE social media platform, and visit each host's website to check out their features for the week!
Host: Cheryl King – Hot Momma's Kitchen Chaos
Facebook Twitter Pinterest Google+
Co-Host: Teri Schuler – The Freshman Cook
Facebook Twitter Pinterest Google+ Bloglovin'
Co-host Chrystal Mahan – Yum Eating
Facebook Twitter Pinterest Google+
Bloglovin' Stumble Upon Instagram
This Weeks Features:
The Most Clicked Post was:
Bean & Cheese Tostadas with Roasted Tomatillo Salsa from Hello Little Home. Pop over to check out this yummy recipe and some of the other fun things Ginnie is doing. The time you spend their will be well spent. Congratulations Ginnie! Don't forget to grab your "I Was Featured" button.
My personal favorite from last weeks Yuck Party was: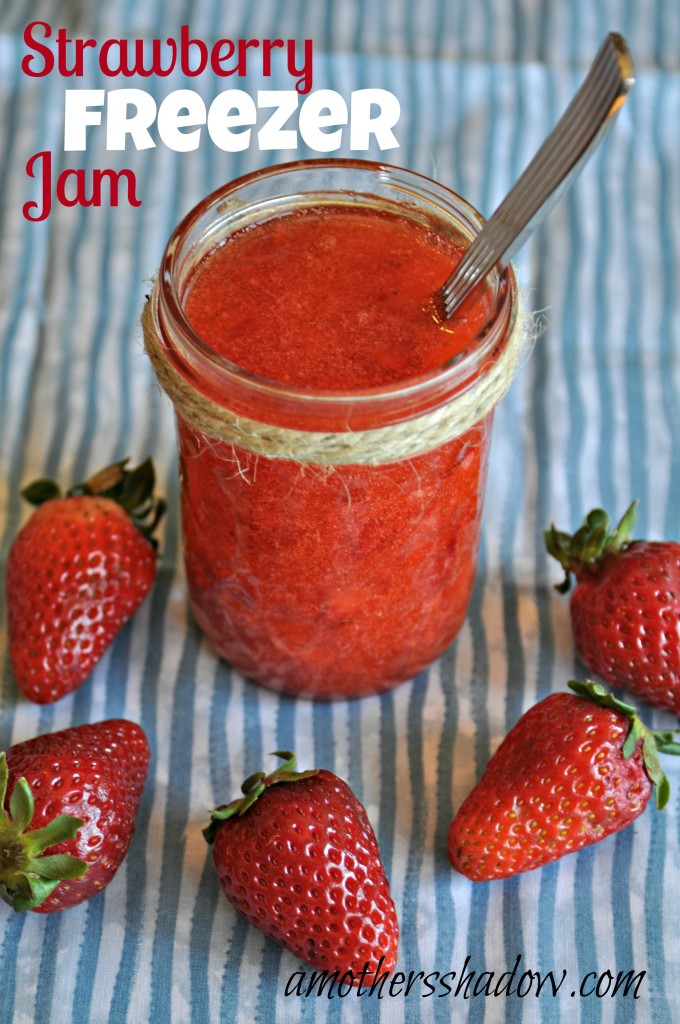 Isn't that beautiful? I am a huge fan of gardening and just started getting my Trash to Treasure Garden set up a few weeks back. I'm having some landscapers bring in some top soil since it will be much cheaper for the amount of dirt I need. Because I strive to make as many things on my own as I can, we do a lot of canning in the season. I am very fortunate to have family and farmer friends with rather large supplies of foods.
This recipe by Carrie over at A Mother's Shadow, caught my attention because its canned, but its frozen. I was extremely interested in this process and found it to be so easy, I am putting it on top of my jam list this year. I didn't get a chance to make any berry jam last year. Partially because I didn't have time to do a garden last year as I was focused on finishing my last semester of grad school. I have a large upright freezer in the garage, I have a feeling its going to have some yummy strawberry goodness in there at the end of the growing season.  Thank you Carrie for sharing this with us!
Are you ready to party now?
If you were featured, grab an "I've Been Featured" button to show how awesome you are!
If you want to be featured you MUST link back to our party in some way. To do so grab our link button (mine can be found in my sidebar) or simply include a link back to our party in your post. Here is a tutorial on how to do that.
By linking up you are giving the host and co-hosts permission to use your link for social media and other promotion such as round-ups. We will try to notify you any time we plan to use your link.
NOW – ON TO THE PARTY!