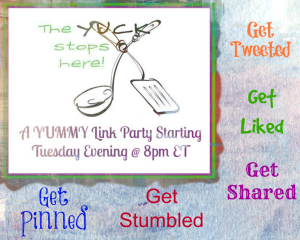 Hey y'all.
How is summer going for you so far? Can you believe we are already coming up on the 4th of July? Seems like just yesterday we were celebrating Christmas.
I am really excited at how well our #stoptheyuck party has grown! Yesterday I was down and out with another migraine. I don't know what is going on. It's like I keep them under control for ages and them BAM! all of the sudden they start to linger again. I am not sure what is going on, but I don't like it. Yesterday I spent the day in bed and I was not happy about it!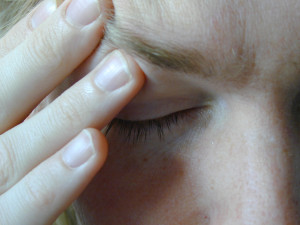 If you remember, the nasty headache derailed me last week, too. I hope I can find some peace with this. I have been dealing with them since I was 9 and I am sorta over it.
No. Really.
I did manage to get some great posts up last week, in case you missed them. In celebration of July being National Picnic Month. I posted 12 recipes that are great for picnics. I also shared my salad in a jar, fun times with Mr. Yum on our picnic, strawberry raspberry shortcake in a jar and how to make the perfect picnic sandwich.
So tell me, what were you up to this week? Let me know by sharing your food links in our party below!
Alright. Party onward!
EVERY post in the party gets pinned to The Yuck Stops Here Pinterest Board!
Follow Cheryl King's board The Yuck STOPS Here! on Pinterest.

Swing by sometime to check it out! ALL Features get Shared, Stumbled, Tweeted & Otherwise LOVED by your hosts and posted to The Yuck Stops Here Featured Pinterest Board! Don't forget to link back if you want to be featured! Follow Cheryl King's board Features from The Yuck Stops Here on Pinterest. Feel free to share the party with your friends and followers on social media using #yuckstopshere or #stoptheyuck. And VISIT, VISIT, VISIT! Let's get to the important stuff!
(If you'd rather just post a link on your post here's some info on how to do that)
More Hosting Info
Follow Yum Eating:
Follow Hot Momma's Kitchen Chaos:
This week's Features:
Most Clicked:
Bolillos from Jay Tried and True
YUMS PERSONAL FAVORITE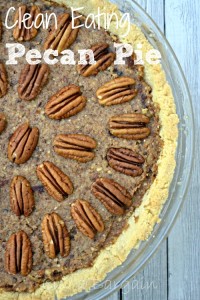 I am loving this Clean Eating Pecan Pie recipe from Sherri over at Luv A Bargain. Pecan pie is my favorite pie ever and I had no idea that I could make it cleaner and NOT sure Karo Syrup. This recipe has changed my life. I can't wait to make this yummy treat.
CONGRATULATIONS to you ALL! If you were featured, grab an "I've Been Featured" button to show everyone how awesome you are! And remember, each co-host chooses her favorites, so click over to Chrystal at Yum Eating to check out her favorites for this week!