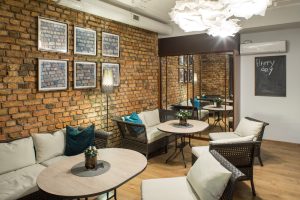 Home decoration is all about turning the thoughts and ideas into reality. You can hire a pro to do that. But, have you ever felt the urge to craft something yourself?  Maybe you are looking for ideas. This blog tells you about some cool DIY hacks for your home décor.
Pop up the stairs with stencils
Nothing can make the staircase pop better than stenciling. You can easily do it at the weekend. Choose some stencils. You may use anything from geometric patterns to funny figures. But, these should match with your décor theme.
Prepare the riser surface and position the selected stencil on that. Next paint the stencil with a brush. In case you have more traffic, finish it with a protective coating.
Wow with a hanging rope shelf
Shelves provide versatile storage solutions. Why not make those more charming by including a hanging rope shelf. This is one of the easiest DIY crafts. You need only planks and ropes to make it.
Drill holes in the planks and tie with the rope. You may also paint the planks and the rope. Hang it from the ceiling in the kitchen, bathroom or anywhere you like. It will deliver a nice rustic look to your home.
Embellish with cookie cutters
This is a nice DIY project for making cute designs. Cookie cutters come in an array of styles and shapes. Fix some matching cookie cutters on a board and display that in the kid's room.  You may use animal or geometric forms as you like. These will make the room chic and classy.
Accent with a tree stump
Maybe you have all the furniture in the room. Still, you may have a queer feeling of missing something. This could be due to the absence of an accent table. Do not wreck your brain in search of this. You can make it easily yourself by using a tree stump.  This can be used as a side table. Or, you can use it as a center table by putting a glass top on the stump. No need to color the stump. The natural color will make it appear subtly rustic.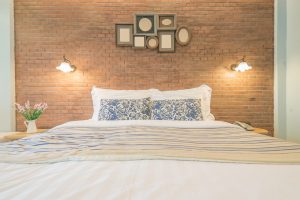 Use embroidered wall art
Embroidered wall arts are great to elevate the ambiance. This is very simple to make. Open the seams of a bag with a seam ripper. Wash and press the fabric. Now embroider designs that match the color of the fabric. You can also make cross-stitch designs as well.
Take a board sufficient to hold the design leaving around two inches on all sides. Mount the design with matching color tape. This will be a nice craft display in the room.
Glam up the storage
Maybe you have double box floating shelves or free-standing cabinets in your home. Remove the door and paint the wall for a classic look. You can also use designer decals for making this glam. When complete, they will improve the look and feel of the storage.
Chick up the pillows
Draw on the pillow covers to give it a dreamy look. You can do this easily by using fabric paints.  The other way to spruce up the pillows is to use buttons.
This is also very easy and simple. Place a dinner plate on the pillow and trace the shape with a pencil. Mark small circles at equal distances with a chalk.
Create a tufting by passing embroidery floss twice through the circles. Knot it id securely on the back side. This will entail a better look of the pillows.
Repurpose a wooden pallet
A wine rack is one of the fanciest things in a home. But it but costs too much. Make a wall-mounted wine rack using the old wooden pallet.
You need a drill, some screws, glue, clamps and assorted pieces of hardwood. You can also turn the pallet into a leather-shine wine rack by using a leather strap to hold the bottles.
Make a driftwood candle holder
You can turn a driftwood or a dry tree branch into cute candle holders. Just take the piece of wood and sand it to clean the surface. Now drill holes for the candles. You may also paint or lacquer it for finishing.
Get a string-globe light
Including a string-globe light creates the biggest bang. For this, you need a large round balloon, thick string, glue, spray paint, and a LED lamp. Blow up the balloon and tie it up.
Take the glue in a bowl and dip the string into it. Wrap the string around the balloon, spray paint, and let it dry.  Now de-flat the balloon and take it out of the string. Insert the lamp and your string globe light is ready.
Create DIY planters with faux greens
Natural palms require a sun-drenched room to flourish. This may not always be possible in the modern homes. Moreover, they have great maintenance demands. As such, the fake tropical trees became the favorite.
There is no dearth of varieties. The artificial indoor palms are available as fan palms, sago palms, areca palms, kentia palms and many more. Passing through many manufacturing evolutions, they now stunningly resemble the live plants. Since these are made from premium quality commercial grade raw material, they are quite durable.
Although the artificial mini palm trees are available in standard bases, it is better to re-pot them. You can use decorative planters and fill those with real soil and gravels. This will impart a natural look. These can be placed anywhere from windowsills to staircase landings.
You can also use artificial palm fronds for various DIY projects. These are great decorative elements for adorning the rooms.  These are infused with UV blocking materials and, therefore, never get discolored.  They do not grow molds, attract insects or cause allergies. Thus you get a totally safe environment.
Conclusion
DIY crafts need only one successful attempt. Once done, you are hooked to find more. Using these for home décor also gives you a satisfying I-did-it payoff. You can make your home look creative and refreshing following the above DIY ideas.