It's Outdoor Entertaining Season !!! 13 Recipes to Get Your Fire Started.
Check out Outdoor Entertaining

by Chrystal M. at Foodie.com
Note:  You'll need to turn your adblock off in order to see the photos from my blog sponsor, Foodie.com and trust me, you'll want to see these edibles!
I'm so glad the sun is finally out and I can put winter behind me. This was one of the worst winter's in Michigan history and let me tell you it did nothing for my depression and anxiety. I've been through a lot these last few months. I got really sick, gained a lot of weight, lost my father, and  landed some new client (s) that are really forcing me to think outside the career box. I'm starting to feel better.
I've been working on my 'trash to treasure' garden and really praying it provides me with some great eats that I can create something YUMtastic for my family.  We spent about $100 on plants, seeds and fertilizer. Then, we spent another $60 on 2 yards of top soil to be brought in because we are putting the garden where the small barn used to be. (barn related articles) It felt really good to get outside and work over Memorial Day weekend, even if I did actually have to work for a client on Monday. 
I've spent the last few days getting some ideas together for cooking outside and for hubs and I to do a little picnic.  I'm beyond ready to spend some time outside. I'd like to share some of the fun and awesome looking recipes I found on Foodie.com, the awesome sponsors of my website and this post.
These are in no particular order!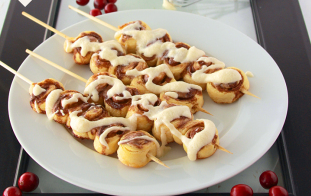 Breakfast:
Campfire Breakfast Potatoes – When eating outdoors, one pan meals are key.
Food on a Stick:
I'm all about having a lot of my food served on a stick this summer. I bought a pack of skewers last summer and then never used them. I think this year I am going to put them to use. I've found quite a few recipes to put on my "must-try" list, especially the cheese on a stick!
Rosemary Ranch Chicken Kabobs
Steak and Mushroom Kabobs
Grilled Jerk Shrimp and Pineapple Skewers
Grilled White Cheese with Oregano Oil
Anytime Meals:
Detroit Style Coney Dogs – It should come as no surprise that I have a Detroit coney dog on my list. I have a love/hate with hot dogs. They all give me a terrible stomach ache so if I am going to eat them, I try to stick to good quality dogs like Kogels. When I was younger my grandmother used to send me a food box every few months of my favorite Made in Michigan products. I could always count on her to send some. Weird fact about me, I don't really like hot dogs. But, once in a while I do crave a good coney.
BBQ Sweet Corn – My house is surrounded by corn. Don't tell anyone but once in a while we go 'borrow' some corn from the farmer 😉 This year, thanks to my cousin, I have planted to rows of corn for ourselves. Let's see if  can grow corn so I can make this awesome recipe. I've always had a hard time getting my corn to taste good when grilled. I am determined to make something good!
Blackberry Lime Fruit Salad with Orange Zest – I have no words for this. It just looks amazing and I think we should all make it and then report back here! Sound good?
And for dessert….
Cinnamon Roll Kabobs – Cinnamon Roll on a stick???? WHAT???
Brownie and Fruit Kebabs – I love that these kebabs have just the right amount of chocolate and fresh fruit. Perfectly portioned.
Grilled S'Mores Pizza – S'mores. Grilling. Pizza. Triple effect!
Raw Cranberry Pie To Go – These are perfect for outdoor entertaining, camping or packing for a picnic. I'm loving the use of jars and so happy to see them go mainstream.
To wash it all down….
Old-Fashioned Sun Tea – Ok. I don't drink sweet tea. I think there is a stereotype that anyone from the south drinks that stuff.  Sure, I spent half my life there, but I never jumped on the sweet tea bandwagon. I prefer mine sun brewed whenever possible. This old-fashioned recipe is perfect for any outdoor entertaining, whether it's just you and your family or a gathering.
So tell me, what's your favorite outside food?