Melt: The Art of Macaroni and Cheese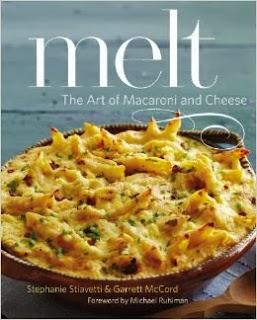 Cheese. Cheese. Oh cheese. How I love thee. Let me count the ways.
One. Two. Three.
Welcome to my home Melt: The Art of Macaroni and Cheese by Stephanie Stiavetti and Garrett McCord!
Ok, let's get serious here. I could go on and on forever about how much I loveeeeeeee cheese. My obsession with cheese goes way back. When I was younger I would eat the Kraft cheese singles and would tell my mom I dropped one on the floor and the cat licked it just so I could eat an extra one.
For the record, I did share a few bites with the cat. I may have been an only child but I sure loved my Squeaky.
My mom makes the best macaroni and cheese. It has just the right amount of Velveeta and Cheddar. (Yeah, I know..processed cheese. Don't judge me. It's my comfort meal.)  Once everything is in the pot she puts it in the oven to bake it so it gets this nice layer of what I call "burny" on the top. Those extra crispy parts are my favorite!!
It's pretty safe to say that I like cheese a little better than I like chocolate. I was so excited to be able to get an advance copy of this cookbook, Melt: The Art of Macaroni and Cheese (which will be released on October 22) that I couldn't wait to check it out.
I have to admit though that I am not the biggest fan of cookbooks in digital format. It just doesn't work for me. But I did not let me personal preferences keep me from the one comfort meal that brings me such joy.
I do have quite a few cookbooks in digital format, I just don't prefer them that way. I am the same way with magazines. I prefer my cookbooks and magazines in regular paper form. (Hint, hint. You know, Christmas is right around the corner.)
I loved that "Melt" had so many beautiful photos. I am a visual person and it really helps for me to see what things are supposed to look like. I also loved that throughout the book the authors offer tips, suggestions, facts, and even share little stories. That is something I love about a good cookbook. That little something extra. I love it when the author shares personal stories about their recipes. To me that is like good customer service, going above and beyond the call of duty.
Something else I enjoyed was the history of cheese and the wine pairings offered in the beginning of the book. Some people might be turned off by such stuff, but I really enjoyed this. The photos are beautiful and mouth-watering. I even learned about chocolate noodles and the outcome was something I wasn't expecting.
Who knew there were so many ways to make mac and cheese? Some of them, like "Humboldt Fog with Grilled Peaches and Orzo" to start the book made me wonder if this was something that was a little 'too much' in regards to nothing being easy to find or prepare.
Some of the items would be a little difficult for some people in some areas to find. Other recipes you wouldn't think about combining the items together.
All- in- all the entire cookbook is still beautiful and a wonderful creation. I would be proud to add this one to my cookbook shelf and honestly, would take it out to look at the photos over and over. There are some recipes I would love to try, but quite a few have many ingredients that would be difficult for me to find in the area I live.
Still, this would be a great gift for any cookbook junkie like me. Because the review company only allows access for a limited time, I'll actually be putting this one on my
Amazon Wish List
.
Disclosure of Material Connection: I received this book free from the publisher as part of a review program. I was not required to write a positive review. The opinions I have expressed are my own. I am disclosing this in accordance with the Federal Trade Commission's 16 CFR, Part 255: "Guides Concerning the Use of Endorsements and Testimonials in Advertising."