My Experience with Amazon Merchant Fullfilled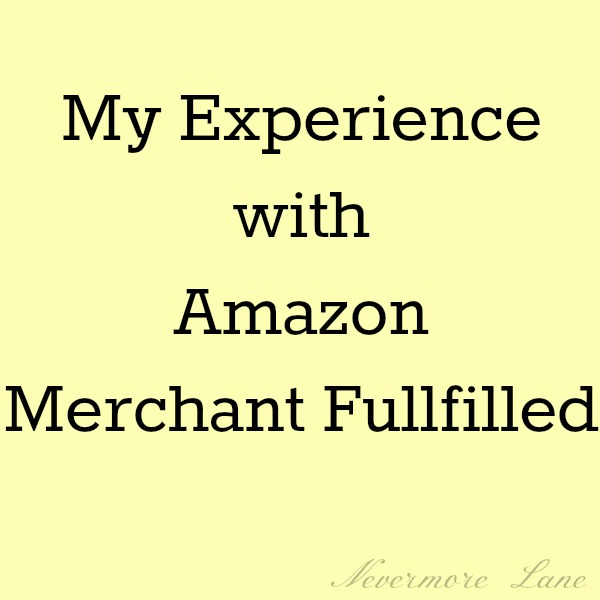 November 2013 I had this brilliant idea that I was going to try selling on Amazon through their FBA program. About a week later I was overwhelmed, sick and completely frustrated. I had worried that I bit off more than I could chew.  Between blogging and my freelance career, I was wondering if I could really add anything to my plate. My focus was on YUM eating and I really wanted to make a website I could be proud of. Sadly, I put the FBA program on the back burner. 
All through 2014 that idea stuck with me. I have always had the entrepreneurial spirit. Since finishing grad school in 2013 I feel like I have just been bouncing around trying to figure out what to do with my life. I kept going back to opening my own business, online or off. We looked at buildings. We jotted down ideas. We talked to the folks at the Small Business Association and we talked to the banks. I kept blogging and tossing around the FBA idea.
During my FBA trial, I had listed a few items and had them boxed and ready to go. So, when I logged into my sellers account, all of those items were still there.
On a whim, two weeks before Christmas I  thought, "what if I just sell these myself and ship myself?" Honestly, what would the harm be? It doesn't cost anything to sell through Amazon. So, I switched my account from FBA to Merchant.  Then, I added a few more boxes of items I had on hand. I added a few more. Before long my office started to look like a little warehouse again.
For those two weeks I was selling a few items a DAY. I was going to the post office every day at first, then my mail lady told me I could just stick a note in my box for her and she would come to the door and get the items. I live rural, so she knew the drive to the post office wasn't ideal for me, especially in December! So, that worked out well.
But, let me tell you something. As happy as I was that I was getting rid of things and making some decent money in the process, I got SICK of wrapping up stuff everyday. It was time-consuming! I started to think back to my eBay days (I sold on there for 10 years)  and it didn't seem to be such a big deal for me then. In those days I would have packages stuffed in large trash bags. Then, I would patiently wait my turn in line at the post office.
Now here comes the really fun part.
Roughly two weeks. After supplies and Amazon fees I made about $150.
Now, you might not think that is a lot considering I had to wrap everything and some days it was a bit more time-consuming than others (especially when it got closer to Christmas) but, let me tell you one last thing.
I sold old VHS tapes.
Yes, you heard me right.
Old VHS tapes. Mostly, Barney.
(In my Monica "Friends" voice) I know, right?!?!
Well that really kicked me in the butt.
Earlier this week my husband and I switched my Merchant account back to FBA account. I boxed up all of my inventory and mailed it to FBA. From here on out, when something of mine sells, they will handle it all for me. We packaged up 300 items over the course of two days and sent them off.
I am thrilled to let you guys know that Nevermore Lane has an online store! (My goodies are on the UPS truck waiting for delivery, so there may or may  not be something there)
I am even more excited because even though I sent it the old VHS, I also sent in books. That means my dream of owning my own bookstore is happening.
Best part? I don't have to rent a building! Or pay utilities!
Now, I just need to figure out a writing schedule and a business schedule.
I can do it, right?
Is there is dream you've always wanted to follow? Did you get there following a different route?