Asian Style Baked Potstickers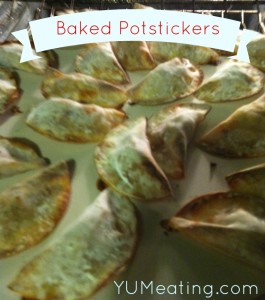 My husband and I really enjoy going out to eat. Lately we have had to cut down on our eating out so that we can really focus on being healthy. When we do go out it is more of a treat and we are starting to pick healthier options.
I have never had potstickers before. (That was until a few months ago). When I go out to eat Asian food I tend to survive the buffets solely on the sushi and egg drop soup. YUM! But, when we decide to spend the day down in Detroit so we could take kiddo to the only Lego brand store in the state, we were limited on options that were not overly priced and overly crowded with hungry folks wanting their Sunday dinner.
We opted for TGIFridays because I knew they had some menu changes and had made a shift to healthier options. Husband and I decided to have a treat and share the potsticker appetizer.
Greasy, but good.
Upon making this choice to order them I thought for sure kiddo would share in them as well. She was not interested in anything but her chicken fingers and fries at this point. After sharing that appetizer and knowing how much my husband loved them – I had to find a way to make them healthier for us so we could enjoy them at home.
I landed on SparkPeople's recipe site – Sparkrecipes : Baked Potstickers
I've never been very good at following recipes. I tend to improvise and create my own mess when I feel like it. So I did not follow this recipe, but rather used it more as a guide.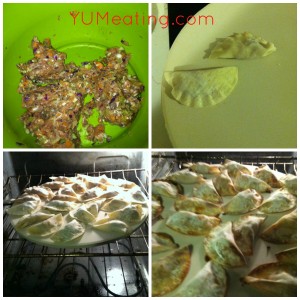 Also, my recipe made WAY more than 19. 
This photo shows some of the ingredients I used.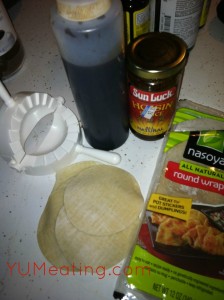 Yummy Baked Potstickers
Ingredients
1

pound

ground pork

1

bag shredded cabbage

1

handful of baby carrots

1

white onion - diced

1/2

c

diced celery

1

egg

1

tbsp

hoisin sauce

1-2

tsp

low sodium soy sauce

dash of garlic powder

dash of onion powder

Frank's Red Hot - optional - add to your taste preference

1

package won ton wrappers
Instructions
Smash up pork in bowl.

Beat egg and add it to the pork.

Add the diced vegetables.

Add hoisin sauce, garlic powder, onion powder and Frank's Red Hot.

Mix thoroughly.

Use a tiny spoon to put the mixture on one side of the won-ton wrapper and use your fingers or a crimper to seal them shut. Make sure you get them a little wet first so they will stick.

Bake at 425 for 15 -20 minutes.

I found baking them on a pizza stone then giving them a quick toss in a fry pan with cooking spray gave them an extra crisp.

Serve with a side of stir fry vegetables to complete the meal.