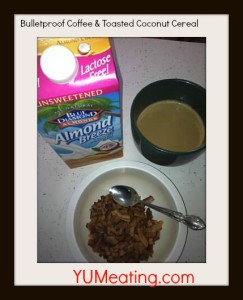 Due to being pre- diabetic thanks to PCOS I try to keep my carb reduced by eating a lot of vegetables, fruits, and good fats.
I have been trying a couple of different recipes when it comes to cereal. The other day I tried a hot cereal recipe – Hot Flax cereal.
I have had a diet of eggs for breakfast with some vegetables and/or a zero to one carb meat side since I started. It varies from week to week by what's been on sale. I really started to miss some cereal. While searching some Keto and Low Carb sites I ran across WickedStuffed and her Homemade Keto Crunchy Cereal.